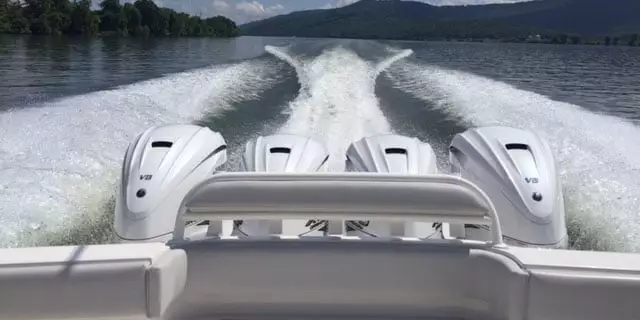 Examining the all-new 425hp Yamaha V8 Outboard XTO Offshore Power System
Ahead of the official May 22nd launch date, the internet and social media was abuzz with discussions about Yamaha's newest secret weapon: the 425hp XTO Offshore series V8 outboard motor.
Bluewater Yacht Sales offers a glimpse into the all-new 5.6-liter Yamaha V8 outboard engine which spent several years in development followed by rigorous reliability and performance testing. Testing was performed on some of the largest models offered by the best boat builders in the industry including Jupiter, Contender, and Grady-White. This new naturally-aspirated outboard is rated at 425 hp and produces an impressive 400 pound-feet of torque at the prop shaft.
Power output is just one of the many wow-factors this new motor offers. Innovations in the 4-stroke outboard engine market include the highest compression ratio of any production outboard at 12.2:1 and the first production 4-stroke outboard to utilize direct injection. Five separate fuel pumps can achieve injection pressures up to 2,900 psi, all while running on regular 89 octane fuel.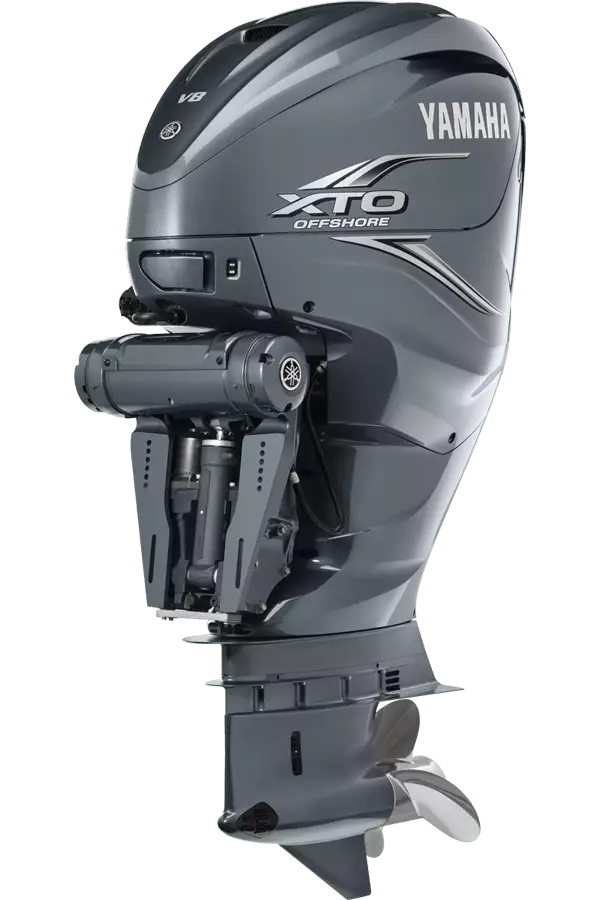 XTO Innovations At-a-Glance
Direct Injection with fuel pressure up to 2,900 psi
12.2:1 Compression Ratio aids efficiency & throttle response
Endurance driven camshafts with carbon coated lifters
Two-stage water pump with quad thermostats
Plasma-fused sleeveless cylinders offer greater durability
Thrust enhancing exhaust for superior reverse maneuverability
In-water lower unit gear oil change
Dual engine flush system
Dedicated large-diameter propellers
Upgraded Yamaha Helm Master® SetPoint™ functions
"The best feature is not the speed, but all the other innovations and technology packed into this new power system."
Don Smith, Jupiter Marine
A Fully-Integrated Power System
The new XTO Offshore is not just a new outboard engine, but rather a fully-integrated power system. The 90 amp charging system produces peak power at a mere 1,500 rpm while an integral electric steering system completely eliminates the need for hydraulic pumps, supply lines and fluid. This new compact steering system offers 31 degrees of rotation in either direction and 73 degrees of tilt, helping to lift the entire engine and lower unit out of the water.
Keeping with the integrated power system claim, Yamaha has developed a full line of XTO OS props that provide increased diameters and blade surface area for pushing today's massive center consoles boats. These props offer 6 different size and pitch options in both left-hand and right-hand rotation and are cast in a new stainless steel that offers greater resistance to corrosion and discoloration. Yamaha has definitely worked hard to fulfill the claim of 'Extreme Reliability' for their all-new XTO Offshore power system.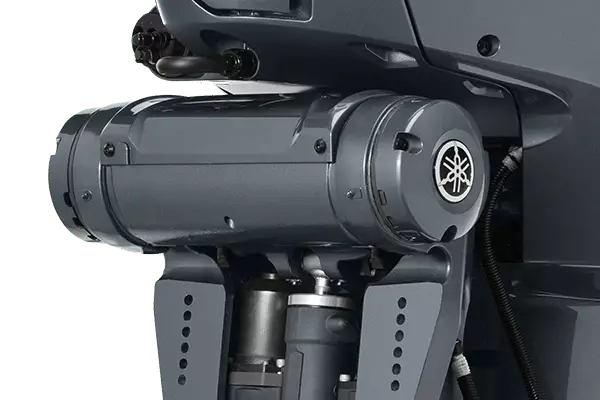 Integrated Electric Steering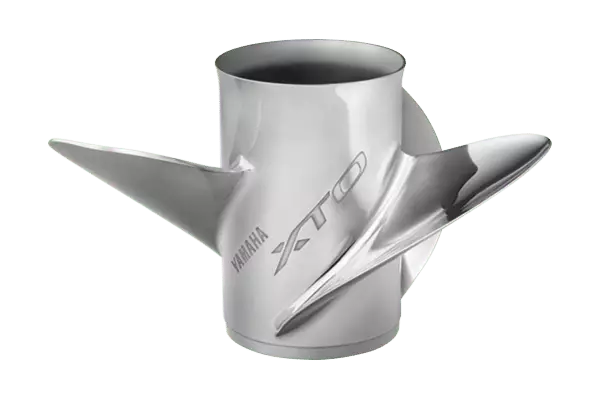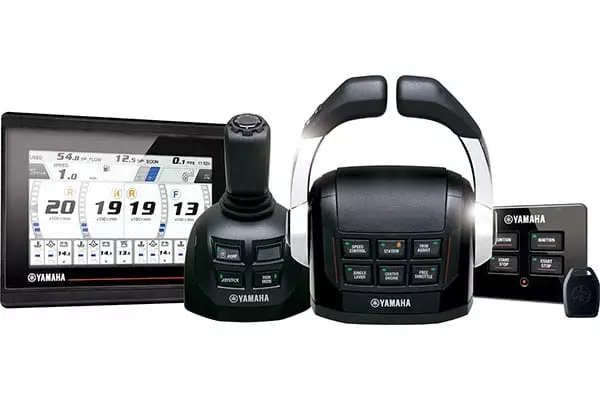 Yamaha Helm Master® with Set Point™ and CL7™ Display
Putting High-Tech to the Test
One of the test boats that set out to show-off this new high-tech engine from Yamaha was the Jupiter 43 SF. This newest flagship from Jupiter proved itself during her launch at the 2018 Miami International Boat Show, wowing dealers and show-goers with demo rides. Equipped with "only" 1,200 hp (quad Yamaha F300s) this new boat shined in her performance tests and has consumed so many orders that delivery windows now stretch out a full 12 months! Now boasting 1,700 hp from a quad setup of XTO Offshore V8 motors, the 43 SF was put through her paces at Yamaha's proving grounds in Bridgeport, Alabama.
"To say the ride was exhilarating is an understatement," Jupiter's Don Smith exclaims. "This motor has so much torque that it will still throw your head back when you give it full throttle at 5500 rpm." Smith continues, "The boat carves through the turns like you are on the rails of a rollercoaster and provides a great power match to the Jupiter "Posi-Stern" hull design." Initial test figures on the 43 SF returned a 62 mph top speed and best cruise at 30 mph which was reached in under 9 seconds!
Smith notes that these initial performance tests were conducted in fresh water at an elevation over 600 feet above sea level. The Jupiter team expects top speeds to reach the high 60's (mph) once the boat is run at sea level in saltwater. At 62 mph, the 43 SF's current top speed is 7 mph higher than her quad F300 equipped counterpart. Even with the jaw-dropping performance experienced with the quad XTO Offshore V8 setup on Jupiter's 43 SF, Smith concludes "The best feature is not the speed, but all of the other innovations and technology packed into this new power system."