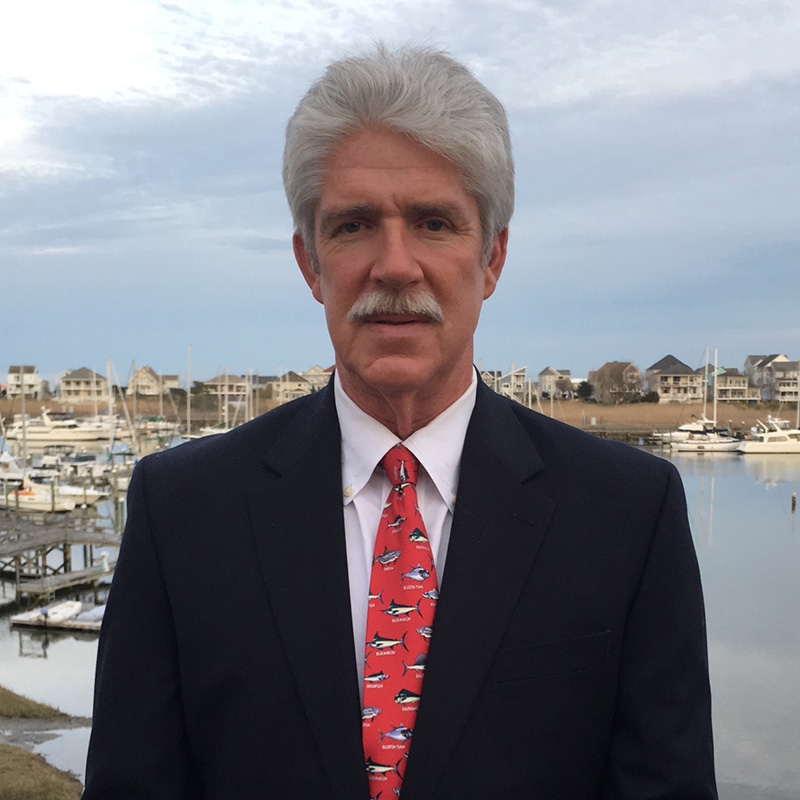 Capt. H. H. "Harry" Johnson, Jr. is a Service Liason and Boat Captain for Bluewater Yacht Sales in Hampton, VA. Harry is a life long resident of Fox Hill and is the fourth generation of Fox Hill Johnson's that have loved and worked on the Chesapeake Bay. In 1987 he earned his U.S. Coast Guard 100-ton Master Captain's license but followed his interests in electronics technology. After completing a 26-year career as Director of Engineering for Time Warner Cable, Harry has owned businesses and held jobs that fulfill his passion of working on the waters of the Chesapeake Bay.
In 1996, while still with Time Warner, Harry purchased and rebuilt long time Fox Hill landmark, Wallace's Marina. In 2004 he established and operated Tidewater Dockmasters, a residential marine construction company until 2009. This led him to move on to the heavy commercial marine construction industry as construction foreman for Precon Marine Construction on the local area project known as the Factory Point Beach reclamation. From that project Harry became Manager of Marine Operations for Precon's Tugboat Operations, Inland Marine, until 2015. In 2015 He joined Norfolk Marine Company in the sales department as Delivery Coordinator and Boat Captain for new boat sales. During this journey on the water Harry served on the Hampton Wetlands Board, received certifications as a Shipyard Marine Chemist Competent Person, OSHA 10, and was a Class A marine construction contractor.
In 2017 Harry and his wife of 25 years, Suzy, sold their marina and moved to Southall Landing to stay close to his parents and also enjoy a quiet and relaxing lifestyle in a beautiful friendly community. Today, Harry is blessed being a husband, son, father, grandfather and friend to the community. He is an avid fisherman, duck hunter, and enjoys sharing the bounties of his garden.