Bluewater's founding partners operate four world-class service facilities with seasoned experts capable of handling projects of any size and scale. Bluewater believes that a strong service network is the backbone of any successful sales organization, and seeks to provide you with comprehensive support throughout your boating lifetime.
Our strong service and ideal location infrastructure plays a critical role in supporting Bluewater customers.
New Concierge Service in Annapolis!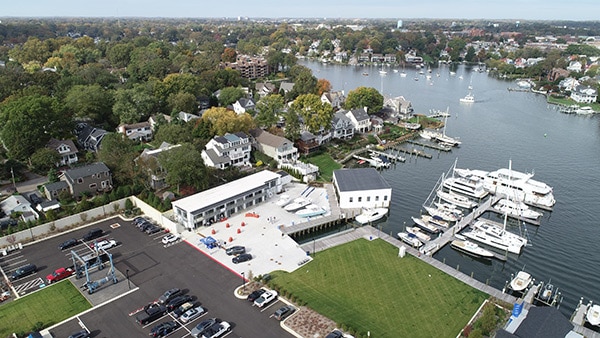 Annapolis, MD • Spa Creek, Historic Eastport Area
Mid-Atlantic Service…in the Heart of Maryland and the Upper Chesapeake
Bluewater's newest service facility was built with the needs of both area residents and Bay cruisers in mind. With service access via a deep water haul-out, our 75-ton Travelift can bring your vessel in for a quick and convenient repair, returning you to your cruising plans without the need for complicated travel or scheduling. Easy-access service bays and our signature concierge Bluewater services are just a few of the many amenities available at our newest state of the art facility. From the routines of seasonal maintenance to more robust running gear repairs and engine work, Bluewater has expanded its over 50 years of technical expertise and craftsmanship up the Bay in support of our extended Bluewater network year round and 24/7.
Protected, deep water haul-out basin
Haul-out services for vessels up to 75-tons
Quick, convenient onsite rigging & repair
Maintenance, running gear, engine & bottom-work
All types of power including outboard/inboard & diesel
New Shipsdek installations and other upfitting
Concierge service for vessels up to 75-tons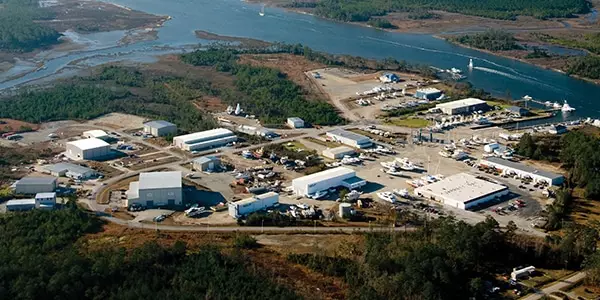 Beaufort, NC • Near ICW Mile Marker 198
The 175 acre Jarrett Bay Marine Park in Beaufort, North Carolina is one of the largest and most comprehensive yacht service centers in the U.S.
Full service for vessels up to 135′
300- and two 75-ton Marine Travel Lifts
137,000 sq. ft. of indoor facilities
Climate controlled paint facility
In-water slips & on-site fuel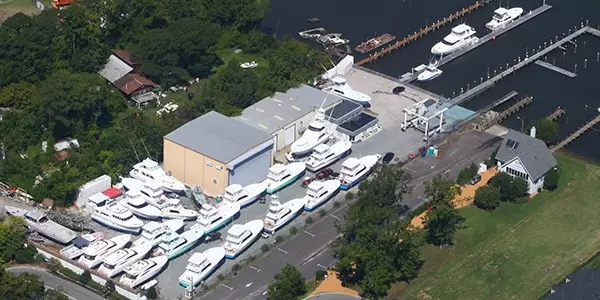 Hampton, VA • Near Hampton River Marker 2
Located adjacent to the Bluewater Yachting Center & Marina, the Bluewater Yacht Yards in Hampton, Virginia boast a complete service and repair solution.
Full service for vessels up to 120′
100- and 50-ton Marine Travel Lifts
8 acres of exterior service area
11,000 sq. ft. climate controlled paint facility
Multiple interior service bays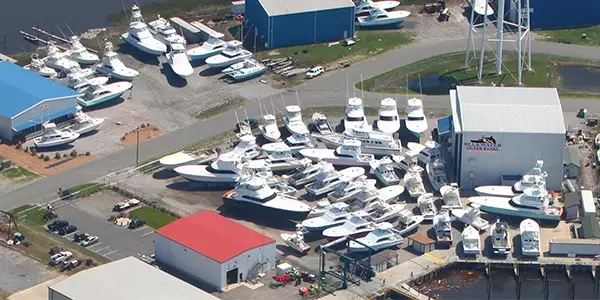 Wanchese, NC • Near Broad Creek Marker 16
The Bluewater Outer Banks Yacht Yard is strategically located in the Wanchese Seafood Industrial Park, your first and last stop inside Oregon Inlet.
Full service for vessels up to 80′
75-ton Marine Travel Lift
12,750 sq. ft. climate controlled paint facility with 90′ length and 50′ height clearance
12,000 sq. ft. indoor repair facilities
The Bluewater Network of Yards All Offer:
Full Welding, Cabinetry, Fabrication and Machining Services
Vessel Surveys & Inspections
Plumbing & Auxiliary Systems
Fuel Polishing
Hurricane Haul-out Programs
Complete Refits & Repowers
Inboard, Outboard, & Generator Service
Running Gear & Steering Repair
Captain's Services & Transportation
Diving Services
Factory Trained Paint Teams
Custom Mezzanine Retrofits
Custom Interiors & Soft Goods
Inverters, Electrical & Audio/Video
Cleaning & Detailing
Bilge Cleaning & Pump-out Services
Seasonal Preparations & Storage
Expert Yamaha Outboard Service
2-Stroke & 4-Stroke Outboards
Factory Trained
Five Star Certified
Yamaha Genuine Parts
Yamalube Oils & Additives
Warranty Work
Hourly Service
Maintenance & Repairs
Fuel Conditioning
Winterization