Hampton Couple Move Up to a Back Cove Yacht
As a teenager, competitive sailor Greg Lawson went head-to-head with Bluewater's Chris Hall Sr. in local races, leading to a friendship that would last a lifetime. "We purchased our first boat through Chris in the seventies, a Ranger 22,. Then I went through a phase of owning multiple small powerboats…" he recalls. The Lawsons have owned several sportcruisers that have always been serviced through Bluewater's Hampton Service Yard. "Quite frankly, the brands that Bluewater carried were just out of my price range… But even still, I was impressed that Bluewater also performed all of the maintenance and service work on them and did a truly outstanding job. I always wanted to buy a boat from Bluewater as I knew they'd have me covered from stem to stern. So when we decided to purchase a new boat last summer, I knew who to call." Greg and Pam Lawson were drawn towards the sleek design of a down-east style vessel as they thought about the boat to enjoy in retirement, moving from the Prime Time (their Meridian 408) chapter of their life to a more relaxed Down Time (Back Cove 37) season.
The Lawsons first made the transition from sailboats to power in their thirties when they realized that they had cruised every inch of the Lower Chesapeake Bay and needed to extend their cruising range when fortunate enough to get away from work for a long weekend. Speed and fuel economy were some of the most important factors for the couple. Planning to downsize and enjoy a more manageable life on one-level, without a fly bridge; the Lawsons were thrilled to learn of the Back Cove 37's range of over 375 miles while cruising along at nearly 20 knots. Removing the hassles of dealing with canvas and eisenglass sealed the deal for comfort aboard Down Time. Aside from the electronics and decor, there was no customization necessary to cruise this summer with their friends for cocktails on the Chesapeake, explorations up the Delaware, and even golfing trips down to the Carolinas.
Greg and Pam had looked at other yachts with similar designs, but as they walked through the yard with Chris Hall Jr., they knew the Back Cove 37 was right for them. "Chris is extraordinarily knowledgeable about boats, in particular the lines we were looking at. But the reason we wanted to work with Chris is his commitment to customer service. If you call him, he'll pick up the phone. When he says he's going to do something, he will follow through."
The Bluewater team commissioned Down Time and conducted a hands-on review with Greg to ensure he fully understood all of the systems and to adjust all of the fine details while on sea trials in November. "Having something that we can cruise year-round in is definitely one of the features we were looking for." Over the winter, the Lawsons were able to enjoy a few overnight trips throughout the lower Chesapeake: visiting Norfolk, Portsmouth, and Cape Charles. In February, they made their way to Virginia Beach to see the humpback whales. "There were 4 or 5 whales within 50 to 75 yards of us!" Lucy and Abby, Greg and Pam's Beagle and Golden Retriever, are enjoying life aboard Down Time as well; "They love the boat and are great companions to have!" exclaims Greg.
BACK COVE 37
LOA: 42' 0"
Beam: 13' 3"
Displacement: 22,000 lbs.
Draft: 3' 7"
Fuel: 300 gal.
Water: 120 gal.
Power:
Single 480hp Cummins QSB 6.7
Single 600hp Cummins QSC 8.3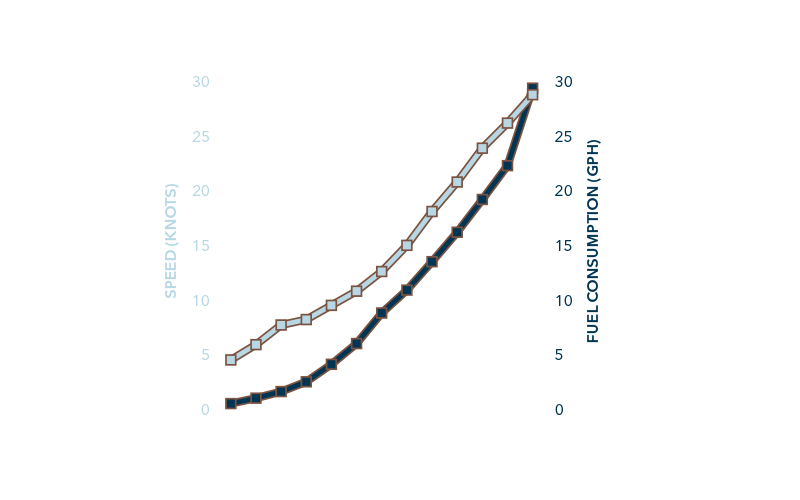 Ironically, Down Time seems to be quite the busy vessel. This summer Greg and Pam will participate in Hampton Yacht Club's two-week Long Cruise throughout the Chesapeake and make an appearance at the Bluewater customer rendezvous at St. Michaels. The Lawsons have been sure to mark their calendar each year to join their good friends at the annual Bluewater Summer Cruise. "I can't tell you exactly how long they've been doing them, but we've been to every Bluewater rendezvous I can recall." However, 2017 will be the first year that the Lawson family will join the event as owners of a brand new boat sold by Bluewater!