One Man's Lofty Goals Fuel the Development of the Most Advanced Sportfish Ever Built
Story by Jason Pim
Photos by Scott Kerrigan, Pepper Ailor & Scott Taylor
It never fails. As soon as people see a photo of a boat like Jaruco on social media or in a brochure, the pricing questions pour in, "How much?"
For a truly custom boat builder like Jarrett Bay Boatworks, it can be difficult to field that question in a public setting. The answer of course is, "it depends…" and reducing it down to a price tag doesn't give the process its due respect. That's because custom builders craft every boat to one-of-a-kind specifications for each customer. It's an incredibly detailed endeavor that most consumers would have trouble identifying with. Furthermore, the way Jarrett Bay and founder Randy Ramsey approach their construction business, a finished boat could end up as simple or complex as any given owner's wishes. When a commissioning buyer wants more, naturally the cost of the build will creep up.
The origins of Jaruco, Grander and comparable boats, are not that of an owner going nuts with a builder's book of options or recommendations. These are situations where the world's most ingenious businessmen and seasoned boaters bring their ideas to the drawing board at Jarrett Bay, and the design team sets out to do anything they can to best accommodate those dreams. These are people who don't generally take "no" for an answer, but the cleverest know when to let the builder's expertise drive the design. This is the very pinnacle of sportfish yacht construction and ownership.
90 Feet of Experience
Not to be confused with one of her predecessors in a multi-boat program, the latest Jaruco—the Jarrett Bay 90—was delivered in December 2017. Previously, the team fished a 68' Weaver and 78' Garlington, the latter of which they had extensively refit at Rybovich Superyacht Marina before commissioning the 90 through Bluewater Yacht Sales. Not only is this an owner and team with the experience and taste for sport fishing's finest yachts at the highest level of our sport–this is an owner obsessed with every detail of engineering, and who did well beyond his share of homework during the planning phases. He carefully vetted many custom builders, and ultimately chose Jarrett Bay to construct his new dream – a build that would initially become known to the public as Project Ireland.
Unrelenting Drive
From the time team Jaruco first walked in the door, it was clear that the project was going to require an incomparable amount of research and development. "Probably more R&D man hours went into this boat than any other sportfish in the history of our sport," explains Jarrett Bay founder Randy Ramsey. "Certainly more than any other custom or production sportfish that I know of," he adds. Project Ireland's sweeping goals and attention to every detail was meticulous and unrelenting. Over the course of the project, there were six engineers examining every decision, plus outside consultants, materials experts and extensive tank-testing at the Marine Research Institute Netherlands (MARIN); along with Bluewater's oversight of the project's milestones and communication with the customer. Jarrett Bay grew their design team, hired an additional foreman (Nile Mitchell previously with Hatteras Yachts), and of course added to their construction workforce along the way; all to accommodate the variety of new challenges posed by the project.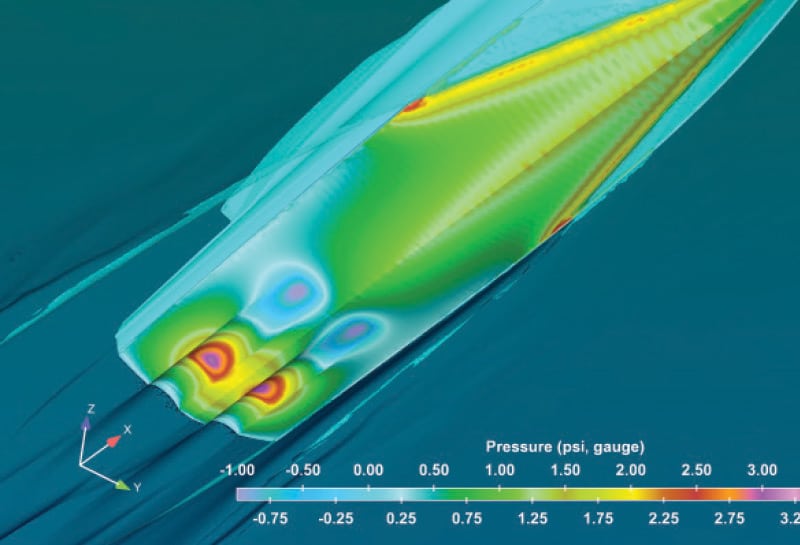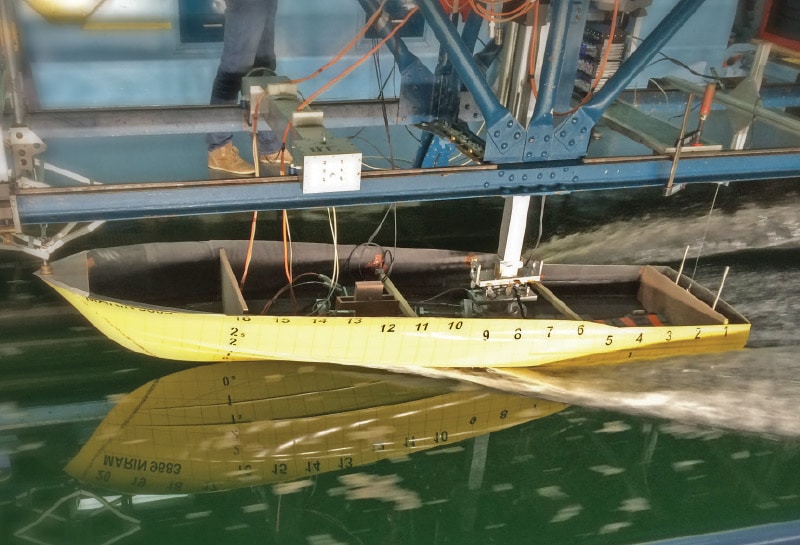 Advanced computer modeling preceded scale model tank tests at MARIN
It was this extensive engineering and design team that would collaborate on the materials science and propulsion physics that would make Jaruco unlike any other cold-molded boat ever built. Computer modeling was performed to calculate stress loads on the hull surface, stringers, bulkheads and running gear. This helped them project exactly how the new lightweight materials would hold up and provide insight into every ounce that could be shaved—without sacrificing strength and safety. The prop tunnels were designed and modeled in software before being constructed separately from the hull. Their precise shape and contours were digitally optimized before being physically tested and verified with the overall hull form in model tank testing which included multiple running gear configurations. Ultimately, her performance was proven a huge success. Ramsey recounts that the MARIN Institute researchers (who presumably do these types of tests every day) were clamoring over who would get to drive the remote controlled 90 model next.
Lighter, Faster, Stronger
To say the Jaruco's owner wanted to push the engineering envelopes of speed, performance and safety would be a monumental understatement. Jarrett Bay Superintendent Gary Davis, and the rest of the engineering team could write an entire book on the different composite layups used throughout the 90 feet of boat. The massive stringers and bulkheads, and most other structural components were manufactured primarily of carbon fiber—another first. The hull itself was cold-molded with Jarrett Bay's traditional methodology of marine grade lumber, e-glass and epoxy, merged with new-age carbon fiber and Kevlar lamination layers. Their efforts resulted in pioneering several proprietary lamination matrices that improved the overall structural integrity of the boat while eliminating approximately 40,000 pounds (yes, ~20 tons!) from a traditional build of the same size.

The Basics: Proprietary weaves of carbon fiber skin the traditional wooden hull
Despite all this new technology, the team at Jarrett Bay makes it clear they'll steadfastly stick to their jig-based, cold-molding North Carolina roots. Alex McCarley of the design team points out that developing a great boat is about designing things to flex and "go with the flow." He explains, "It's always better to bend, not break. I know of a boat that used full carbon. The result was like riding around on an empty beer can." Basically, there is a critical mass to reach for a boat to promptly, yet softly, re-enter the water in a comfortable motion. For example, you might often hear passengers describe the "pillowy" effect of riding on a Carolina-style boat for the first time.
Davis also explains how the infusion of epoxy—and now their proprietary weaves of carbon fiber and Kevlar—help punch through big seas by forming an incredibly tough outer skin that reinforces the more supple wooden hull core. It's in these tensioned layers of hull and stringer lamination that a wooden boat's most classic traits come to life—cancelling out noise and vibration and producing what many well-weathered captains have proposed are superior fish-raising harmonics. In Jaruco, the Jarrett Bay team feels they've produced a boat squarely in this Carolina tradition, yet cleverly augmented with today's most innovative materials and technologies.
To that end, Jarrett Bay has designed one of, if not the, best performing large sportfish boats ever built. With her low center of gravity, Seakeeper 35 gyro and insane strength-to-weight ratio, Jaruco performs like a 60' boat in a 90' package.
Next-Level Appointments
Beyond the titanium propeller shafts, carbon fiber tower structures and the aerospace-grade flooring and countertops, the Jaruco is quite clearly outfitted to the nines. But this article is not the place for a laundry list of top-end equipment; Jaruco's inventory is just too massive. Instead, understand that this is the kind of construction project that creates cottage industries in and around it; the sheer scope of labor and commerce cannot be discounted. Yes, we can confirm that all five of the heads are constructed entirely out of Divinycell foam and carbon fiber!
Initially, it may seem outrageous, but it's a perfect example of the project's extreme focus on weight savings, regardless of cost. Which segues us to the opulent, yet tastefully refined finish work found throughout Jarrett Bay's new flagship build. Outstanding woodwork and craftsmanship expertly pair exotic lumbers, carpets and leathers. Engineered veneers, drain-less shower floors and self-adjusting glass tint impress the most discerning of guests. All this technology and luxury mesh together in a grand symphony of achievement.
Engineered for Safety
But what's all this tech and beauty worth to an owner and his family if they're not around to enjoy it? Jaruco was designed specifically to keep the owner, his family and the crew as safe as possibly could be imagined. To his credit, he stipulated that the 90 be built with the utmost forethought to seaworthiness and safety. In fact, the team succeeded in meeting American Bureau of Shipbuilding specifications to withstand 8-foot seas at 50 knots. "To our knowledge, this is the only wood-based hull ever built to ABS standards," Ramsey emphasizes. He and Gary Davis explain how the structural bulkheads flow throughout the interior spaces and were designed to be independently watertight, including a frontal crush zone in the bow. Similarly designed bulkheads and baffles divide up the Jaruco's ~4,400 gallons of integral fuel cells that were tabbed into the hull. Kevlar and flame-resistant Nomex coring make-up part of the lamination matrix in these interior compartments, for added safety and strength. "These advanced products allow us to do more with less material than ever before," says Davis. With that in mind, the expansive foredeck (which the build team nicknamed "the skate park" when it was inverted for molding and infusion) was engineered to hold up to touch-and-go helicopter landings while at sea!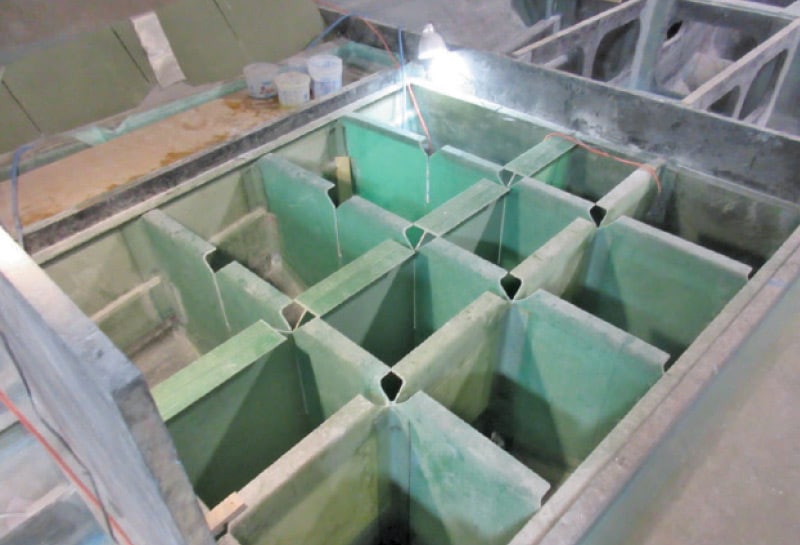 LOA: 90'
Beam: 22' 6"
Draft: 5' 8"
Fuel Capacity: 4,400 gal.
Water Capacity: 400 gal.
Holding Tanks: 250 gal.
Dry Weight: 150,700 lbs.
Power: Twin MTU 16V2000 M96Ls @ 2,600 hp ea.
Gearing: ZF 3070 V-Drives
Genset: Twin Northern Lights M944T3 @ 38kW ea.
Stabilization: Seakeeper 35
Hard Cruise Speed: 38 kts.
Top Speed: 44 kts.
Into Battle
Again, we're trying hard not to get starry eyed and sucked into the equipment rabbit hole here. Suffice it to say the 90 is one of the most extensively equipped recreational fishing machines known to man. Straight from her delivery at Jarrett Bay in Beaufort, NC, she ran to the Pacific fishing grounds off Los Sueños Resort in Herradura, Costa Rica. On this maiden voyage, the Jaruco team wasted no time honing their brand-new boat to their highly coordinated style of billfishing. By the third leg of the esteemed Triple Crown, they had captured a daily jackpot and finished in 3rd place among a field of sport fishing's top 43 teams.
Finally, perhaps one of the most unique aspects of the project is that the Jarrett Bay and Jaruco teams are far from writing the last chapter in this story of innovation. After participating in several of the Caribbean's top billfish tournaments this Winter and Spring, the 90 is scheduled to return to Jarrett Bay to be further outfitted and tested with additional running gear enhancements. This will include round two in the development and testing of hydrofoils aimed at providing lift, and consequently more speed—akin to recent innovations in performance sailing and the America's Cup boats.
Sportfish builders are now rushing to replicate the Jarrett Bay 90's innovations
Throughout Jaruco's construction, the Jarrett Bay team has always maintained that this project was going to change the way subsequent boats would be built in the future. Now that all of sportfishing's elite captains, owners and builders have had a chance to see the Jaruco effortlessly blowing by other large boats in Los Sueños, the proof is in the pudding. "The word on the docks is that many of our competitors are scrambling to learn more about what makes the 90 perform so well. This was to be expected, but also puts our accomplishments and leadership in the marketplace into proper perspective," says Ramsey. It would seem a new arms race has begun, and Jarrett Bay is unquestionably positioned at the tip of that spear.