Sea I Sea Shakes Down their new Viking 72
In the rarified air of competitive sport fishing nothing trumps preparation. Stocking freezers, rigging bait, meal planning, getting dialed in on the fish movements—all are relatively last-minute flourishes—the exciting part where it all finally comes together. But it's the deeper preparations going on behind the scenes for months, perhaps even years, that set the stage for world-class billfishing campaigns. For the Mills family and full-time Captain Rob Mahoney, that recently meant overseeing the construction of an all new boat, a beautiful 72 convertible, just the latest in a string of Viking yachts to bear the name Sea I Sea.
An accomplished team of family and friends comprise the Sea I Sea fishing team, and they've notched many successes in their belts, including winning the 2015 Pirate's Cove tournament and NC Governor's Cup recognitions. Owner Don Mills has worked his way up through several Viking sportfish boats over the years and has teamed up with Bluewater partner Jud Black when buying his last three yachts; a 64, 66 and now 72.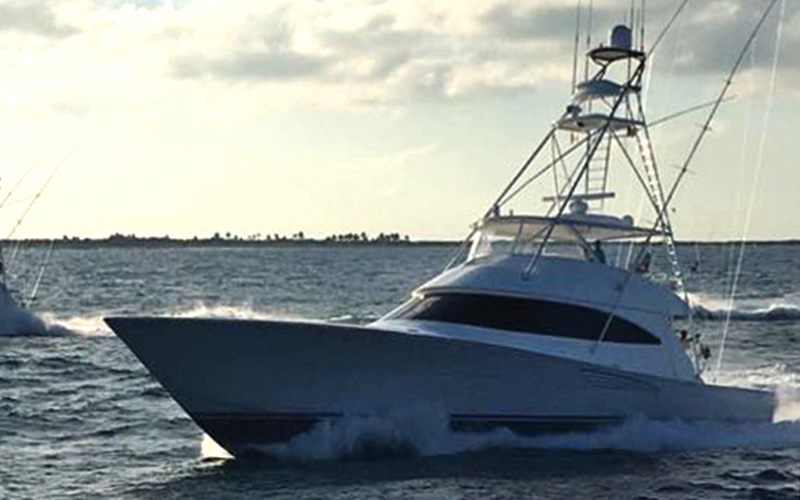 Sea I Sea is used in an inspiring variety of activities, including long-range trips to Mexico and the Caribbean along with fishing more locally up and down the Outer Banks. They arrange fishing trips both home and abroad for Mr. Mills' business associates and employees, and regularly host soirees in the marina at home, splitting time between Morehead City and Manteo, NC. And oh yea, they're also serious contenders at nearly every major Mid-Atlantic tournament each summer. The gang's itinerary is a who's who of billfish events from North Carolina to Maryland, starting with the Big Rock, Hatteras Marlin Club, Pirate's Cove, Virginia Beach, and wrapping up with the White Marlin Open.
Don's wife Frances and their daughters-in-law enjoy fishing the Keli Wagner and Alice Kelly lady angler events, and the family makes a point to participate in the Barta Billfish Tournament benefitting the Boys and Girls Club. The couple's two sons, Bill and Brandon are an active part of the tournament angling team, and it was their growing young families that played a major role in the decision to order a bigger boat.
The Build Up
While actively fishing their 66' convertible, Mills and Mahoney visited the Viking factory to hone in on the next step. "We went in looking at the 70," Mills recalls. But in their visit with Viking, they learned the 70 would be winding down production soon and replaced with a bigger, badder, more spacious 72' model. They instantly recognized that the cockpit size and interior layout would be much better suited for all the ways they hoped to use their next rig. "Jud was great in working with Viking, smoothing out any concerns, and arranging for us to get in early." Ultimately they landed hull #6, and were contractually committed to a new 72 before the new model was publicly announced by Viking.
That's where Capt. Mahoney took the reins and dialed in the boat to exactly what the Mills and he wanted. After running the 66' Sea I Sea for several years, "Rob already knew what we liked and didn't, and was instrumental in the process." Mills says. Mahoney visited the factory regularly. They were monthly appearances at first, then ramping up to bi-monthly and weekly as the build progressed. As the boat neared completion, he spent the final two and a half months living full-time in New Jersey. "We took delivery around Thanksgiving. Since it was the offseason and we weren't in a hurry, we had a couple extra weeks to really dial everything in perfect," reports Mahoney. They even went so far as to take a group of Viking employees striper fishing on the new boat as a quick mini-shakedown trip before leaving town.
"Each of our Vikings have gotten better and better."
The biggest thing they changed up from the default 72 plan was the bridge ladder, preferring an offset side entry to the central positioning that comes standard. They also added more storage dividers throughout the interior and chose to sacrifice some closet space in the master to create a rod locker accessible from the companionway. Mahoney runs down the heavy hardware off the top of his head, "We can fit eight 50s, six 80s, and two 130 class reels in there. Plus extra dredge and teaser rods." Past that, the build and customization process was about closely considering thousands of minute details in order to concoct the perfect blend of amenities to suit the Mills' personal tastes.
Many boxes were checked to ready the boat for long-range trips, including maximizing the sub-zero freezer storage and adding customized protection for liquor and wine bottles, as well as cup and glass storage. The crew did find most of the 72's base equipment to be more than enough for their long range plans, explaining that no additional capacity was needed beyond the 2,600 gallon fuel tank. "The speed these boats go now, you can have breakfast in Key West and dinner in Isla Mujeres, if you wanted to," quips Mahoney.
Much of the Captain's attention during construction focused on electronics and improving how the family and guests would interact with them. He saw to the integration of devices so a single remote could operate each room, and concealed AC and other system controls throughout the interior. USB jacks were included on every power outlet in the boat and extra shelving added above the clothing rods in the captain and mate's closets—out-of-the-way additions designed to store and charge everyday devices such as laptops, smartphones and cameras. An additional fixed television was added in the salon so guests can monitor GPS progress in any conditions. "We don't like to put too much stress on the pop-up TV when we're running full bore," Mahoney explains. These are the kind of ideas and insight that years of experience and fishing together can provide.
Frances Mills worked with the Captain to specify the décor for the interior and found the team at Viking a pleasure to work with. As if building four Vikings in the span of ten years wasn't a strong enough testament, Don explains, "I would recommend Viking to anyone. They really take care of their customers and are a special company." Mahoney confirms the Mills' experience, "Viking is very accommodating. We had very high expectations and they delivered, with no complaints." From the high power radar swinging above his head to the staggered frequencies of the transducers pinging well beneath his feet, Mahoney got all the best tools to keep their fishing program operating at the highest level.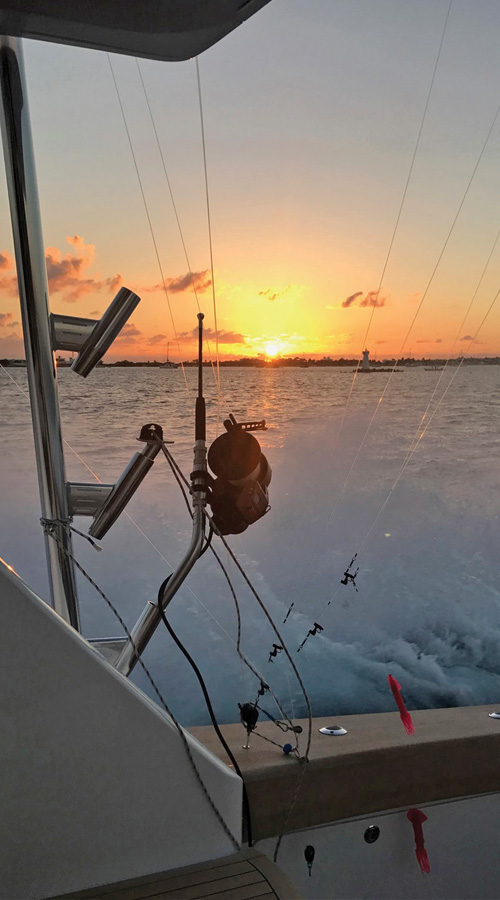 Proving Grounds
Upon completion at the factory, Sea I Sea went to Mahoney's home base of Manteo, NC, where he and a friend started prepping and provisioning the boat for the family's first big trip—Mexico. But first the new boat also had to pass another test: hosting a New Year's Eve get-together on the boat. The Mills reported over 20 people were comfortably entertained in the free flowing salon, galley and cockpit—a great success. In all, Sea I Sea spent 8 weeks in Isla Mujeres as an extended shakedown trip before returning to the East Coast, and the results were terrific. Don Mills spent the first ten days in Mexico, and Brandon and Bill each came down with groups of their own for several days of fishing and boating in that time. The boat also hosted several groups of Mills' employees who had earned fishing trips as incentives and the family even worked in a local sailfish tournament benefiting special needs children—which they won. Mills and Mahoney explain that the trip was a chance to put a couple hundred hours on the boat, put it through its paces and really dial things in for the summer tournament season.
They were both pleased and excited by everything they experienced, including MTU's new M96 series engines and their instant acceleration. "They spool up so quickly, with no smoke at all, and are very quiet," Mahoney explains. Those are great qualities for a rig that regularly hosts guests, but the team is also excited for what it means for tournaments. "This boat's speed and sea keeping is going to be a great tool, whether that means getting out there faster, or moving if we get out of position—even in unfavorable weather." Being their first boat with a stabilizer, they are also raving about the Seakeeper 26 installed. "I fished 7 out of 9 days in Mexico and didn't feel tired once," says Mills.
Not only does the roll-eliminating gyro keep anglers' legs and backs fresh, it opens up the possibilities for more family members and friends to enjoy offshore adventures. With five grandchildren age 5 and under, the Mills are excited to be able to include them in the family's fishing lifestyle for longer, more comfortable periods.
Mills adds, "Each of our Vikings have gotten better and better. This one has it all… bigger cockpit, more comfortable and tournament friendly… It just fits our type of fishing." That perfect fit of course is one of high design—provided not only by Viking's initial vision for the boat, but also borne out by the customers' passionate insight into how it should be tailored and outfitted. Now with the bulk of preparation on the new boat in their rear-view mirror, Captain and owner can set their sights on readying the Sea I Sea team for their next exciting billfish battle.