The Davis Family Comes Full Circle with the Viking 37 Billfish
To hear Stephen Davis tell it, "We're just a bunch of inland bubbas that got good at fishing." But his boating story runs oh so much deeper than that. An accomplished engineering professional who has owned many custom sportfish yachts over the last two decades, Davis, along with his friends and family, have been in the mix at some of the Mid-Atlantic's biggest billfish tournaments. Passions for both fishing and engineering were passed down to him by his father Emmet Davis, Jr., co-founder of Davis and Floyd Engineering of South Carolina, the company Stephen now oversees as President and CEO.
Growing up in the SC Low Country, Stephen and his father have always loved to fish and they habitually had some type of small boat when he was young, be it a Mako, Boston Whaler, or for quite some time a 31' Bertram named Coconut Telegraph. "We made a lot of memories off Fripp Island in those boats. When I was 7 years old, I caught my first amberjack. It pulled me from the front of that tri-hull, back to the motors." Once the initial shock wore off, young Stephen concluded he quite liked the experience.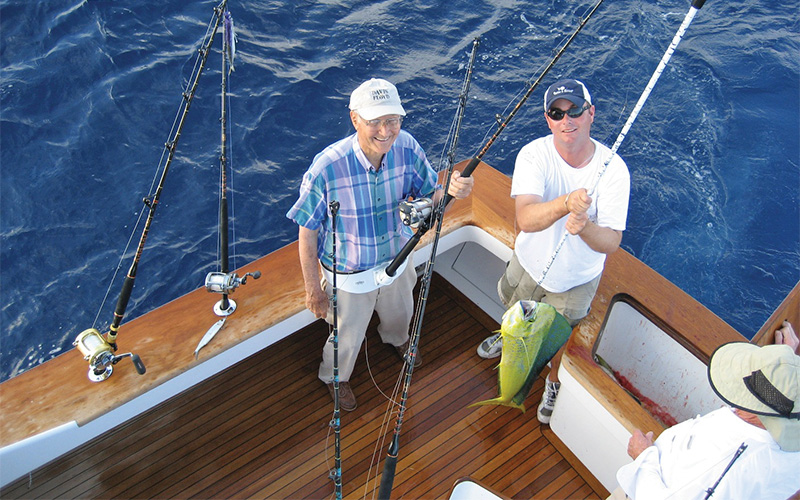 He's had some fantastic mentors along the way—his father was roommate to Jack Huddle at the Citadel, The Military College of South Carolina. Emmet and Jack, along with three other friends, were the closest of fishing and hunting buddies for a lifetime. "These guys were still going down to Isla for sailfish well into their late seventies… We're talking 76-78 years old. Great guys and my childhood icons," explains Stephen.
So about that boat name, Coconut Telegraph—aside from the obvious connection to the popular Jimmy Buffett song and album, Davis shares a more amusing origin, "It was Spring Break and Dad had given me a list of things to do on the new boat [their Bertram 31]. One of the items was to get the name on the transom. They wanted to call it Sand Dollar. So after a week of my friends and I spending our break hitting the beach and working on the boat, waxing the hull, etc. I decided I wouldn't be able to live with myself if I helped put that name on the boat. My buddies and I definitely listened to a lot of Buffett that week and it became clear that Coconut Telegraph was the way to go."
Phasing Through
Once he had started a family of his own, they fished with the Huddles aboard their custom Jarrett Bay, Builder's Choice on many occasions. Through the Huddles, the Davis family built a close relationship with Randy Ramsey of Jarrett Bay and Bluewater over the course of 25 years. In time, Stephen started thinking of a serious fishing boat of his own, and some of his firsts included hull #1 of the Jarrett Bay 32 Express before deciding to buy a custom 58 convertible from the company. "Randy had this boat in inventory and we all decided that Dad would be much more comfortable fishing a big boat than the 43 express I wanted to build." This all came as news to Emmett—Stephen didn't tell his Dad he had bought the boat until he walked him down the dock and stopped in front of it—on the same day he had received a Doctorate in Engineering from the Citadel, no less.
With close friend and Captain Bobby Garmany, they fished that 58, Bench Mark, for many successful seasons and ultimately built a new 64-footer to replace it. For a short while he owned another 58' custom Carolina boat before taking a break from billfishing for a couple years. Davis explains, "boating follows the seasons of life. It goes through cycles." Bluewater salesman John D Riggs was instrumental in aiding Davis through these transitions, helping to list and sell both the 64 and 58. Then, Davis explains, "After losing my mom about four years ago, Dad started to ask me, 'Why'd you get rid of your boats?'" Now nearing 88 years young, Emmett was still passionate enough about fishing he wanted to go catch spanish mackerel in their home waters off Fripp Island.
"We're going to use this boat for so many things…but most importantly, making memories."
"That's when I started thinking about a small express again." Within three weeks, he received an interesting email detailing the announcement of a new Viking model, the 37 Billfish and instantly realized that might be the ticket. Even though he "bleeds Carolina" and the engineer in him relishes the custom build process, Stephen quickly decided it was most important to get his hero—this icon, his Pop—back on the water with his family and grandchildren as soon as possible.
"This is a boat we can use to chase down spanish close to shore with Dad, or choose to put away the spoons and sea witch and head out to blue water."
Stephen quickly asked salesman John D Riggs to start learning everything he could about the brand new model. He also reached out to Bluewater partners Randy Ramsey and Earle Hall for their help and opinions. It was because of the Halls' close relationship with Viking's Pat Healey that Davis was able to meet with them during the White Marlin Open to discuss the new model. "I don't mind pioneering," he says. In fact, once he got the opportunity to talk to Pat, Earle and John D that day in Ocean City, he had an agreement to purchase hull #1 of the Viking 37 Billfish a mere 45 minutes later.
Latest and Greatest
After meeting John Leek IV, legacy operator of Ocean Yachts who is now heading up Viking's new Mullica plant manufacturing the 37, Stephen was confident it was a sound decision. "I gave them some observations, questions and input, and John was very receptive. It was clear they were taking a boat that was good [the 37 Ocean] and Viking-izing it—making it great." Regarding Viking, Davis adds, "They don't ever settle, concede or stop innovating."
Viking 37 Billfish
LOA: 37' 8"
Beam: 13' 10"
Draft: 2' 8"
Displacement: 29,400 lbs
Fuel: 440 gal.
Water: 66 gal.
Cockpit Area: 86 sq. ft.
Power: Cummins QSB6.7 @ 550hp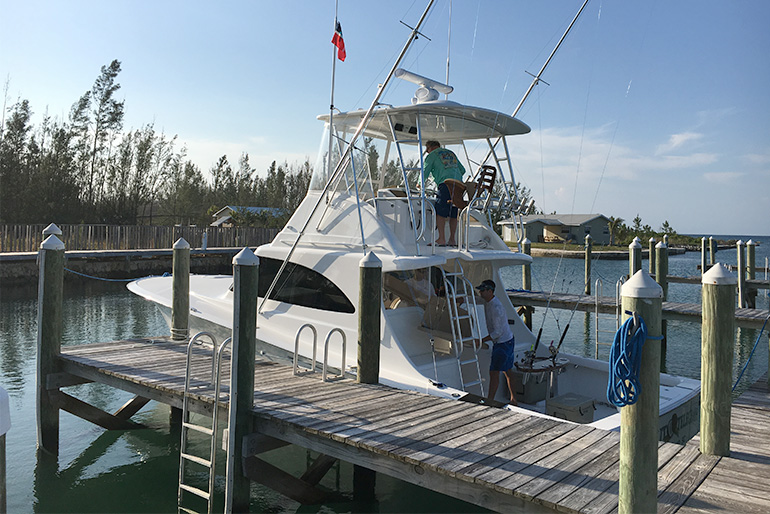 Viking 37 Billfish – Hull 1
As to his boat, he chose to get a Seakeeper gyro and joystick controls, but otherwise kept it relatively simple. He notes the 37 Billfish already has a shallow draft, perfect for getting around the local sounds and marshes around Fripp Island as an owner/operator. Davis plans to fish the local South Carolina tournaments such as the Bohicket Invitational and the Carolina Billfish Classic again in the new boat. "We like to fish tournaments, but are careful not to fish the fun out. We're rolling in there to have fun. One of the things I told John [Leek] is I wanted the boat's stereo system to really thump. I have college-aged kids now and we're going to load up and whack the fish. We're going to use this boat for so many things—swimming, anchoring off, catching fish—but most importantly, making memories," Davis explains.
As hull 1 of such a widely anticipated new model, Coconut Telegraph was obligated to debut at the Viking VIP event and Fort Lauderdale International Boat Show before Davis was able to take final delivery. Then he and old friends, Bobby Garmany, Tim Burke, Michael Nix and Ross Taylor promptly left South Florida bound for Grand Bahamas for a shakedown trip. The conditions cooperated early on and they enjoyed a short stay at Blue Marlin Cove, bottom fishing and cooking up some wahoo they caught while high speed trolling. With the winter weather taking a turn for the worse and many bigger boats bugging out, they chose to make the crossing back too with seas kicking up to 5-8 feet, "but we cruised right through it all at about 21 knots. The boat handled it great," Davis reports. The only real challenge they had with this first trip was downsizing their 64 feet of gear onto a 37-foot boat, but it's obvious they're all really excited about what's to come.
This is no riches to fishes story, as Davis makes it clear their focus once returning back home will be all about filling up the fish box. "We got caught up chasing bills for awhile, but I like dolphin, snapper, sheepshead… Love to bottom drop. We'll fish wrecks for spanish, black sea bass, anything that will bite…" If there's anything that resonates about Davis' story it's how he has always used his boat purchases to bring his family together and show appreciation to his Dad for the father and son relationship that means so much to him. A son, his father and a couple fishing rods—now those are some things worth putting on the Coconut Telegraph.