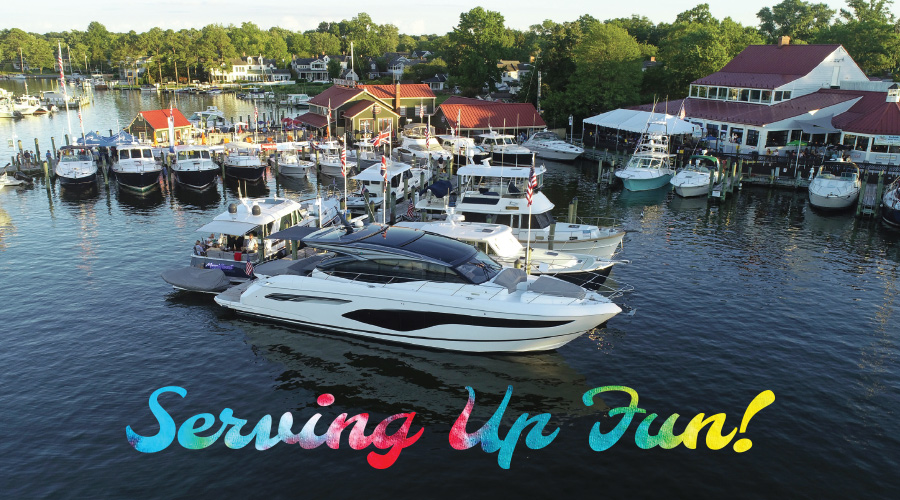 2020 Bluewater Summer Cruise Revisits St. Michaels
In a year of social distancing, face coverings, and constantly changing restrictions, Bluewater Yacht Sales' customers and staff were grateful for the opportunity to keep one thing relatively normal—the annual Summer Cruise. During the second week of July, a crowd of nearly two dozen boats made the trip up the Miles River to St. Michaels Marina for a long weekend of camaraderie at one of the most popular destinations on the Chesapeake Bay.
There were certainly some challenges to pulling off a gathering during the pandemic, but the Bluewater events team made some creative changes to follow the government mandates and keep attendees safe.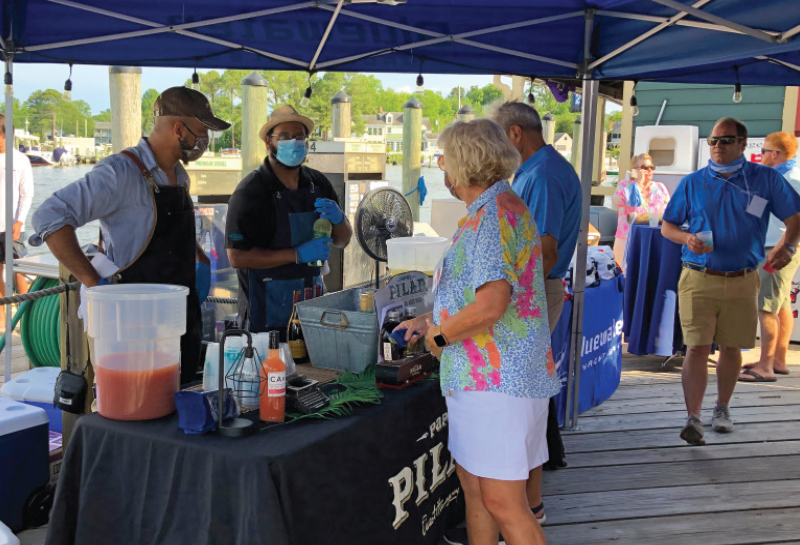 Due to limits on outdoor gatherings in the state of Maryland being capped at 100 people, the Summer Cruise sold out just weeks after opening registration, but that didn't keep it from being an unforgettable experience for everyone involved.
The Summer Cruise began on Thursday evening with a celebration on the docks featuring delicious coastal fare from nearby Foxy's Harbor Grille and libations from Papa's Pilar Rum. It was evident that everyone was eager to be together and grateful to enjoy the company and cocktail hour. "Not even Tropical Storm Fay's heavy rains and wind could dampen our spirit or deter our group from kicking off a fun weekend," reflected Bluewater's Event Coordinator Lauren Stevens.
Over the course of the next three days, attendees experienced the charm of St. Michaels, taking the short walk from the marina to the downtown restaurants, shops, and museums, as well as by water during a lunch trip aboard the Patriot cruise line. Our entire group took a quick water-taxi to the Chesapeake Bay Maritime Museum, where we boarded a tour boat for a scenic cruise up the history-rich Miles River. After returning to the marina, there were scheduled demo rides aboard new models, including a Viking 46 Billfish, a Regulator 34 and the recently debuted Valhalla V-33. Customers and staff alike enjoyed putting these high-powered vessels to the test in the Northern Bay. Bluewater also had the rare opportunity to have a Princess V60 demo boat on display, which was certainly a bonus for our customers to have exclusive access to this new model.
The highlight of every Summer Cruise is the christening ceremony, where proud owners are given the chance to showcase their new boats and tell how they picked their names. The 2020 Summer Cruise did not disappoint, and included christenings of a 78′ Marlow, 52′ Sabre, 35′ Carolina Classic, and a pair of 41′ Back Coves! After toasting each other with mimosas, the group took some time to explore the town, sit by the pool, and relax before the closing dinner at nearby St. Michaels Crab and Steak House.
One special moment from that evening was a birthday surprise for one of our guests. "After everyone had finished with their entrees, we coordinated to have a beautiful cake presented to Avery Morris and our entire group sang Happy Birthday to her. I know she was very touched," commented Stevens. Avery's husband John reached out to their broker Chuck Meyers to help coordinate the surprise so that everyone could share in her birthday celebration—and we were more than happy to oblige.
Even though the Summer Cruise had to be scaled back a bit for 2020, it was still a great success, thanks to the generous support from sponsors, the hard work of the Bluewater team, the St. Michaels Marina crew, and the loyalty of our customers and friends. Each year, this event reminds us why we do what we do: The Summer Cruise gives us the opportunity to spend time boating together with our customers. The connections we make with them, as well as the ones they make with fellow participants are what really matters. "The Summer Cruise is a great event for building relationships, and it is quite rewarding to watch everyone thoroughly enjoy themselves," concludes Stevens. The Bluewater team looks forward to welcoming everyone for a bigger and better event in 2021 at Spring Cove Marina in Solomons, Maryland!
Save the Date
July 8-11
2021 SUMMER CRUISE
Spring Cove Marina
Solomons, Maryland