NAVIGATING THE EAST COAST'S BIGGEST BOAT SHOWS
4 Major Boat Shows to Visit on the East Coast
By: Corey Schuerman
Aboat show is arguably the most fun shopping experience that you will ever have. With nice weather, it is hard not to grab a cold beverage and get lost in a dream world while walking the docks. Whether you are purchasing a new boat, dreaming of owning a boat, or just checking out what is new in the industry, the energy and excitement will captivate you. There is a chance, however, that you may feel a little anxious and overwhelmed. With shows like Fort Lauderdale boasting over $4 billion (yes, that's "Billion" with a "B") in product on display, it is easy to see why one might feel a bit lost when stepping out into the blinding Florida sun at Bahia Mar. There is no need to fear though—here are a few tips that will make navigating the top Mid-Atlantic boat shows a breeze.
Annapolis
Typically held over the first two weeks of October, the United States Sailboat and Powerboat Shows have grown in size and popularity. Mark your calendar now to visit Bluewater Yacht Sales on City Dock A in Annapolis, Maryland, over the weekend of October 12th-15th, 2017. October is the perfect time to trade in and move up if you are looking to customize a new boat and take delivery in the early Spring. Arrive early and enjoy breakfast at one of the many quaint downtown restaurants. The show opens at 10:00am, giving you plenty of time to see the vessels you are really interested in prior to the busy afternoons.
After lunch, be sure to join in the "boat show tradition" of enjoying a Painkiller, a Pusser's Rum favorite amongst locals and show-goers. Spend the afternoon taking a look at the rest of the boats and accessories on display, but be sure to not lose track of time. Boat shows usually mean incentives, and incentives mean deals are made quickly. Stop back by the Bluewater exhibit before heading out to dinner to discuss the vessels you are interested in and schedule a sea trial or place a deposit to ensure your boat will be ready when the season starts back up again! Thursday, VIP Day, is $35 per person while the remaining Friday, Saturday, and Sunday tickets are $18 per adult. Additional information about combination and children's passes can be found on www.annapolisboatshows.com
Fort Lauderdale
Under new management, the Ft. Lauderdale International Boat Show (FLIBS) has announced new days of operation for 2017: the show will drop the traditional Thursday through Monday routine in favor of a more calendar-friendly Wednesday through Sunday schedule. Plan a trip to South Florida November 1st through 5th, 2017, and visit Bluewater Yacht Sales at the Bahia Mar on D Dock. FLIBS offers a unique opportunity for you to escape to a carefree environment of beauty and fun! As the world's largest boat show, you can explore both our exclusive brokerage listings and discuss brand new vessels from our award-winning brands with our team. Be sure to spend some time enjoying the air-conditioned accessories tents to cool down and gear up for your winter expeditions to the Caribbean or in preparation for spring commissioning. With parties nearly every night and beautiful beaches nearby, this is a boat show you will definitely want to spend multiple days visiting. General admission is $29 with Prime Time Preview on opening day at $46.50 per person. VIP packages are available for access to parking, water taxi, and the Windward Club. More information can be found at www.showmanagement.com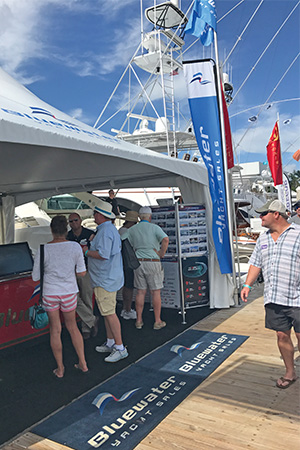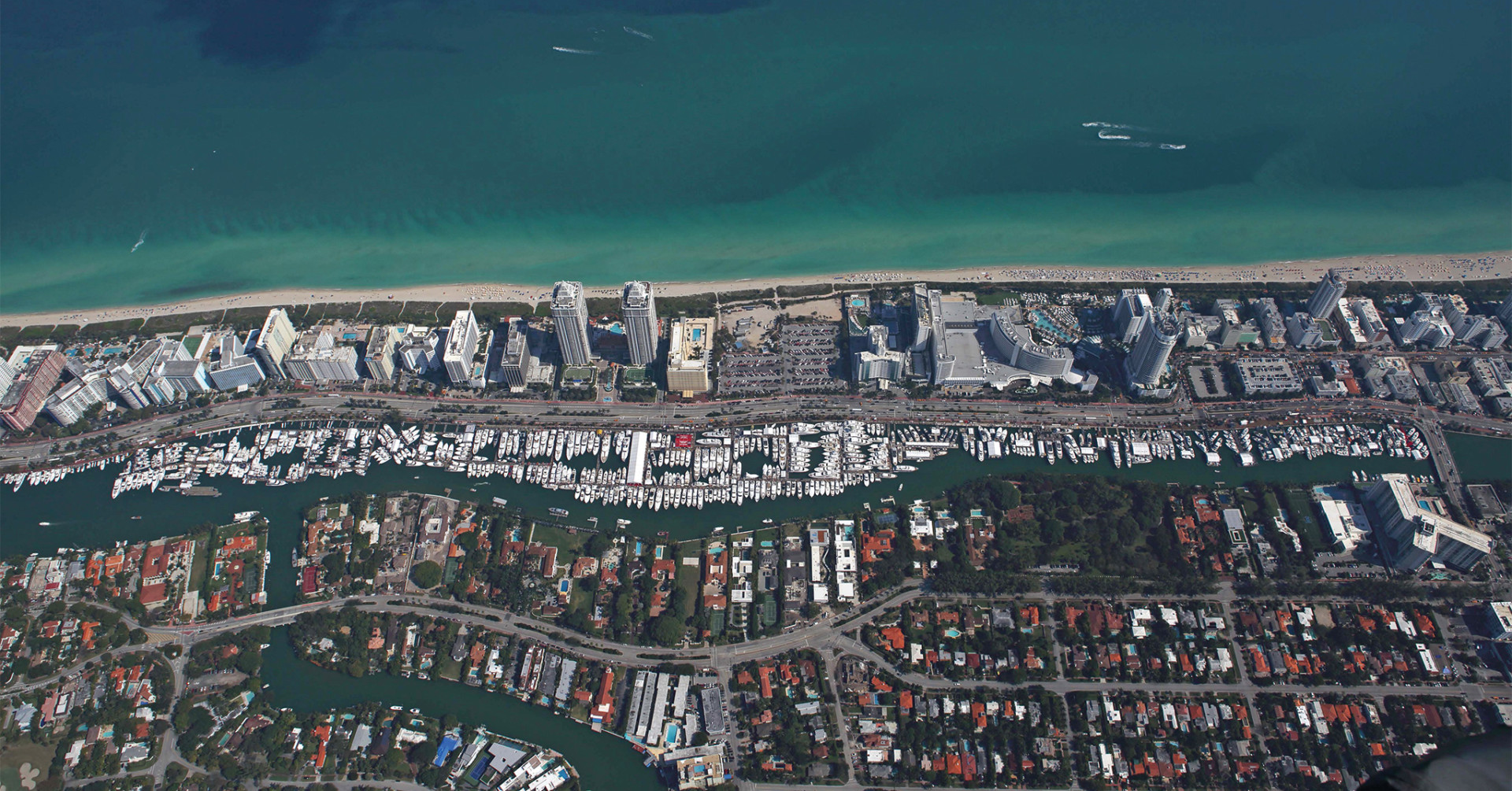 Miami
Claiming the title for the largest temporary marina in the world, the Miami boat shows set themselves apart from all other shows in North America. Be careful to avoid confusion when planning your visit to Miami—there are multiple shows happening over Valentine's Day weekend in Biscayne Bay. You can visit Bluewater at Yachts Miami Beach via Entrance 3 on Collins Avenue in Miami Beach, Florida, February 15th through 19th, 2018, where we will have top of the line brokerage boats on display.
Similar to Ft. Lauderdale, you also have the ability to explore your options for new builds from premier sport fishing and cruising yacht manufacturers at the displays in the Miami International Boat Show on Virginia Key—a free water taxi ride away from Collins Avenue. Miami is what many consider the start to the Winter/Spring boat show season and it provides a wonderful escape from much of the Mid-Atlantic's cold weather. Bring your sweetheart to experience the 30th anniversary of Yachts Miami Beach and enjoy a Goslings Rum signature Dark 'N Stormy cocktail while cruising the docks. Stay nearby at one of Miami Beach's exclusive resorts such as the Fontainebleau and avoid the hassles of traffic and parking. General admission tickets to Yachts Miami Beach are $20 per person; information about the show and VIP packages can be found at www.showmanagement.com
Palm Beach
Revered by a growing number of exhibitors and attendees as "The Best" boat show of the year, the Palm Beach International Boat Show offers all of the benefits of the larger South Florida boat shows without the massive crowds. Taking place near the downtown retail and entertainment district, luxury and convenience are trademarks of this event. Stop by the Bluewater Yacht Sales display on Ramp 5, March 22nd through 25th, 2018, to have an in-depth look at our remaining brokerage boats, ready for your summer vacation or expedition. Plan to visit manufacturer exhibits and talk with our team about new builds that may still be available to purchase. This is one of the final chances to purchase a boat in time for the summer season! Admission is $22 per person. More information about the show and special VIP treatment is available at www.showmanagement.com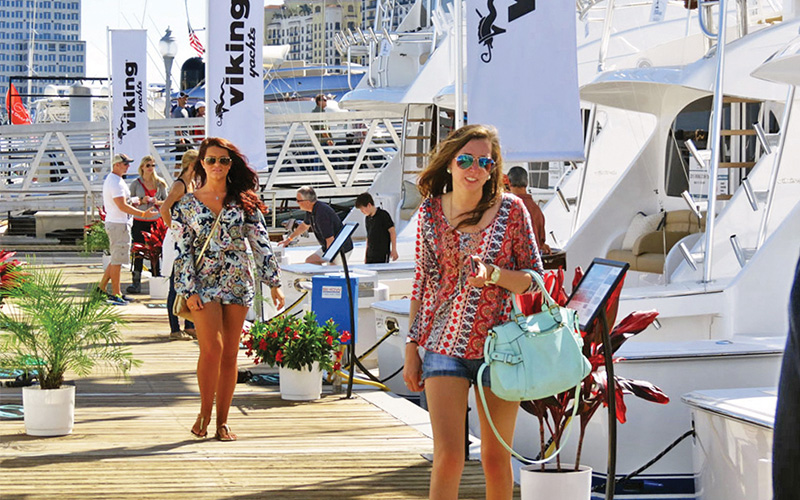 No matter which boat show you choose to visit this year, be sure to talk with a Bluewater expert first to set up a time to meet and discuss plans for your current or future boat. We are happy to schedule sea trials and help you compare the multitude of available options to choose the boat that best fits your budget, lifestyle, and dreams. With 9 offices throughout the Mid-Atlantic and over 300 team members, Bluewater Yacht Sales is aimed at providing the best yachting experience for our customers. See you on the docks this boat show season!