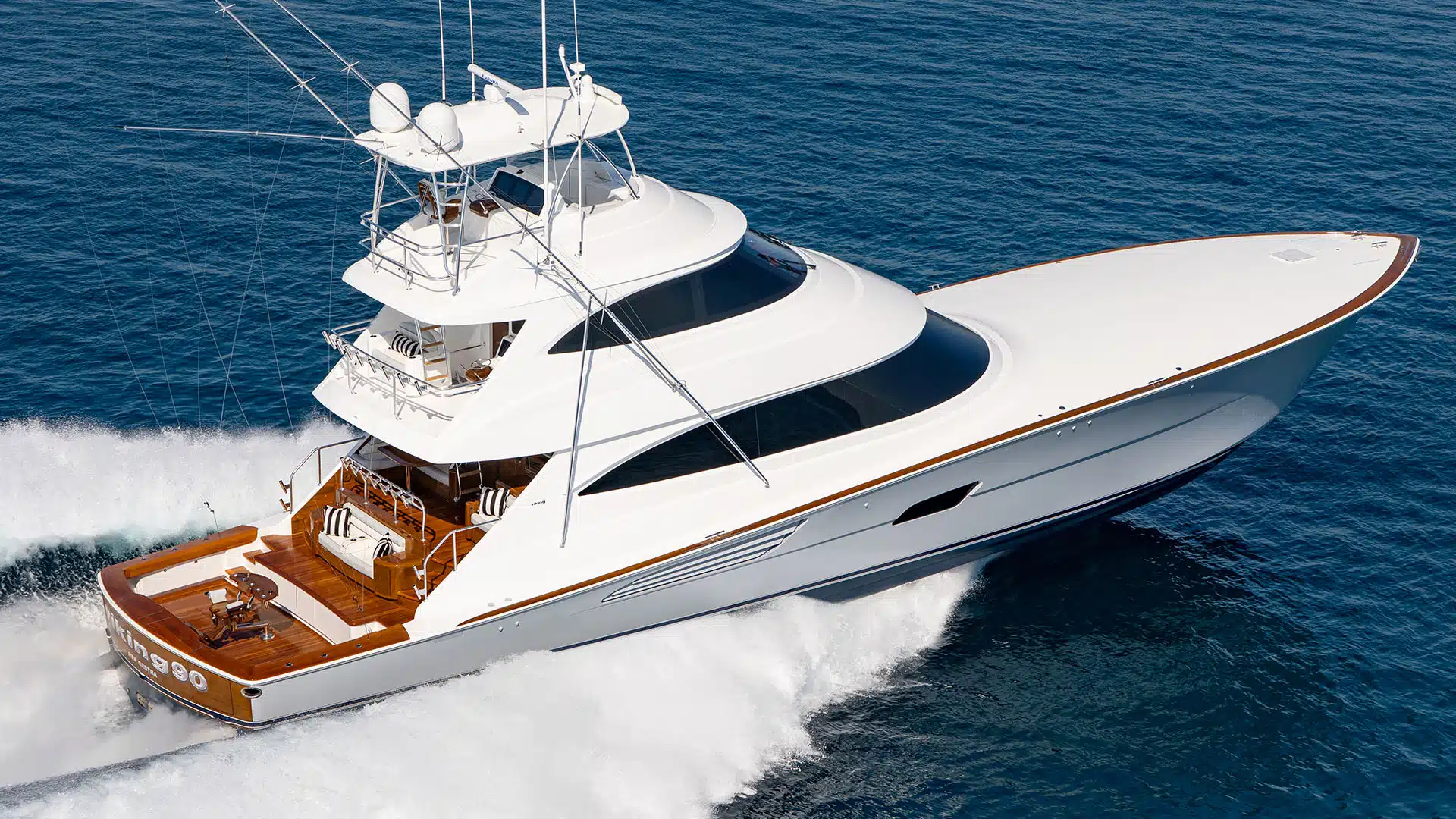 A Closer Look: NEW! Viking 90 Skybridge
The Viking 90 represents a $20M investment in R&D to become the newest flagship and ensure the best product for owners.
Viking Yachts
took what they've learned from the 92 and other newer Viking models and applied those experiences into the development of the 90. The class-leading Viking 80 also played a big role in leading up to development of the 90. Viking's recent practice of utilizing lightweight, advanced interior materials along with composites technology including carbon fiber is prevalent in the new 90 and offers substantial weight savings on the completed boat.
Much like the outgoing 92, the new 90 will feature a two-level mezzanine. However, all seating will face aft as opposed to the 92's forward facing settee. This update is based on input from Viking 92 owners and the realization that owners and guests want to face the action – the cockpit.
A challenge presented to the design team was to keep as much of the 92's interior volume and accommodations as possible. That means 6 staterooms and 7 heads. The team was successful and produced a stunning and functional interior space that even maintained bed sizes in each stateroom and kept the enclosed laundry center.
Aside from the meticulous attention paid to the cockpit, mezzanine and interior, Viking's engineers went through every system, both big and small, with a goal to simplify what was complex and aide access for maintenance and future repairs. The anchoring system and flush-mounted anchor have been designed to reduce weight while optimizing effectiveness and aesthetics.
The engine room layout has been improved upon and boasts many benefits including optimum placement of the batteries within fiberglass boxes. The twin 40 kW generators are installed aft of the engines, providing great accessibility for maintenance and improved center of gravity for the yacht. The engine room features a predetermined spot for installation of omni sonar. The Viking 90 also utilizes composite seacocks which will eliminate corrosion concerns while decreasing weight.
Loaded with Features & Options
Features and options for this newest model are plenty. Some of the biggest offerings being a choice between Open Bridge, Enclosed Bridge and Sky Bridge. Enclosed Bridge and Sky Bridge models feature an additional control station aft, outside for ease of docking maneuvers and even backing down on a fish. Another trio of options is in the propulsion category. Standard power is twin Cat C32A rated at 1,925 horsepower each. Optional power includes Cat's all-new C32B producing an impressive 2,433 horsepower along with MTU's most powerful Series 2000 engine: the 16V M96L rated at 2,635 horsepower.
SPECS:
LOA: 90' 0"
Beam: 23' 2"
Draft: 5' 11"
Displacement: 203,659 lbs (Sky Bridge)
Displacement:193,490 lbs. (Open Bridge)
Fuel Capacity: 3,801 gal.
Water Capacity: 480 gal.
Holding Tank: 282 gal.
Cockpit Area: 224 sq. ft.
Transom Livewell: 203 gal.
Viking has already secured more than a dozen build slots for the all-new 90, which speaks volumes to the brand loyalty of their owners and the immense effort and passion that was poured into this latest model. Hull #1 of the Viking 90 – a Sky Bridge model – splashed in time for the Winter VIP event ahead of her international debut at the Miami International Boat Show.
Offered in an Open Bridge, Enclosed Bridge and Skybridge layout, the Viking 90 is designed to fulfill the expectations of any owner's adventures and pursuits from global fishing campaigns to long-range cruising with family and friends.