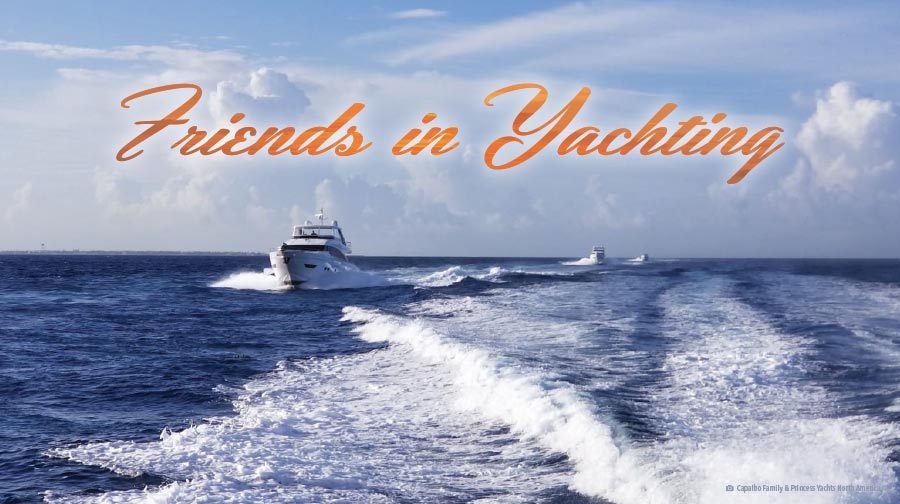 A Growing Fellowship of Princess Yachts Owners
Steve Capalbo grew up on Long Island and enjoyed the area's waterways as often as he could, including both sailing and powerboating. A 20-year veteran of the U.S. Army and former IBM Associate Partner, Steve is no stranger to travel. However, even in land-locked states or abroad in European countries, Capalbo would find his way to open water for recreation, including sailing and Hobie Cat racing.
Once Steve and his wife Carolyn decided it was time to move on from their Island Packet 45 sailboat and move to a powerboat, they began attending boat shows. "We met Scott [MacDonald] at the Annapolis Powerboat Show three years ago and have maintained a friendship ever since," Steve explains. They were interested in other motoryachts but really loved the Princess models MacDonald showed them.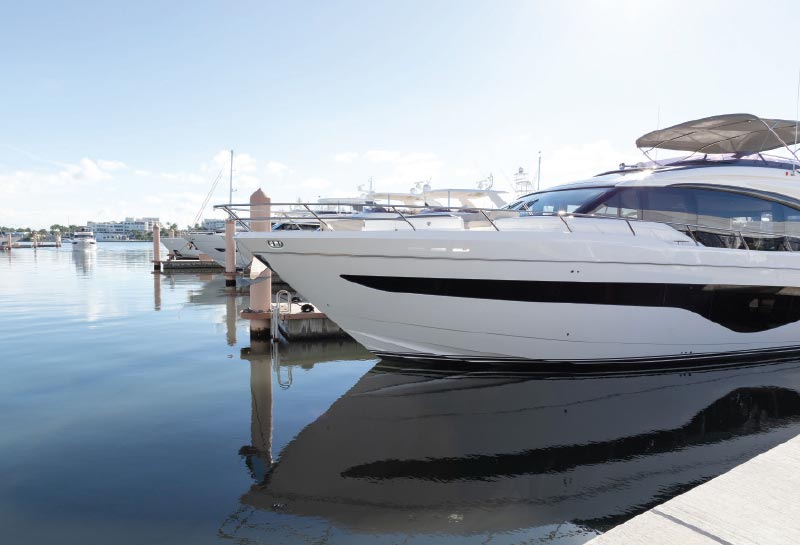 Hooked on Quality
"The moment Carolyn walked on to a Princess, she said, 'this is it,' and basically fell in love with the boat from day one," Steve recalls. The couple arranged to fly down and attend the Fort Lauderdale International Boat Show with Scott MacDonald as their guide. The Princess display did not disappoint that year and they were able to sea trial a Princess 49 Flybridge.
"[Carolyn] basically fell in love with the boat from day one."
"We toured the Princess line and really wanted two helm stations with three cabins, and the Princess 49 Flybridge satisfied all those requirements." Steve exclaims, "We signed a contract right there at the show!" A Princess 49 was not the only boat they sea trialed in Fort Lauderdale; MacDonald also got the them onto a Seakeeper demo boat. The ability of the gyro stabilizer to drastically reduce roll sealed the deal. "Carolyn said, 'we're getting one!'" recalls Steve, who has affectionately nicknamed it the 'wifekeeper.' So, when it came time to choose options and features for their new 49 Flybridge from Princess Yachts, a factory-installed Seakeeper was included.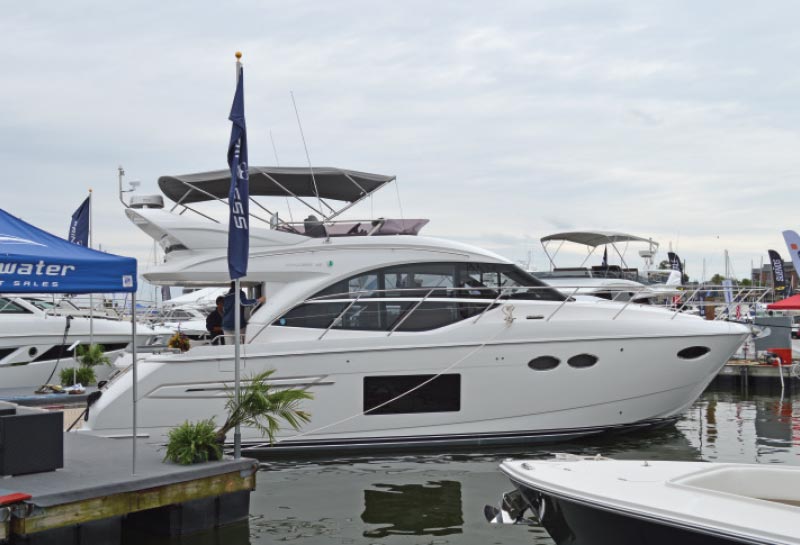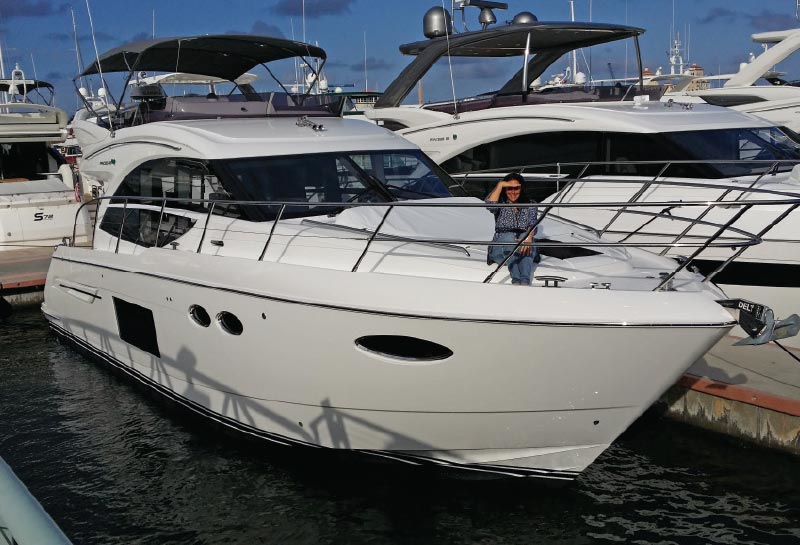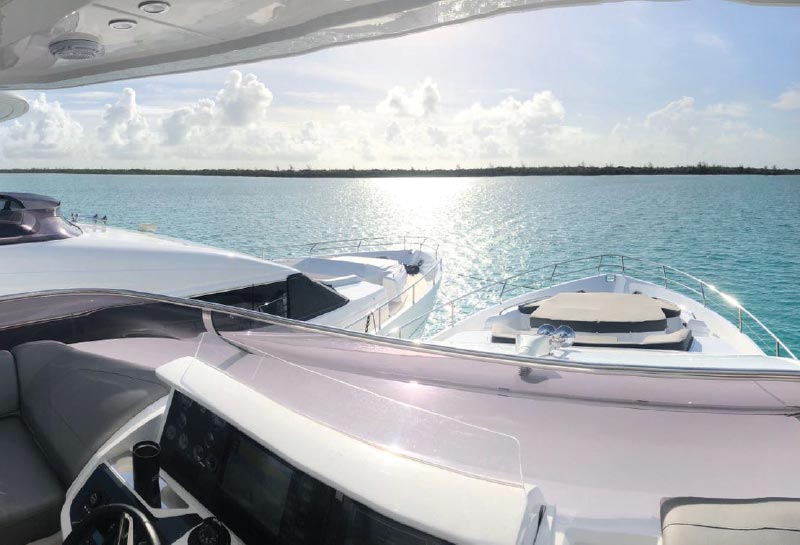 Maiden Voyage
Fast forward to January 2018, and an excited Steve and Carolyn took delivery of their new Princess 49 Flybridge at the Princess Yachts North America headquarters in West Palm Beach. The 49 Flybridge is unique in the Princess range, being one of the only boats powered by Volvo's IPS engines with pod drives. With these engines, the boat posts a commendable 35 knot top speed and efficient cruise speed of 30 knots, burning 42 gallons per hour (GPH). Their boat was also optioned with the Volvo Glass Cockpit system—a collaboration between Volvo and Garmin that integrates a bulk of the ship's systems into the large Garmin display at both helms. "The integrated systems simplify everything and we love the maneuverability of the pod drives," Steve reports.
The first order of business in the new boat was to register for Princess' spring rendezvous in the Bahamas! With over twenty boats in attendance overall, the Capalbos departed with nine other boats from West Palm Beach and made the passage to West End in three hours. From there, a convoy of Princess Yachts made their way east through the Abacos for five days of parties, fun and relaxation. Another unique aspect of Princess' customer events is the availability of highly-trained service technicians on the docks. Steve notes: "Service people with Princess are amazing and always ready for any issues that may come up!"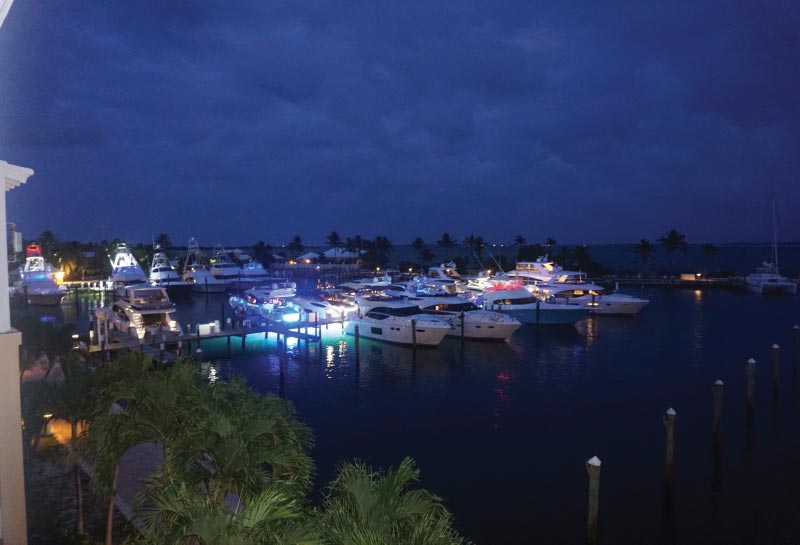 Princess Rendezvous in the Abacos
The return trip allowed their new Princess to perform in unfavorable conditions, cutting through 8-foot seas at 12 knots with no problem. In their convoy were a couple yachts larger than 80' and the captains of both vessels were blown away at how well the new 49 performed. Underway, the Seakeeper helped keep the boat's manners in check. After the rendezvous, Princess owners have kept in touch. "They're all a really great group of folks," Steve recounts.
Blossoming Friendships
MacDonald took a phone call at Bluewater's Grasonville office one day and what started as a simple inquiry about Princess product, unfolded into a 90-minute phone conversation and a new relationship with customers Cindee and Alan. "His character is amazing," Cindee recalls. "Scott shared a wealth of information with me that day. He is very sincere, professional, kind and knowledgeable."
MacDonald's next step was to speak with the Capalbos regarding an opportunity for Cindee and Alan to tour their Princess F49. The date was set, and Cindee and Alan would not only be meeting Steve and Carolyn, but also MacDonald for the first time. "The Capalbos provided such a gracious and glowing recommendation of both Bluewater and Princess—it was absolutely genuine," Cindee said. The boat tour and budding friendships transitioned in to a sea trial and cruise through the Chesapeake Bay.
The Capalbos were also contacted by Princess Yachts, requesting that their boat be featured at Bluewater's display during the United States Powerboat Show in Annapolis. "It's a two-way street," Steve explains. "Princess is super supportive and their service is top notch and very responsive, so I wanted to return the favor by allowing our boat to be on display."
"Princess is super supportive and their service is top notch…"
Alan and Cindee joined the Capalbos aboard their Princess F49 for the cruise to the Annapolis Boat Show and MacDonald recalls, "Just like Steve and Carolyn a couple years back, my new clients fell in love with the Princess look and layout." Steve was excited to take Alan and Cindee out on their 49 Flybridge and he even performed a trademark Seakeeper demo by laying the boat beam to the waves and switching the gyro on and off. "I can't imagine anyone getting any boat without stabilization," Steve says.
Cindee and Alan echoed those sentiments, blown away at how well the relatively small Seakeeper gyro could tame the roll in a large yacht. Not only did a great friendship blossom between the two couples, but now Alan and Cindee are anxiously awaiting delivery of their brand new Seakeeper-equipped Princess S60. Scheduled to arrive stateside in September 2019, Alan and Cindee will join MacDonald for a scheduled trip to Plymouth, England to view their boat in progress at the Princess factory in July.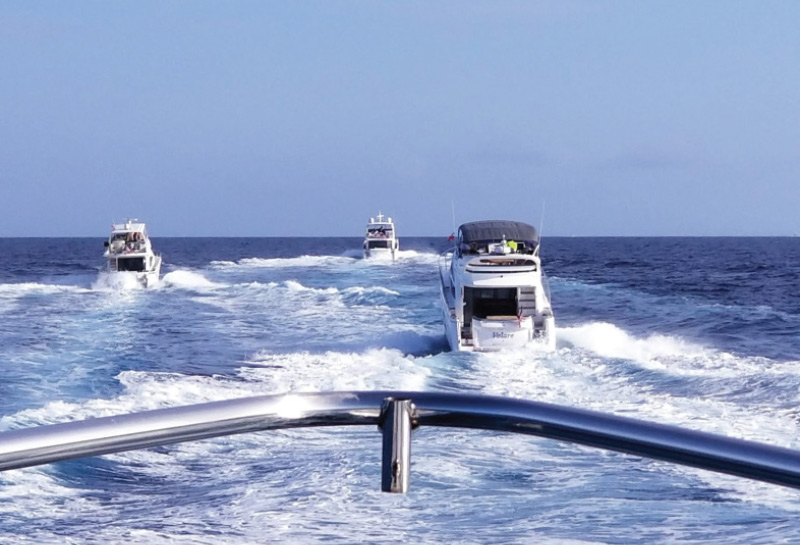 "We went bigger and optioned a great deal of creature comforts for extended cruising adventures," Cindee explains. Like the Capalbos, they also wanted two helm stations, but with concerns over bridge clearances along the Great Loop, Alan and Cindee opted for the sleeker topless S-Class from Princess. "Our first retirement hoorah involves cutting ties and going cruising for the long run," Cindee exclaims. Their travel bucket list includes The Great Loop with adventures in Nova Scotia and an escape from winter to the Bahamas and Caribbean. "We love our friendship with Scott, we love Bluewater and working with them, and we absolutely love Princess," Cindee concludes. "The people in Palm Beach [at Princess Yachts North America HQ] are fantastic!"
Even before their Princess delivered, Alan and Cindee joined Steve and Carolyn at the 2019 Princess spring rendezvous in the Bahamas with nearly 200 other Princess owners. The Capalbos are also including Alan and Cindee in upcoming summer cruising adventures to help scratch the itch while awaiting delivery of their new Princess S60 in the fall. "We try to get out [on the boat] as much as we possibly can," Steve said. "You have to commit to the lifestyle. You don't buy this kind of boat for it to sit in a marina, you run it and enjoy it!" Adventure cruising has always been a great way to meet new people and develop lifetime friendships, but these new Princess owners appear to be off to an incredibly fast start!