A Relationship Built on Boating Near the Nation's Capital
Roughly ten years ago, a group of friends decided to rent a boat one summer weekend and enjoy the sights along the Potomac River. That's when Dave Rost, a 12-year Army Veteran, met his wife-to-be, Dana. The two subsequently spent evenings and weekends together boating and dating, which in time led to the purchase of their first boat together, a 24' jet boat. "Our first kiss was actually on July 4th. We fell in love with each other while also falling in love with boating on the Chesapeake," Dana reminisces. They would soon be married and then decided to move from Alexandria to Annapolis, where they could keep their boat on the water in their own backyard.
The young couple enjoyed time with friends and family on that 24' runabout, but eventually needed something bigger, moving up to a 29' bowrider. "Obviously weather dictates our weekend boating plans, but even if we can't get out on the water it's still nice to sit in the cockpit and have a drink and grill up dinner," Dave tells us. When it was time for the next upgrade, Dave and Dana looked for their next boat very diligently. This time they knew they wanted something with some interior space—and also accommodate Dave's 6' 5" frame.
"We went to all the boat shows we could, even the Miami show in February. We must have boarded literally hundreds of boats," Dana said. "If Dave boarded the boat and couldn't stand up straight, we would just step back off and move on." Dave adds, "You would be absolutely amazed how many 50' and 60' boats aren't built for customers with tall, large frames like mine." Also, the Rosts were looking for a boat that had a very open feel in the cabin and let the sun in. "What's the point of going out on the water if you're going to be closed up or in the shade the whole time?" ponders Dave. The search for a boat became fairly exhausting for the young couple, and there may have been moments when they figured all was lost on finding just the right one.
Then, while visiting family in New York, the Rosts discovered Cruisers Yachts and were instantly impressed when they boarded a 390 Express Coupe. Dave could stand up straight—at the helm, in the salon, in the master stateroom and even in the head—he never felt cramped. The helm and bridge area featured a large sunroof which allowed the sunlight to pour in and the cockpit seating provided a bevy of configurations to suit sunbathing, entertaining a dozen friends or a romantic dinner for two. It felt as if they may have found the perfect boat for them.
Upon returning home, Dave placed an inquiry with Bluewater Yacht Sales and received a prompt reply from Maryland salesman Chuck Meyers. "Chuck was very responsive and helpful. He answered all of our questions about the boat and was never pushy about the sale," Dave explains. "Working with Bluewater Yacht Sales and especially Chuck [Meyers] and BW [James, Hampton Service] has been one of the best experiences of purchasing and owning anything—even better than any house or car I've owned."
Meyers helped facilitate the purchase of a 390 Express Coupe that was already in production at the factory. From there, the Rosts were still able to spec out most items on the boat, including a Garmin electronics and navigation package that included two 10" screens. They swapped the white canvas on the seats for a tan color and filled the bridge and helm area with overhead, color cycling LEDs.
Sales Meets Service
After their first boating season with the new boat, the 390 spent some time at Bluewater's Hampton Yacht Yard for some minor updates along with a new custom dark grey hull color—something they were initially too late in the build process to request directly from the factory.
They took delivery of their new boat on July 1st, just in time for their favorite holiday, as well as the Bluewater Summer Cruise. "The Summer Cruise was an awesome event," Dave recalls. "We met so many great people and had the opportunity to ask questions and learn a lot from some of the more experienced boaters there. We christened our boat and just enjoyed a really relaxing weekend." They have also focused their time on starting a family. The Rosts warmly welcomed their first child, Camden, in October of 2015 and are now excitedly expecting their second.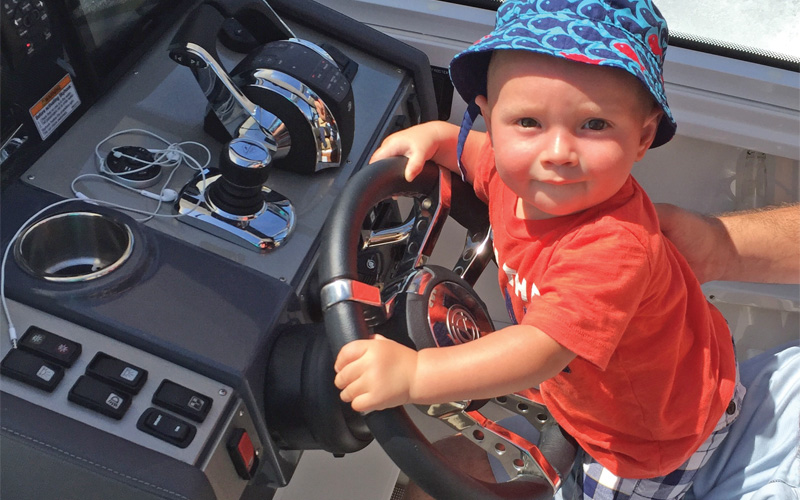 "Bluewater Yacht Sales is such a fantastic team to have on your side…"
In addition to attending the 2017 Summer Cruise in St. Michaels, Dave has also planned a "mancation" with several of his long-time Army friends, running from their home in Annapolis to Atlantic City, NJ. Any other travel plans aboard their 390 EC will be kept local as the arrival of their second child draws closer. Saturday outings with friends on the Chesapeake are definitely still on the schedule.
"Bluewater Yacht Sales is such a fantastic team to have on your side and they are always there to answer questions when we call," Dave says of Chuck and BW. "They truly make you want to stay with Bluewater, and even though we aren't thinking about our next boat purchase yet, we know for a fact who we will call when we're ready."