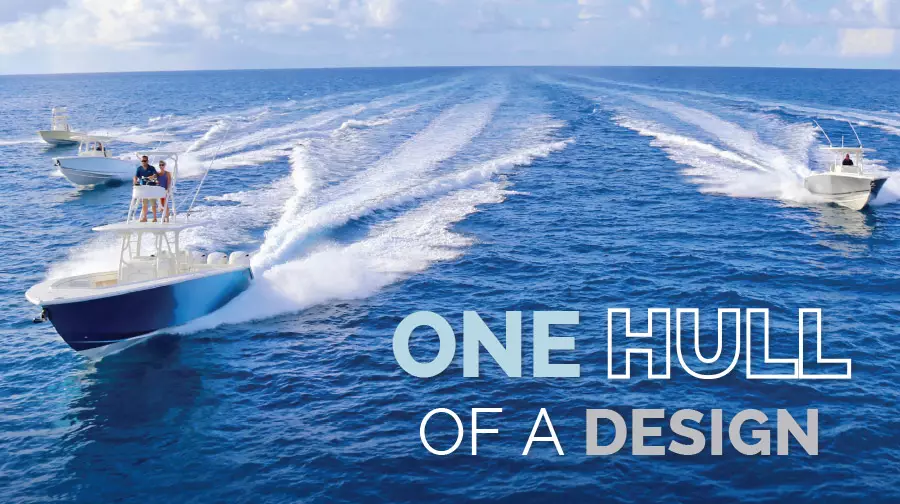 A Salute to Jupiter's 30 Years of Performance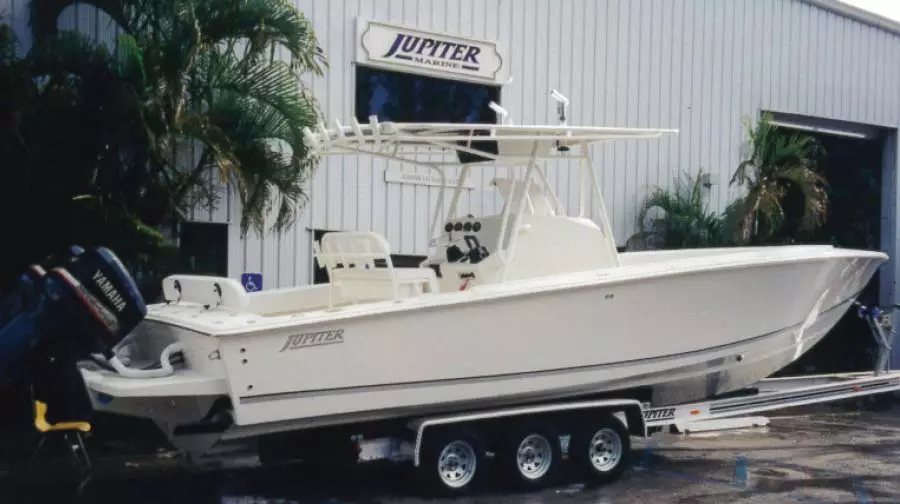 Jupiter's popularity has soared through the years thanks to a reputation for solid construction, yacht-grade fit-and-finish and even some celebrity recognition. As we celebrate with Jupiter on their 30 years of boat building and innovation, let's take a closer look at how it all started and what truly makes each Jupiter boat special.
In 1989, a handful of offshore racing enthusiasts got together with a vision to take the best performing aspects of racing hulls and apply them to a fishing boat. The result was the very first Jupiter 31 center console fishing boat equipped with a bracket and outboard power. Although stepped hulls were gaining some popularity in the 80's, this original hull form featured a deep-v forward with a generous sized hull "pad" in the center aft.
"…the boat will track straight with minimum effort at the helm.".
Jupiter's National Sales Manager, Lester Ares explains, "Jupiter's founders originally figured out that if you build a much larger pad-bottom hull, the boat will track straight with minimum effort at the helm." In contrast, hulls with a deep-v throughout the stern tend to shift more to one side or the other of the center of gravity. In the pad design, effortless straight-line tracking is joined by drama-free turns and exceptional handling. "These boats truly handle like a sports car on the water," says Ares.
Growing and Evolving
The Jupiter nameplate was derived from the Jupiter Inlet on Florida's Atlantic Coast. This inlet is at times treacherous and routinely puts both captains and their vessels to the test with a rough, unpredictable sea state. The original Jupiter 31's unique hull pad bottom proved her place in the market on Jupiter Inlet's tough passage. Over the next decade, the 31 garnered attention from celebrities and sportfishing enthusiasts alike while other models like the 21 Flats and 27 were introduced.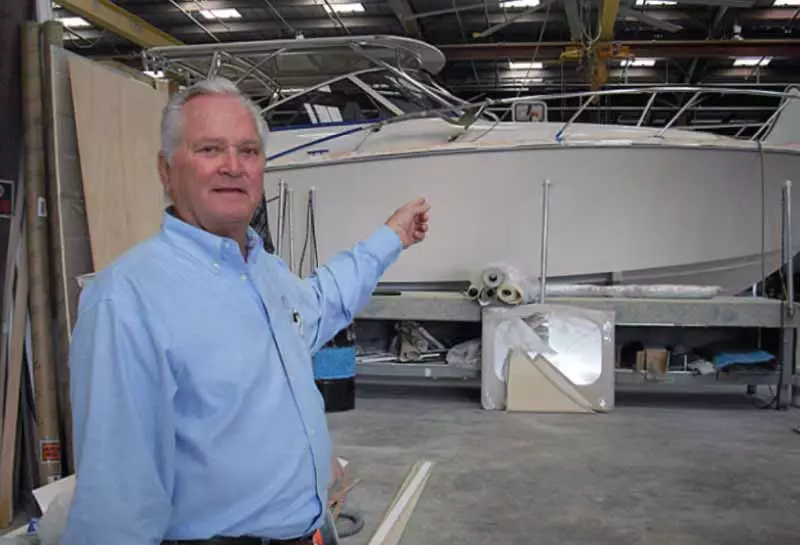 Carl Herndon shows off a new Jupiter back in 2009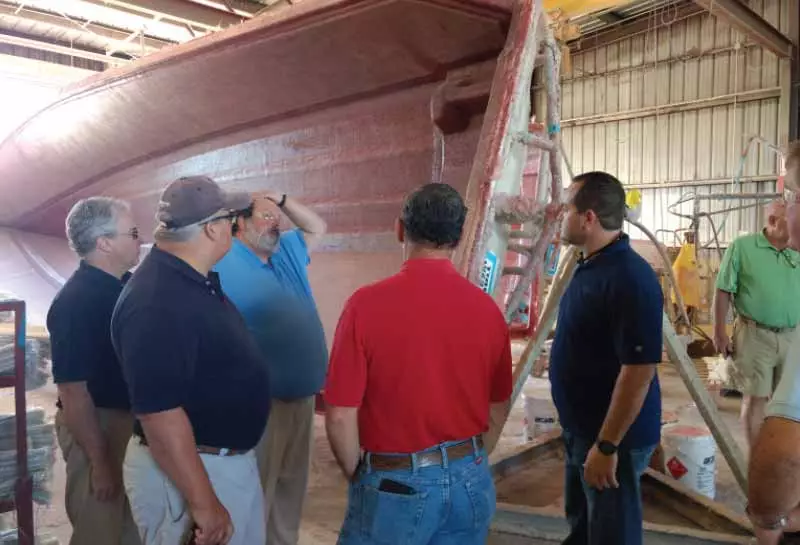 Bluewater's recent Jupiter factory tour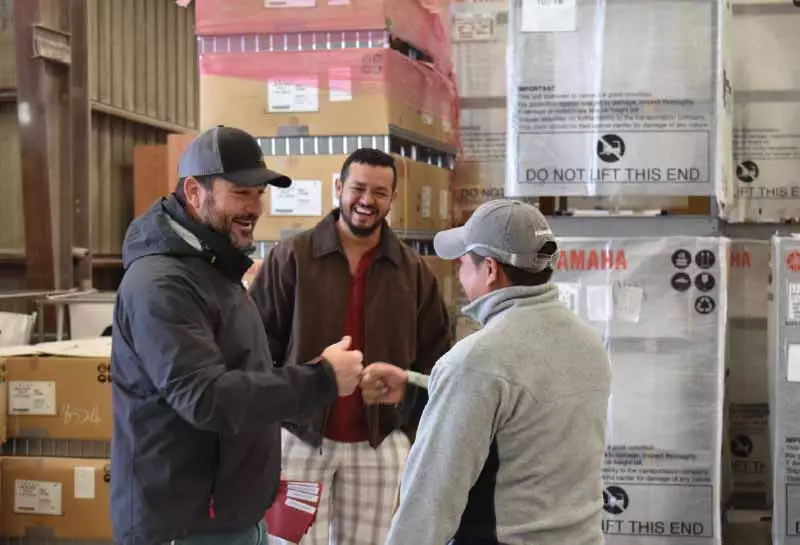 Craig Herndon and team members in 2018
Jupiter's original founders honed their skills in design and construction, but left much room for improvement on the business side of their operations. When Jupiter Marine fell into financial trouble, Carl Herndon swooped in to resuscitate the brand, seeing their incredible potential for success. Herndon's experience included being the President of Bertram Yachts, and founding CEO of Blackfin Yacht Corp. He knew boats and he knew business management, and he was poised to catapult the Jupiter brand to the next level.
Over the next two decades, Jupiter expanded at their Fort Lauderdale plant before acquiring their current facility on the Gulf Coast in Palmetto, Florida. This plant has also undergone expansions to keep up with customer demand and the ever-evolving Jupiter product line which today spans from 25' to 43'. "Even with seven models currently offered, including a bay boat and an sport bridge, Jupiter hasn't deviated from the original Posi-stern Hull Pad Bottom that made us famous," Ares explains.
Jupiter's proven hull form can't take all the credit for their 30 years of success though. Management expertise from Carl Herndon along with design and construction know-how from his son Craig have played a role in the company's steady growth in the market. Jupiter has also progressed from serving a niche market to having an incredibly broad customer base that includes families, fishermen, owners of large sportfish boats and even superyacht owners.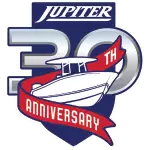 Tried & True Performance
A Jupiter boat can dominate rough seas and provide comfort to her operator and guests while running to the fishing grounds or island hopping with the family—but the benefits don't stop there. Many potential owners are blown away during a Jupiter sea trial when the throttles are pinned and the Yamaha outboards spring to life instantly putting the boat on plane within a couple seconds. The astounding performance of these boats cannot be summed up in a single word (colorful metaphors aside), mainly because so much goes in to making every Jupiter perform so remarkably well.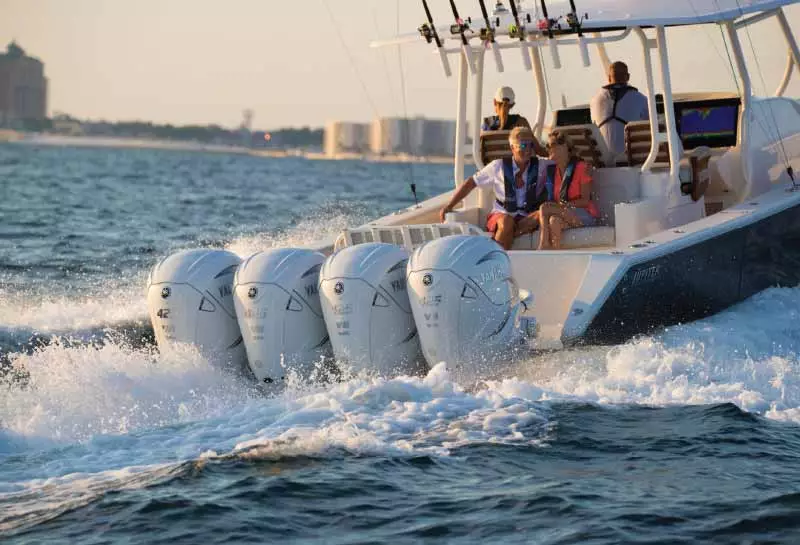 Conventional stepped hulls are touted as being more efficient and faster, but these benefits are only available in a narrow band of higher RPM. Jupiter Marine's Posi-stern Hull Pad Bottom offers stepped hull efficiency over a very broad range and is partly responsible for all Jupiter models being quick on plane. The other contributing factor to Jupiter's performance and close-quarter handling are the Yamaha outboards perched beyond the transom.
Discerning Customers
Superyacht owners have sought out Jupiters for use as tenders largely for their superior fit and finish and semi-custom prowess. Jupiter's Palmetto facility is equipped with a climate-controlled spray booth and full-time paint team that can color match a Jupiter model to her mothership or apply striking metallic topcoats and custom boot stripes to any model. Bluewater sales professional Bob Hoste explains, "Jupiter was one of the first guys in the bigger center console business, and their ability to work with customers so closely compared to other production builders has really helped set them apart through the years."
Furthermore, owners of big sportfishing convertibles have been drawn to Jupiter's larger models including the 41 Sport Bridge and 43 SF. These customers are seeking a smaller yet still very capable sportfisher that they can take out for a day of fishing or a run to the Bahamas in comfort. The 41 and 43 both offer yacht-grade interior appointments including different woods and soft goods to suit an owner's tastes.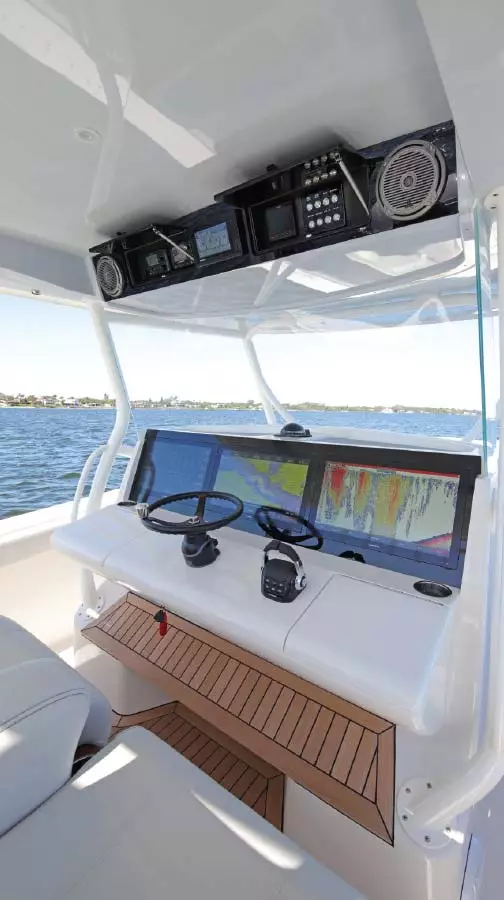 A lesser-known option for Jupiter models includes their hard-core fishing package available on the 34 and 38. Jupiter's hybrid forward seating (HFS) is removed from the bow and up to three livewells can be added to these models along with a tower and other fishing amenities for those looking to fish hard, on and off the tournament circuit.
Jupiter's staying power and growth in the market—even through the rough times—can be traced back to their humble beginnings with a group of offshore enthusiasts developing a radical new hull design. Their passion for boat building can be seen in their superior construction techniques and desire to work with every customer to deliver the perfect boat. The Bluewater family congratulates Jupiter on 30 amazing years of boat building and cheers to many more!
The Anatomy of a Hull
To say a Jupiter hull is over-built may be an understatement. Jupiter adheres to all ISO standards and then triples that standard by laying up every hull to three times the required thickness. The transom and integrated engine bracket are made with a pourable ceramic compound that provides exceptional rigidity, stability and strength. This component is then married to the hull before vacuum resin infusion chemically bonds the two parts together to form one solid piece from pulpit to swim platform edge. At nearly 2 inches thick with multiple layers of glass mat and composite, a Jupiter hull is designed to never take a breach. All of this is done without using any type of balsa or other wood that could cause issues with rot in the future. Truly a hull for a lifetime.