A Skilled Yard Can Bring Big Value to Your Refit Project
It's a fact of life: every good boat is going to need to be repowered someday. Whether you are a gearhead who likes to get your hands dirty, or a busy professional who'd rather let someone else sweat the details; performing a repower on your boat can be a daunting project. Large repowers have the potential to overwhelm the best of anyone's planning, scheduling and budgeting skills, and that's why it can be crucial to have a highly experienced and capable yard in your corner.
Diesel Rebuild vs. Repower
In the past, certain brands of diesel engines were notorious for giving up shortly after 2,000 or so hours of "wet" use in a sportfish boat. Nowadays, the general expectation for the top power packages from brands such as Caterpillar, MTU, Volvo and Cummins, have improved to the 4,000 or 5,000 hour range between rebuilds. Of course longer life spans are possible with great maintenance and operational habits, but that's the general rule of thumb given the increasing loads and speeds that today's operators are demanding. So alas, every owner who falls in love and holds onto his boat long enough eventually faces a decision—to rebuild the motors or replace them? The answer is complex and depends heavily on the specific vessel and circumstance. The type of boat and how it's been fished or cruised, as well as how the engines have been operated and maintained are of course paramount, but ultimately it comes down to a cost comparison.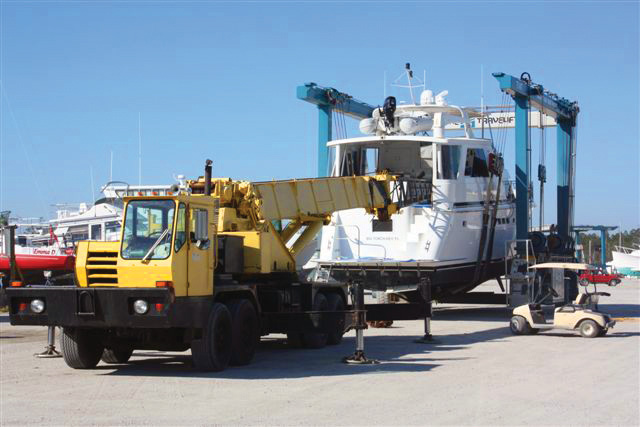 The major difference between the two projects is the collateral deconstruction required—most rebuilds can take place part by part, without the need for opening up gaping holes in the engine room or other areas of the boat. A repower however, especially when upgrading to a new engine model, can require a host of changes and reinvestments to the exhaust system, engine mounts, (possibly even stringers), on down to the shafts and propellers. But rebuilding an older engine can be a meticulous process too, as Jamie MacDonald of Caterpillar's North Carolina dealership Gregory Poole Marine explains, "If the engine rebuild estimate comes in at a higher cost than a repower, it's a no-brainer to repower." He advises that the new line of Tier 3 engines not only meet stringent new EPA emissions guidelines, but offer a more efficient fuel burn as a result. "These engines are lighter, quieter and burn less fuel at equivalent horsepower," MacDonald cites. When compared to the motors of yesteryear, the advanced electronics can provide an abundance of engine data to both owner and operator, even providing the ability to monitor and log vital engine stats in near real-time via GPLink remote monitoring.
In many cases, the benefits of a full repower will start to outweigh a rebuild, not despite, but because of, all the other systems that can be improved during the process. The comprehensive capabilities of the experienced teams at yards such as Bluewater Yacht Yards, and Jarrett Bay Boatworks, can seal these yachts back up with precision and actually have them looking better, and more functional, than when they were originally built. As one of the Jarrett Bay service department's very talented project managers, Steven Blackwell explains, if an owner's budget can allow, it's always wise to take this opportunity to see what other investments can be made to improve the boat during a repower.
Open Heart Surgery
Splaying out the insides of an intricately assembled yacht is not a job for the meek or inexperienced. A large engine replacement is an enterprise that requires specialized equipment and all of the skilled trades that the best yards have to offer; carpentry, fiberglass, mechanical and electrical, painting, even upholstery when a salon bulkhead or floor has to be cut up. To a layman, seeing someone take a saw to a finely finished salon wall and then perfectly stitch it back up again is an awe inspiring feat. For the Jarrett Bay and Bluewater service teams, it's become so second nature that it's hardly novel; it's just what they do. Some of the recent repowers performed by the yards include notable Outer Banks charter boats Sea Toy and Diamond Girl, as well as the private sportfish Starflite and Weldor's Ark.
Doing The Math
Sea Toy, a 59′ Spencer originally built in 2008, is well known throughout the Mid-Atlantic as a seriously busy charter operation with many successful tournament runs. For 28 seasons and four boats, Captain Bull Tolson has run Sea Toy—an unheard of legacy in what can be a capricious business. Recently under new ownership, the timing was good to get a full assessment of Sea Toy's status and for that, the group turned to friend Earle Hall and the expertise at Bluewater Yacht Yard in Hampton, Virginia. The boat had been rigorously maintained, but with over 10,000 hours on her Cat C18s, as partner Jim Bayne succinctly put it, "Her tongue was hanging out." The engines would be central to the project, but there were enough opportunities for updates, upgrades and additions that they decided to take advantage of the timing and knock them out in one fell swoop.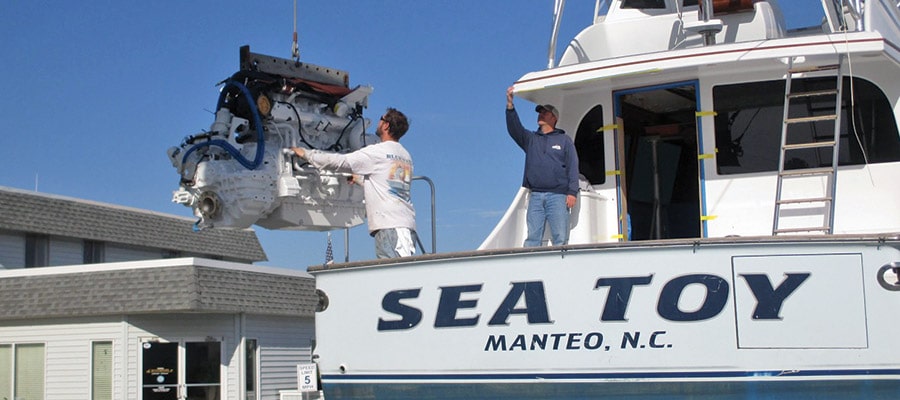 To start, she took on a pair of brand new Cat C18s with ACERT technology running at 1150hp. "After doing the math, we decided to go ahead and put new engines in versus rebuilding. With the trade-in money from our old engines, the opportunity cost to replace with new, made more sense," says Tolson. By going with a repower over a rebuild, they also were able to enjoy the benefit of greater horsepower and brand new warranties—not to mention less down time and peace of mind—plus there were side benefits. With plans to access the engine room through the deck already in place, the possibility of installing another awesome toy in the Toy became a viable option. A Seakeeper gyro system would raise the bar on comfort and reduce fatigue immeasurably—but it also looked like a wise investment. "It was a group decision, in part because in the same way that a mezzanine became the 'must have' aspect of a sportfish in the last decade, in five years it's going to be a Seakeeper. So looking down the road at potential resale, you've got to have it," explained Bayne. Having Bluewater retrofit the engine room for this revolutionary piece of equipment would be an easy choice with killer timing. Craig Messick, Yard Manager and 27 year veteran of the Hampton facility illustrates the process with a down to earth approach. "It absolutely makes sense to do all of this at once. The turbos are removed from the engines during the install, so then the gyro can slip right in between them. Using a 6×6 aluminum angle, we welded a bed for it and tied that into the stringer system. It's not cookie cutter, but we've had some experience…" he understates. "The hardest part really is cutting the floor structure and the framing—but in the end, we re-glass everything. It ends up being stronger for it." So despite the sense of alarm one might experience watching power saws tackle your floor, the results will include what is essentially a brand new deck—a decent perk in the scheme of things.
So with the floor reconstructed, it only made sense to take the next step and update the interior—all new carpets and couches, a new sound system and the all-important ice machine made the short list. Up top new electronics were installed, all brand new tackle ordered (you would kind of have to, right?) and the icing on the cake would be a complete paint job to put the finishing touch to the sleek Spencer lines. The recent sea trial told them everything they wanted to hear. "The sea trial went more than smooth and they seemed tickled to death with the numbers and everything else," Messick detailed. All told, the Sea Toy got a complete make-over, new power and a few new tricks and all in less than four months time—right on schedule to make her 29th season debut. With the right yard partner, good communication and careful planning it really can come together like that.
In a similarly themed repower project in Jarrett Bay's Beaufort facility, another highly regarded Spencer-built charter boat, the 61' Diamond Girl of Morehead City, NC was repowered with new Cat C12.9 engines and a Seakeeper 9 gyro. Project Manager Steven Blackwell oversaw the removal and replacement of her old motors, moving engine mounts, various system upgrades, and the final replenishment of the salon and cockpit. He indicated that so much goes into these projects that some of the finer details can be forgotten in the mire for customers. For instance, "when a larger gyro is added, we have to account for the additional weight, which usually means the props need to be sent out to be repitched," says Blackwell. This ties-in with the running gear adjustments required for a major power upgrade, so that's another small way an owner can kill two birds with one stone, by planning these major upgrades together. It is knowledge like that which can be all the difference in getting back out on the water several weeks sooner in a season, with better performance, and at a greater overall value.
Award-Winning Execution
Accomplishing a more thorough stem-tostern refit on a private "yacht finish" boat, the Jarrett Bay service team was recently recognized for their work on the 54' Starflite. Brought back to their yard in disrepair and lacking engines of any kind, the Starflite underwent a somewhat leisurely two-year refit, in large part waiting for new prototype engines to arrive in North America. Rated at 1,000 hp each, her new Cat C12.9s resulted in an admirable size to weight ratio and provided owner and captain with all of today's modern technology and conveniences, including remote monitoring.
The Starflite refit was also an opportunity for the crew at Jarrett Bay to flex their skills at a complete make-over inside and out. Their craftsmen completely overhauled the galley with new cabinetry, counter tops, convection oven and cook top, and added a new L-shaped couch to accommodate lift-seat capacity for additional tackle and storage needs. In the cockpit, they took this opportunity to craft a new teak-soled mezzanine configuration, replacing the original tackle center design. Along with this major retrofit, she received new rod holders, outriggers, fighting chair and a hardtop with a half-tower crafted by Jarrett Bay's in-house metal fabrication team. The finishing touches on her new look included LED lighting, underwater lights and a full exterior paint job.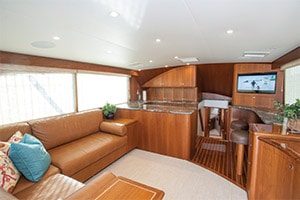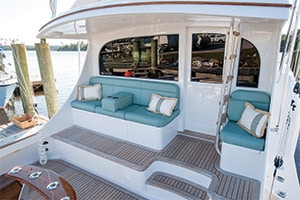 After Starflite debuted to the public, the Beaufort service team was recognized for their accomplishments by receiving the top Refit Excellence Award in her category at the Refit International Exhibition & Conference in Fort Lauderdale, Florida. Jarrett Bay and owner Randy Ramsey were extremely honored to receive this award and international recognition as a top yacht refit facility. "Today's complex yacht refits are multi-faceted and require a cohesive team to be successful. The Refit Excellence Awards give the industry the opportunity to honor those teams," said Jim Miller, show manager of Refit International Exhibition & Conference and publisher of Professional BoatBuilder magazine. "Jarrett Bay Boatworks demonstrated both exceptional craftsmanship and outstanding team work!"
There's no question the scope of an engine change can be quite daunting, and that's why it can be such a relief to find yards that can handle these projects with such expertise and precision. Being able to leverage the specialized experience, equipment and facilities that the Bluewater and Jarrett Bay yards have to offer, can bring huge savings and value to your next refit or repower project.