Experiencing life at sea as a child often instills individuals with an immense drive to continue that lifestyle througout their lives. At times, this youthful desire fuels decisions to blow off the weather man, and just get out there, for better or worse. Such is the case for Ryan Dickerson, who has found himself fishing frigid Virginia winters in anything from short sleeve shirts to insulated survival suits.
Dickerson, whose father and uncle were both members of the exclusive Hatteras Marlin Club, spent his childhood boating and fishing alongside some of the Outerbanks' most elite fisherman. He gained experience aboard a large variety of family vessels including a 44' Striker, Bertram 54 and a 70' Hatteras motoryacht. Personally he has owned several boats now, working his way up from his first 17' john boat, up through quite a few center consoles and walk-arounds from Mako, Wellcraft and Grady White.
Throughout his fishing, diving and spear fishing adventures on those boats he had become accustomed to entertaining a variety of close friends, and when he began to think about an upgrade, he knew he wanted a bigger, more capable offshore platform that would provide much better protection from wintry conditions. When he started looking, he found that many of the boats fitting his size and performance criteria were convertible sportfish. However he wanted to stick with an open deck plan that allowed him to operate the boat while remaining on the same level to interact with his friends and crew or quickly leave the helm to grab a screaming reel.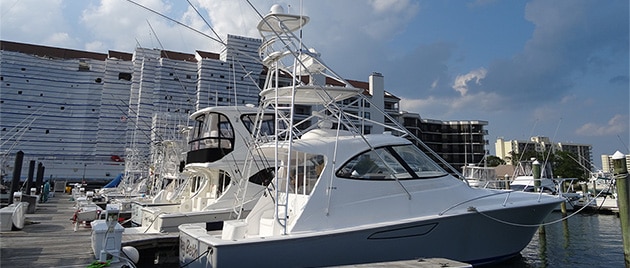 After nearly two years of researching new production fishing models in the forty foot range, Dickerson was initially leaning towards a newly minted "hardtop express" model from one of Viking's closest competitors. He had checked out several convertibles and really liked the Viking brand, but at the time they did not yet offer an enclosed hardtop version of their express models. However, via some advice and gentle nudging from life-long friend and fishing partner Deirdre Bell, he learned some inside information from Bluewater's Jud Black that Viking may be working on something that was just what he was looking for.
Upon a second visit to the Viking factory, Dickerson was shown the new mold for the upcoming Viking 42ST and his choice of brands quickly solidified. Viking was not only able to slate him one of the first hulls off the line, they also welcomed his feedback and offered to make any customizations he saw fit. To suit his active style of fishing and diving, he was thrilled by Viking's ingenious custom solution for a swim ladder which slickly collapses and is completely concealed by the transom tuna door while in its shut position.
Dickerson has been most impressed by the overall build quality and ride of his new Viking yacht, stating, "It rides and feels much larger than a 42 foot boat." He is now looking forward to fishing more Virginia Beach winters in short sleeves from within the comfort of the enclosed bridge, and admits, "The air conditioning should make our summer fishing that much more pleasant as well." Quite assuredly, fishing trips being cut short due to extreme discomfort from heat and cold will no longer be of any concern to those aboard Courtney Beth.
As for as his experience working with Bluewater, Dickerson exclaims, "Perfection. Before, during and after the sale, broker Jud Black and service manager Craig Messick looked after everything. As my first boat with inboard power, this upgrade has been a learning experience and they answered all of my questions."
When asked about the name of his boat, Dickerson explains it is in honor of his departed sister, who likewise was raised to have an immense passion for boating – a fitting tribute indeed for a family born to the water.