On July 27th, 2020, Valhalla Boatworks President and CEO Pat Healey announced the next chapter of the Valhalla fleet with the V-46. As the new flagship of the Valhalla line, the 46 will take the high performance, fish-forward design of the V-41 and add in more accommodations, living space, and creature comforts more commonly seen in larger express and sportfish boats. Even though there will be a significant increase in size, this model will stay true to the previous designs with a Michael Peters stepped v ventilated tunnel hull, loads of fishing accommodations, and of course unrivaled performance. The V-46 will offer an amazing 1,800 horsepower when equipped with quad Mercury V8 450R outboards.
The idea for the V-46 came from listening to customers who wanted the convenience and power of a center console, but also needed room to entertain and space to get out of the elements. The 46 accomplishes these goals by offering a spacious console with a stand-up head and shower, a galley and bunk space, along with more seating aft and extended lounge space forward. When asked about the difference between the 46 and the 41, Design Manager David Wilson commented, "what we gained here in 46 feet is interior volume and accommodations, along with second row seating while still holding that fishability from the 41."
Another innovation showcased in the 46 is found under the deck with a dedicated mechanical room. Until now, center console builders have advertised easy access to components, but Valhalla is changing the game with a separate room just for mechanical access to generators, batteries, electrical systems and more. Valhalla will also have an area in the stringer specifically built for a Seakeeper gyrostabilizer, so that the boat is engineered for maximum stability, safety and performance.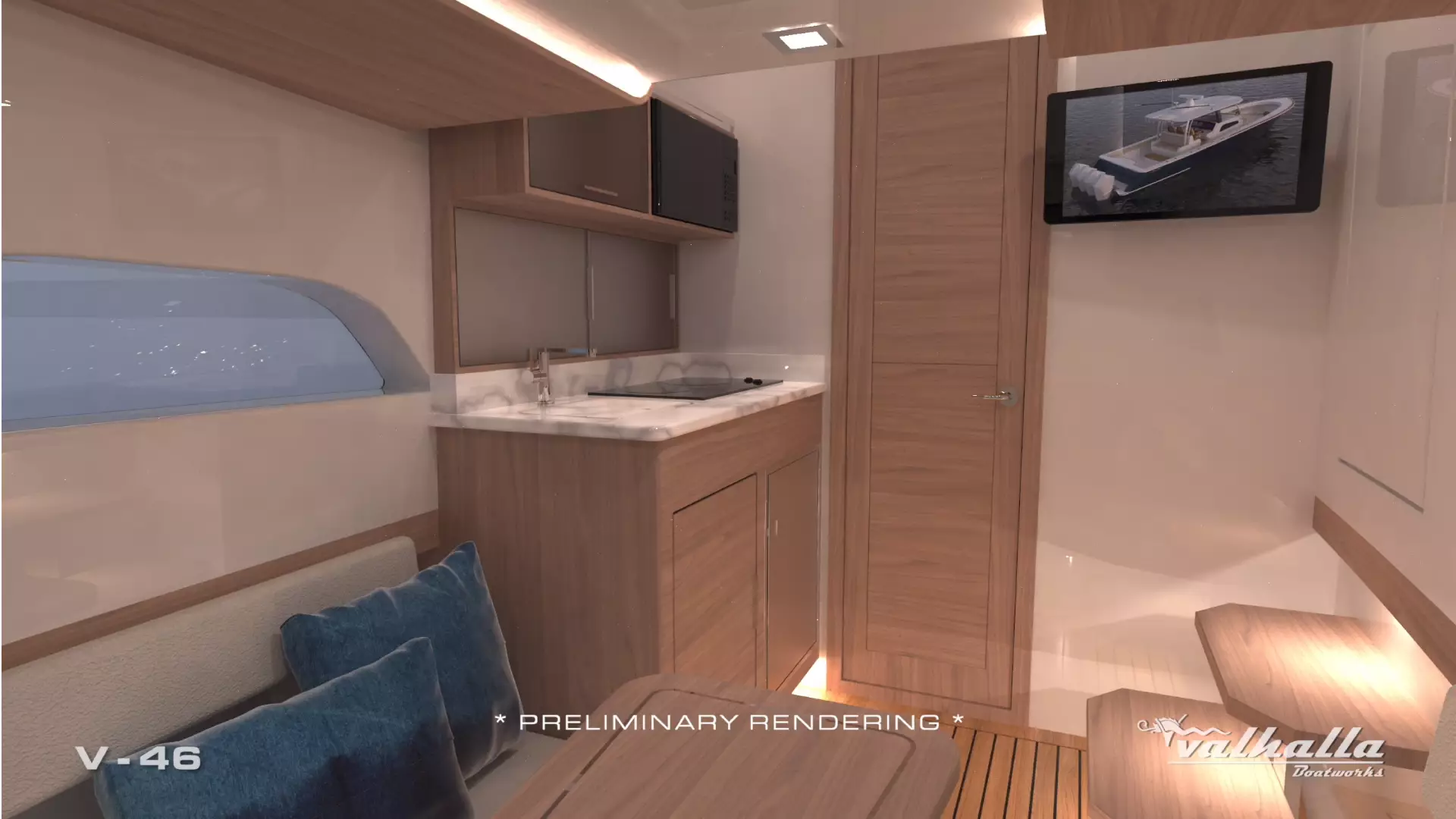 The entire Valhalla line has been wildly successful since their debut in February of 2019, and the V-46 is sure to increase that excitement. This model is set to debut at the Viking VIP event in the Winter of 2021, but more details will be announced in the coming months. The Bluewater Yacht Sales team will be at the ready with new information about this model, so make sure to reach out to your sales professional to learn more.