Back Cove Offers Outboard Power from a Clean-Sheet Design
It's no secret that the popularity of outboard engines has skyrocketed over the last two decades. Leaps and bounds have been made in design, systems integration and computer technology that has allowed today's outboard engines to be more efficient, more powerful, cleaner burning and easier to maintain than ever before. Many boat manufacturers who may have once been inboard gas or inboard diesel stalwarts have introduced outboard-powered models recently. Outboard technology has also given birth to a new mega-console and mega-express boat market.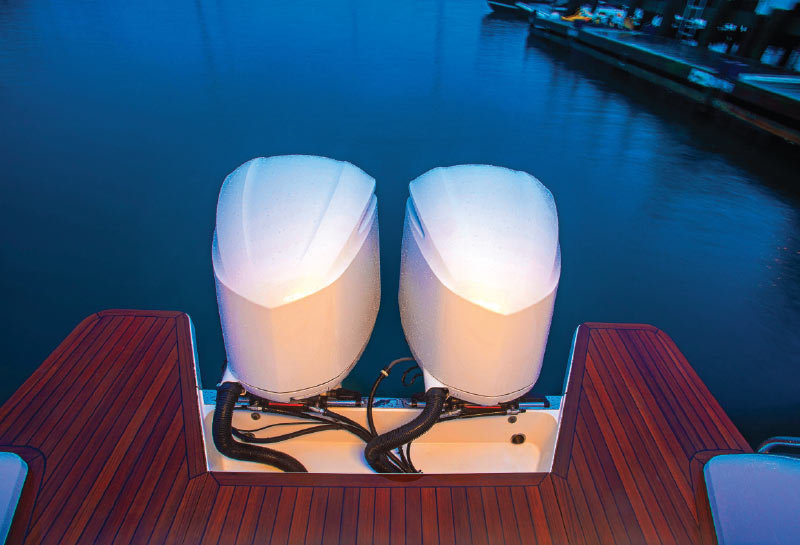 The Back Cove 34O has three outboard configuration options
From Scratch
Hardly a year has passed since Back Cove unveiled their first outboard-powered model: the 34O (where 'O' is for Outboard). Back Cove is not the first inboard diesel boat builder to offer an outboard-equipped model, nor are they the first Downeast-style boat builder to do so. However, Back Cove did not simply plug the holes for the shaft and rudder in their mold to churn out an outboard look-alike of a previous inboard powered model—they started with a clean sheet.
"The hull was designed from the keel up to be optimized for the outboard driveline both in terms of performance and weight distribution," explains Kevin Burns, Back Cove's Vice President of Design and Product Development.
The 34O hull even has a different lamination schedule than inboard-powered Back Cove models: the 34O features a cored topside surface while inboard diesel models have solid topsides. "The hull structure itself has more in common with modern Sabre models due to the performance envelope being similar," Burns states.
Back Cove performs all design work in-house including the construction of their new Outboard model. The design team sources an outside naval architecture consultant just as an independent 'check' on their performance predictions and other parameters. Like other leading boat design firms and manufacturers, Burns and his design team utilize Computational Fluid Dynamics (CFD) to simulate a specific hull form's handling and performance over a broad range of operation. This powerful software helps to hone the new hull design to near perfection before any physical tooling of prototypes or molds takes place.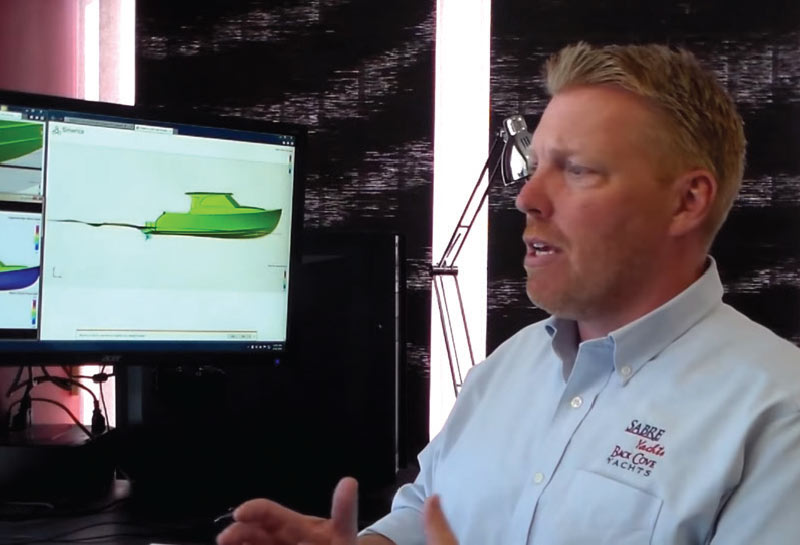 Kevin Burns explains the design process
Burns explains the differences of this all-new hull form in comparison to current Back Cove models: "The 34O features a shallower forefoot, increased aft section deadrise, different strake arrangement, and the TRELIS feature which generates lift in the aft—particularly at transition speeds and lower planing speeds."
"…designed from the keel up to be optimized for the outboard driveline…"
This approach paid off in dividends as the unexpected launch of the new Back Cove 34O was met with excitement and a backlog of orders stretching beyond 18 months! Bluewater Sales Professional John Painter explains, "Back Cove did an outstanding job of flowing outboards on to a traditional inboard Downeast boat; the customer response for this model has been enormous."
Measured Thinking
Rather than hurry to be the first to market with an outboard-equipped variant of a popular Downeast boat, Back Cove took their time. "We've been looking at outboard power for the last five years or so for several reasons." Burns further explains, "The trim feature allows for more flexibility and shallower operation, while the power density is greater when it comes to HP-to-weight and HP-to-cost ratios. Also, the scale of production of outboard motors allows for increased parts availability and more common service availability over lower volume drivelines. But, most importantly, our owners asked us for a Back Cove that went faster and had a shallower draft than our inboard models."
For customers, the 34O is a welcomed mix of familiar and fresh. A brand-new hull has been married to the topside of Back Cove's newest model: the 32. The interior appointments and layout are shared with the 32 including her forward island berth and well-appointed galley aft of the helm on the main level. As one can imagine, the 34O boasts a great deal more storage space below decks with the elimination of the inboard diesel and corresponding systems. This open space can even be optioned with a factory-installed Seakeeper gyro stabilizer.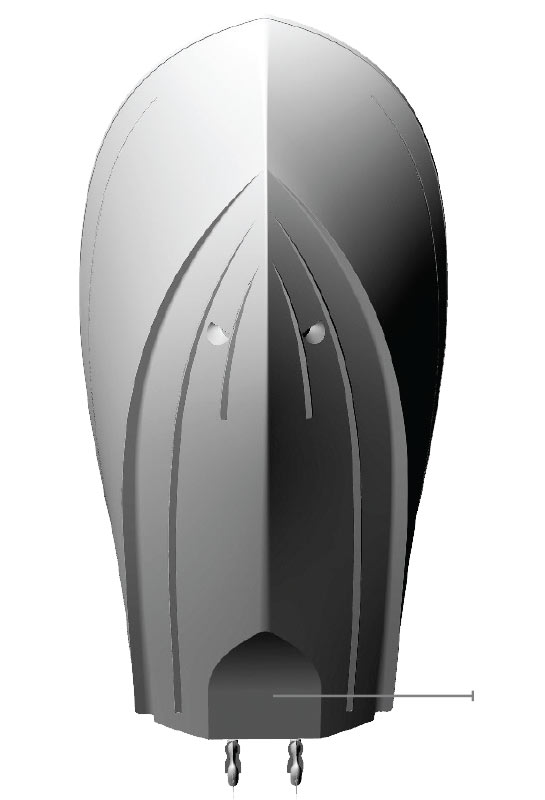 What is TRELIS?
TRELIS is a clever acronym for Back Cove's patent-pending hull form and is exclusive to their outboard-powered models. The TRailing Edge LIft Surface consists of a flat surface attuned to the running angle at the aft most portion of the hull bottom. A concave waveform forward of this cutout tapers smoothly from the keel.
This exclusive hull form geometry was made possible by CFD (Computational Fluid Dynamics) software along with the drive and passion of Kevin Burns and the Back Cove design team. Rest assured, the 34O is not a one-off design but the beginning of a completely re-engineered outboard-powered model line by this renowned yacht builder.
The 34O is the fastest Back Cove model yet.
The standard bow thruster and Seastar steering makes the 34O remarkably easy to maneuver in close quarters, even with her 39' LOA. Power options for the 34O include twin Yamaha F300's as standard equipment with 350 horsepower engines from both Yamaha and Suzuki as optional upgrades. The standard Yamaha V6 power can propel this 17,000 lbs. boat to an impressive 37 knots. The optional 700 horsepower setups will easily exceed 40 knots on the top end. "The 34O really shines at speeds over 30 knots, the ride is solid but remains sporty and responsive. At wide open throttle, the ride is exciting but gentlemanly," Burns tells us.
Ultimately, the new 34O from Back Cove is the most advanced model they've ever produced. It offers all of the brand's familiar comforts and amenities without sacrificing any of the qualities that have made the brand such a success. There's little doubt the popularity of this new model will continue to surge while Burns and his design team work on developing the next outboard-powered Back Cove.
Back Cove 34O
LOA: 38′ 11″
Beam: 11' 10"
Draft: 2' – 3′
Fuel Capacity: 250 gal.
Water Capacity: 60 gal.
Holding Tanks: 40 gal.
Displacement: 17,000 lbs.
Power Options:
Twin Yamaha F300 V6
Twin Yamaha F350 V8
Twin Suzuki DF350A V6
More to Come:
Back Cove Announces 39O to Debut Summer 2020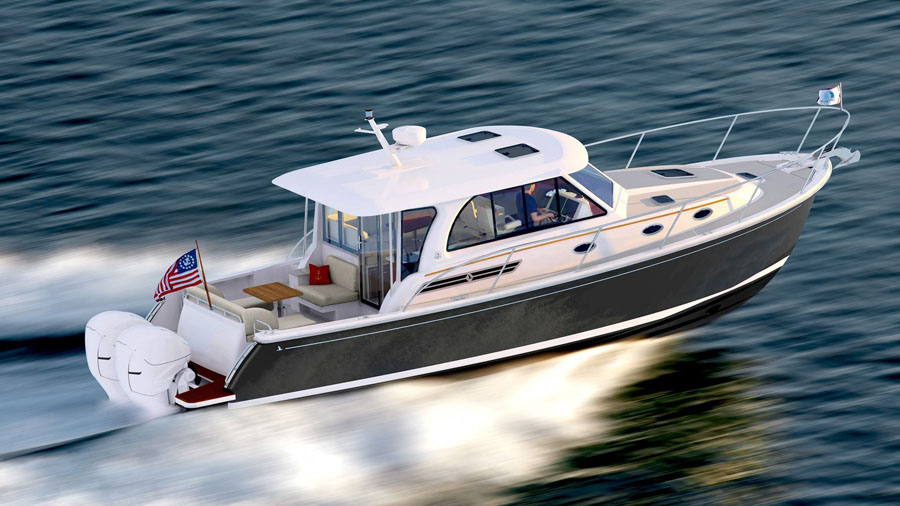 Very few details have been released regarding Back Cove's newest outboard-powered model but one thing is for certain: this is a clean-sheet design from the hull to the cabin top. Speculation for available power includes Yamaha's new 425hp XTO outboards. Stay tuned for more details!