Bluewater Colleagues Gather for Awards, Presentations & Planning
Forty sales professionals and over a dozen team members from the management and marketing teams were in attendance for Bluewater's annual meeting in Virginia Beach, Virginia this past winter. Ownership engaged everyone in this two-day corporate retreat, including planning sessions and awards recognition at the Oceanaire Resort Hotel and the Marlin Club at Chick's Oyster Bar.
To kick off the event, the entire Bluewater team enjoyed a keynote speech from Sam Dantzler of Sam's Powersports who discussed the importance of building relationships and the customer experience. Over the course of two days, everyone participated in multiple regional brainstorming and planning sessions as well as some well-deserved recreation time at Topgolf Virginia Beach. There, Bluewater's best delighted in drinks, a catered buffet and—despite their golfing skill level—thoroughly enjoyed some friendly competition on the computerscored range. Bluewater founder Chris Hall Sr. summarized the experience, "It was a great opportunity for our company to get together. Some of our new team members got to better know their colleagues from other office locations, and it was obvious that everyone had a blast."
Friday opened with a fiscal overview and forward-looking presentations from Bluewater's partners, Chris and Earle Hall, Randy Ramsey, Dan Reitz and Jud Black, as well as the marketing department. The group then convened at Chick's Oyster Bar on Lynnhaven inlet where a host of new boat inventory was waiting, including the Viking 52, Cruisers 45, Sabre 38, Jupiter 30 and Albemarle 25. As small groups split up to check out these new boats, regional planning sessions convened before everyone met in the Marlin Club for cocktails and hors d'oeuvres, followed by an awards dinner.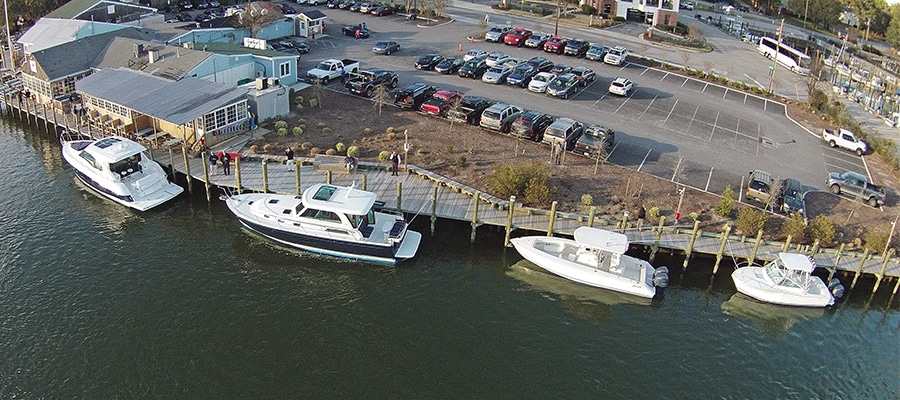 Celebrating Success
The agenda culminated with an awards reception where many Bluewater individuals were recognized for their outstanding achievements throughout 2015. The Sales Achievement Award each year goes to sales advocates with exceptional sales stats throughout the calendar year, reflecting their salesmanship and customer rapport. The Bluewater team members presented with the Sales Achievement Award were Jud Black, Mark Connors, Chris Hall Jr., Scott James, Chuck Meyers, John D Riggs, Hank Sibley, Clark Sneed and Kelly White.
Additionally, Scott Steffy received the Most Improved Team Member Award, acknowledging his determination to contribute and succeed despite being relatively new to the sales organization. One of Bluewater's most experienced brokers, Chuck Meyers, was honored with the Top Gun Award for most units sold, boasting an outstanding 32 sales in 2015! This year, an additional award was designed to recognize team members who went above and beyond for their team and are always available to assist others when asked. The recipients of this award were voted for by members of the Bluewater team with one caveat; a team member could not vote for a direct colleague from their same office. This new award, Most Accommodating Team Player, was presented to Jud Black, Scott James and John McDevitt. In addition to being a good team player, Jud Black also received recognition as Top Broker Sales Overall and Top New Boat Sales Overall which led to him also receiving the award for Top Sales Overall.
Bluewater Yacht Sales President, Jan Boone commented, "We are so deeply thankful for our incredible team of sales people, brand specialists and those behind the scenes running our many offices. Our people are the face of Bluewater and they all deserve our praise for always giving their very best, and continually striving for greatness. We are so excited to see where the next year will takes us!" Following a year with record-breaking sales numbers, countless location improvements and capital investments, the entire Bluewater team is poised for future growth and excited for what their collective future holds.