The Bluewater Service Network was a standout at the annual Refit International Exhibition & Conference held in Fort Lauderdale, Florida in January. Bluewater Yacht Yards accepted the Best Accomplishment in Refit Excellence award while Jarrett Bay Boatworks became the two-time recipient of the Best Power Yacht 50 – 100 Feet award.
Our Bluewater Yacht Yard in Hampton, Virginia was awarded this highest designation for their ongoing refit of the Viking 52 Convertible, Cuttin' Up.
Cuttin' Up is an incredibly unique project that has been ongoing by the Hampton yacht yard team and owner Steve Jones – an avid angler with a progressive form of muscular dystrophy. Because the disease severely limits his mobility, especially in his legs, Jones has been making continued refits to his boat over the years so that as his disease advances, he can still run the vessel himself, fish offshore and access interior spaces without assistance.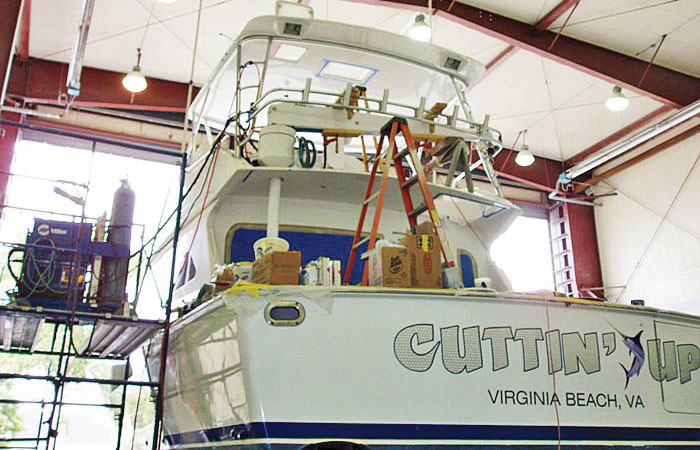 "I've always said we could do anything to a boat and make it look like it was always supposed to be that way. In order to do this right, we had to listen very closely to everything Steve pointed out and then figure out how to make it workable for him. We couldn't just go buy & install parts for his specific needs. We had to engineer & craft them ourselves. It was a great experience getting into the customer's vision, creatively overcoming the obstacles and then designing and building the solutions."
-Earle Hall
Some of the innovations for Cuttin' Up include a bridge elevator that maintains conventional ladder use, a companionway chair lift inside, a 30″ height adjustable marine head, motorized STIDD helm chairs that rotate 360°, height adjust and move fore and aft 8 inches, along with a custom Release Marine fighting chair with swing out arm for ease of egress. One of the most innovative is the bridge-mounted davit designed for lifting Jones and his chair from dockside into the cockpit, which is made fully accessible by way of a locking and hinged rocket launcher on the bridge.
Jarrett Bay's stand-out refit project this year was Reel Steel, an iconic 66′ Hines-Farley which received extensive updates from buggy top to props, anchor locker to underwater lighting and everything in between. Selected based not only on the finished yacht but on the teamwork, problem-solving and efficiency of everyone involved in the refit, including the yard, owner, crew, designers, surveyor and management, Jarrett Bay Boatworks' awarded refit project began with an immense amount of planning and discussion with the owner.
While the Jarrett Bay boatyard is where all the magic happens, a project of this scope has many hands involved from local affiliates – both at Jarrett Bay's Marine Industrial Park and beyond. Triton Electronics, Crystal Coast Interiors, The Captain's Shop and Wild Cat Props were just a few of the many companies that helped with the Reel Steel refit. Independent contractors for plumbing, HVAC and electrical were also brought in to lend a hand and their expertise throughout different phases of this project. The scope of the Reel Steel refit was such a massive undertaking that the complete project was split into two sessions allowing the owner, crew and team to enjoy a season of fishing between the two phases.
We are so honored to have the Bluewater family of companies recognized with these prestigious awards! This would not be possible without the immense dedication and teamwork of the many craftsmen and industry partners who tirelessly work towards perfection on every project and refit that passes through the Bluewater Yacht Yards and Jarrett Bay Boatworks Marine Industrial Park. The Bluewater Network has been committed to delivering the highest level of service to our customers day in and day out for decades without compromise.