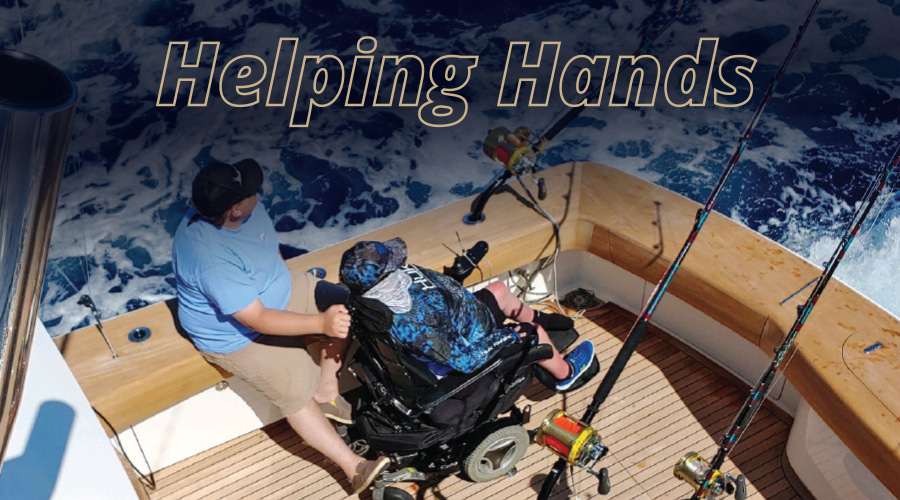 Photos courtesy of Viking Yacht Company, Tom Spencer and Earle Hall
Bluewater, Viking Collaborate to Meet the Dreams of Multiple Friends with Disabilities
Perry Nichols was an active young man—he played on a championship football team and was crazy about catching bass. But as he was growing, he noticed something was going wrong; he couldn't move as fast or grip the ball as well as he once did. The local doctor couldn't find anything wrong, but after a visit to Duke Medical Center, he was diagnosed with muscular dystrophy. He kept fishing as long as he could, even buying a Ranger bass boat. But before long, his muscle mass diminished to a point he had to give it all up.
He thought he would never fish again.
Perry focused on entrepreneurship, found hobbies in auto racing and worked to manage his symptoms as best he could. Fast forward decades, and he made a friendship on the race circuit with Darrel Gwynn, who had been paralyzed in a car accident before founding several charities. Gwynn coerced Perry to go fishing with him on a pontoon boat that was accessible for their wheelchairs. He also introduced Perry to an electric reel he could use. It was a Eureka! moment for Perry. He was so ecstatic to be on the water again, to reconnect with the outdoors and the sport he grew up enjoying; he was motivated to keep fishing by whatever means necessary.
Getting To Bluewater
A few South Florida charters later, he was all-in… setting his sights squarely on big game saltwater fishing and even building his own boat to do it in. A mutual friend introduced him to Earle Hall of Bluewater Yacht Sales, and Earle immediately set out trying to find a boat that could get the job done. The two also discussed the company's prior experience modifying a Viking yacht for another man with muscular dystrophy, Steve Jones, the owner of the 52' Cuttin' Up in Virginia. [Editor's Note: See the Volume VI of OnBoard for details on the Cuttin' Up project]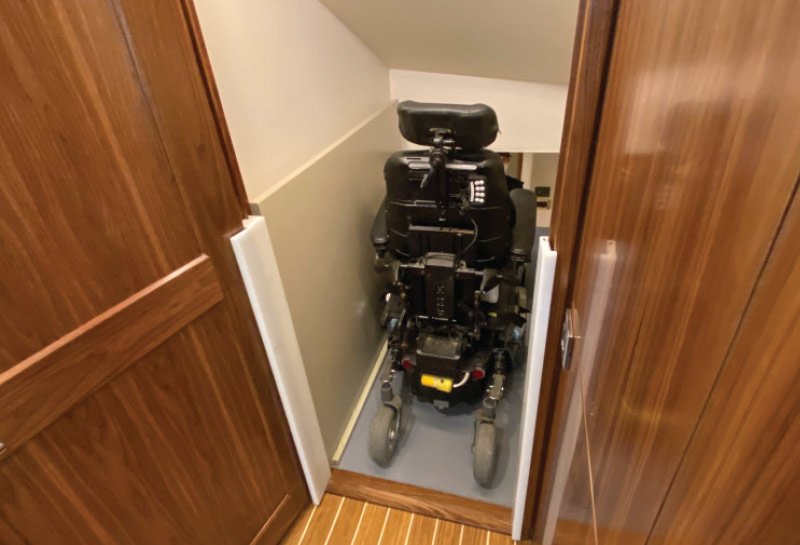 After searching high and low, and finding the right pre-owned Viking, Bluewater's team in Hampton set out at customizing every inch of its 64-feet to provide access for Perry and how he envisioned using the boat. Oh yea, and it had to be done in a matter of months to fish the Big Rock Blue Marlin Tournament!
Bluewater Engineer Brian Motter took the lead and they set out envisioning the elaborate systems that would get Perry and his wheelchair from dock to cockpit and bridge (a swinging davit), cockpit to salon (a ramp over the mezzanine steps), salon to master stateroom (a large scissor lift) and improving access to the en suite head. They accomplished everything but a Seakeeper installation before June that year and delivered the 64' Knot Done Yet to Perry for his first crack at fishing the Big Rock.
Moving Up
The team fished that 2018 Big Rock, Hatteras Marlin Club and Virginia Beach Billfish Tournaments and enjoyed an extended stay in the Bahamas in Spring of 2019. After those adventures, Perry was really getting used to the idea of spending a lot of time on the boat. He was also taking mental notes on what might make him and his crew more comfortable.
Perry preferred to stay on the boat versus finding accommodations ashore, plus, his onboard entourage was growing, and thus running out of room. With as many customizations as they made to the 64, it had the effect of reducing some of the available space for accommodating the Knot Done Yet crew and family members who he wanted to share more adventures with. Not only did Perry need more space for himself, his captain, mate and close friends and their gear; his wife Lisa was starting to get into this fishing thing too!
Hall had introduced them to Pat Healey, Viking President and CEO, at the 2018 Big Rock. At the time Pat made it known he'd love to help Perry build another boat to meet his needs. It got him thinking of going bigger and better. A dock mate in Morehead City, Don Mills, also played a role in Perry's decision to upgrade to a larger Viking. Mills, another Bluewater customer, owns the Sea I Sea, and has owned many Viking convertibles. He had owned and fished his new 72C for a couple years and very openly told Perry all about it and how much he loved the boat.
Before long, Perry had Earle on the phone again, asking him to relay his intentions to build a new 72 with Pat and the Viking team.
"Big game fishing is challenging enough; but imagine trying to master it with a debilitating genetic disease that restricts all your movements."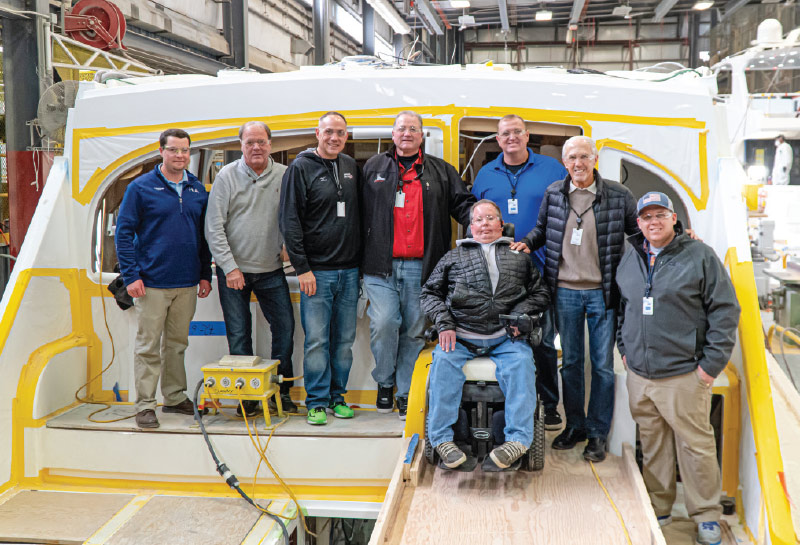 Leveling with Each Other
The first thing an able-bodied person needs to realize is just how much we take for granted hopping around all the levels of a yacht—popping up to the flybridge to look around, going back and forth through the companionway for supplies, or just getting on and off the boat for starters—for wheelchair-bound anglers, every minor step up or down is a substantial logistical challenge.
In some small ways, making a yacht more handicap accessible is similar to the process in a building on land. Engineers widen doors and hallways, maybe lower some counters, install rails and make more space at the table. But in almost every other facet, it's far more challenging when you lack the space for long gentle ramps and the certainty of solid floors that don't roll and pitch on a whim.
To their own admission, some of the unique customizations were keeping the Viking engineers up at night. But through the collaboration with Nichols, Captain Mark Rogers, Earle Hall and the Bluewater Yacht Yard staff, there were a lot of bright, experienced minds involved. In fact, some of the solutions were already "pre-programmed" by the ingenuity of the Hampton team who had already tackled these challenges before. While all the customizations for the 72 were carried out at the Viking factory, they had Bluewater's extensive experience back in Virginia to draw from—having customized both the 64' for Nichols and 55' Cuttin' Up for Jones, before that.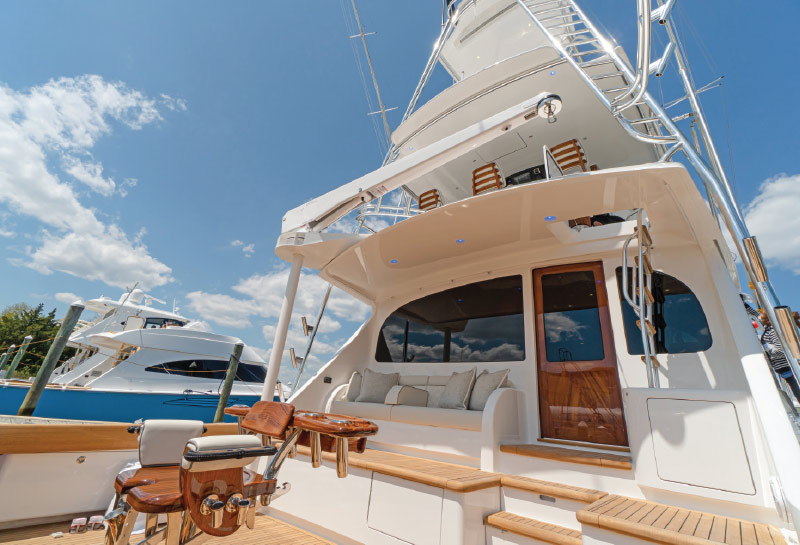 Look Closely: The bridge belly band swings out to starboard and a hatch covers the ladder cutout so that the custom davit can lift Perry skyward to the bridge, in addition to its primary duty between the dock and cockpit.
For the Bluewater team, it was old hat to solve wheelchair access from the dock to the cockpit, and then to the flybridge. You basically need a mounted davit system, and some modifications to the belly band to create a swing gate for access, and voila! Perry's sitting up in the breeze with the captain. This is a huge oversimplification of course—because to accommodate these types of load bearing additions, you need to plan far ahead and add plenty of structural reinforcement, which Viking saw to. Not only is the davit a special arrangement from a vendor confident enough to take on the liability of lifting a person in the air, but it also needs a full post system under the bridge apron to bear the load and provide the necessary range of movements.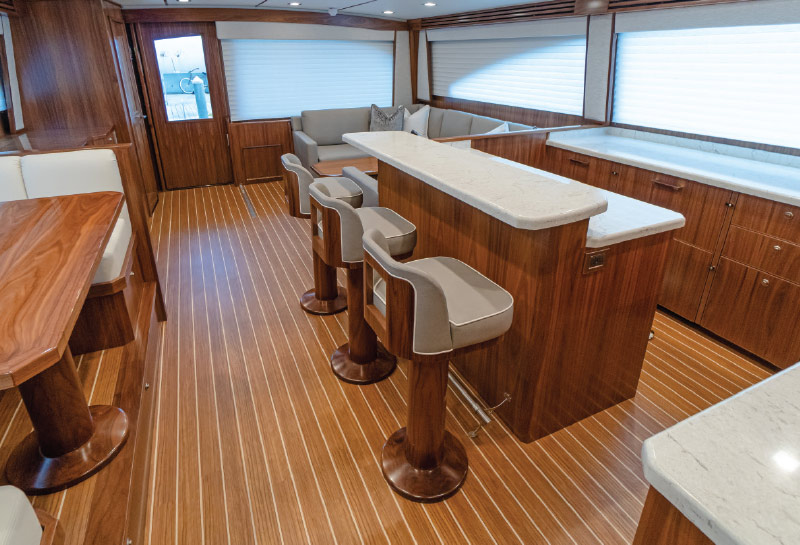 There were other aspects from the 64 that they really wanted to take to the next level in the 72, such as installing lifts instead of ramps wherever possible. "To me, that's the coolest part, is that Perry gets inside the boat via an elevator instead of a ramp," says Hall. A scissor lift does the job of getting his wheelchair between cockpit and salon, and an elevator safely services the master stateroom.
Inside the salon, grooved rails are inlayed into the floor in the places Perry prefers to hang out, so his chair can be fastened down for safety when conditions warrant. This new Viking may have more rub rails than any other boat, just not where one would usually expect them—chair guards were applied along the bed and interior facade of the master stateroom to avoid undue wear on the woodwork and to make access to the head and shower easier.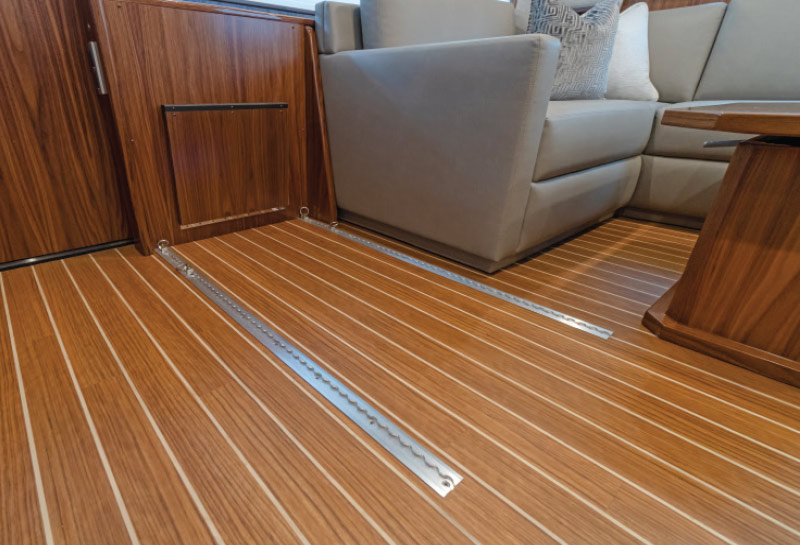 "There is nothing we wouldn't have done to help him."
"Whenever you do a custom boat like this, you learn each person needs something different because of their specific case. There is no cookie-cutter situation from customer to customer," says Earle. That's where Bluewater, Viking and the customer's close collaboration produce a better product and quality of experience for the boat owner.
Adapt & Learn: Evolving Approaches to Accessibility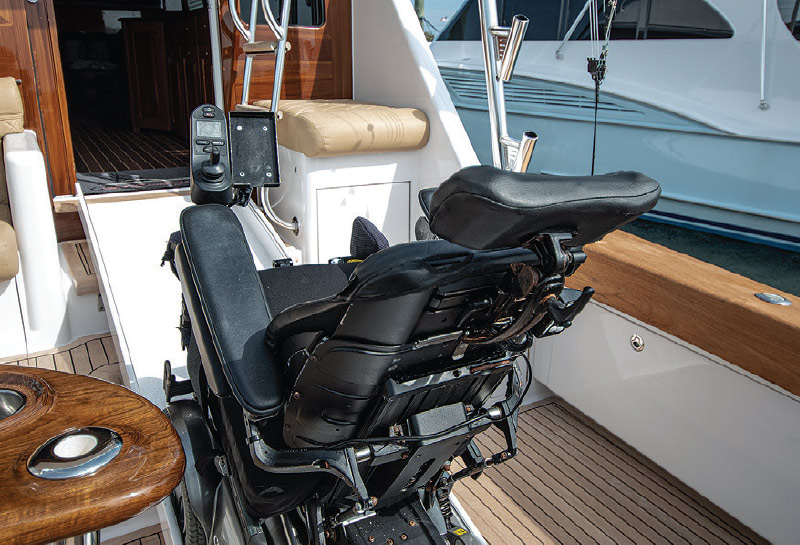 Retrofitted Viking 64
A ramp was added to go over the existing mezzanine steps.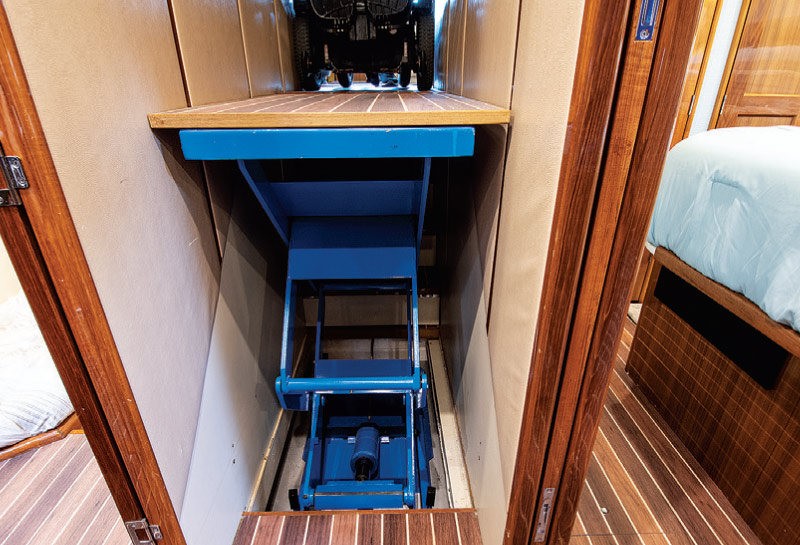 The scissor lift from salon level down to living quarters is a tight fit and corners to turn.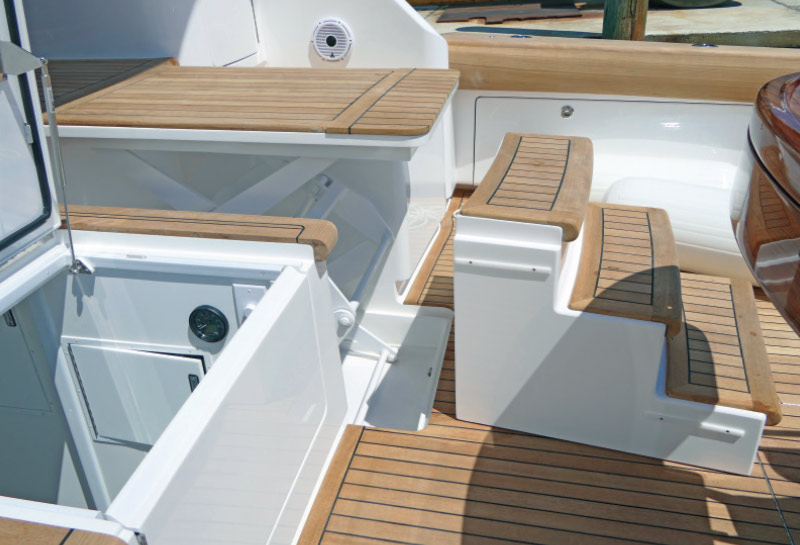 New Build Viking 72
The modular mezanine steps slide away to reveal the scissor lift wheelchair access.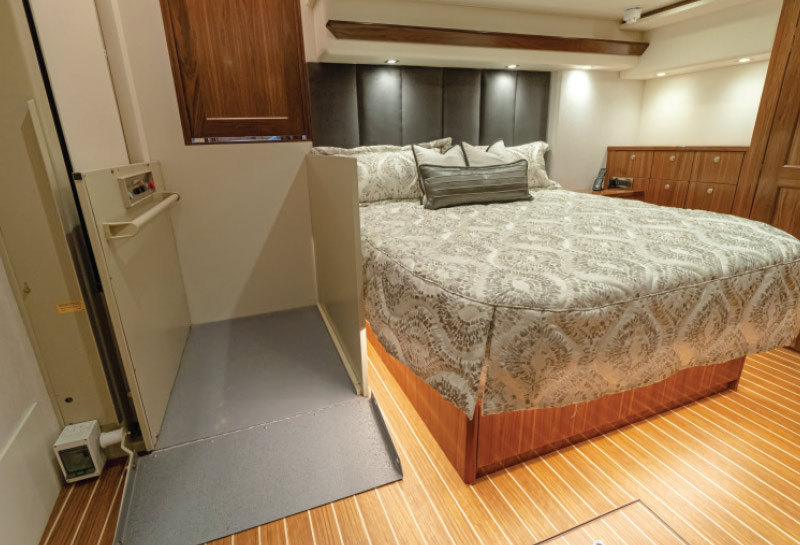 An elevator with walls and grab rail provides a safe transition to the master stateroom.
Enjoying the Moment
Nichols had been adamant he receive the 72 in time to fish the 2020 Big Rock Blue Marlin Tournament in early June. Everyone knew it would be a tight window, but when the COVID restrictions hit, and Viking was forced to shutdown their factory for a stint, Perry says he was left wondering if he'd have the boat at all that summer. But sure enough, Viking came through as promised, and Earle and Connor Hall delivered the new 72' Knot Done Yet to Morehead City several weeks prior to the tournament. Perry, Mark and crew were able to get to know their new boat and do some fun fishing before the tournament started. About the only thing Perry could complain about (in jest) is that his wife Lisa caught a fish before him in the new boat!
In contrast to all the luxury and comfort found aboard, when fishing, Nichols doesn't let the weather phase him a bit. He stakes out his spot in the cockpit and stays there, intently watching his line through rain, shine, and any sea conditions. The 72C's handling, performance and Seakeeper stabilizer should be acknowledged with an assist for making that possible. He also appreciates speed, picking the largest MTU power set available for the new boat. Just like the electric reel put sport fishing back within his reach, the technological breakthroughs packed into his new Viking are making his boldest dreams possible, and get his crew far offshore and back as quickly and comfortable as possible.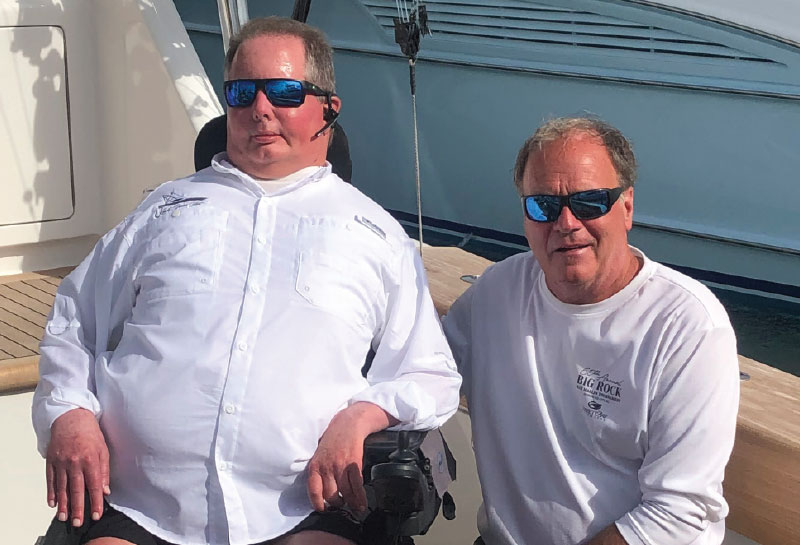 Perry Nichols and Earle Hall aboard Knot Done Yet
"Viking did just an incredible job on this boat," says Earle. "Perry didn't have to fit in the boat, Viking made the boat fit him. In the four years I have known Perry, he has become a life-long friend. He is the most infectious, life-changing man I've ever met. There is nothing we wouldn't have done to help him."
But that sentiment doesn't end with Perry, because Hall also saw an opportunity to help another friend with a disability. Once the 72 was contracted with Viking, he knew the para-customized 64' would be coming available and thought it would make the perfect upgrade for Steve Jones. Earle made it a point to get both the Viking owners together at the Virginia Beach Billfish Tournament and let them start working out a price directly; wherever it landed they had his word Bluewater would help iron out the details and facilitate the sale. He concludes, "now Steve has a lot more room to fish with his boys on the new 64' Cuttin' Up, as does Perry with his friends and family on the 72' Knot Done Yet. It's a win-win for everybody."
Viking 72
LOA: 72′ 8″
Beam: 20′ 0″
Draft: 5' 9"
Weight: 129,696 lbs.
Fuel Capacity: 2,594 gal.
Water Capacity: 372 gal.
Cockpit: 209 sq. ft.
Power: Twin MTU 16V2000 M96LS @ 2,635 hp ea.
Stabilization: Seakeeper 26