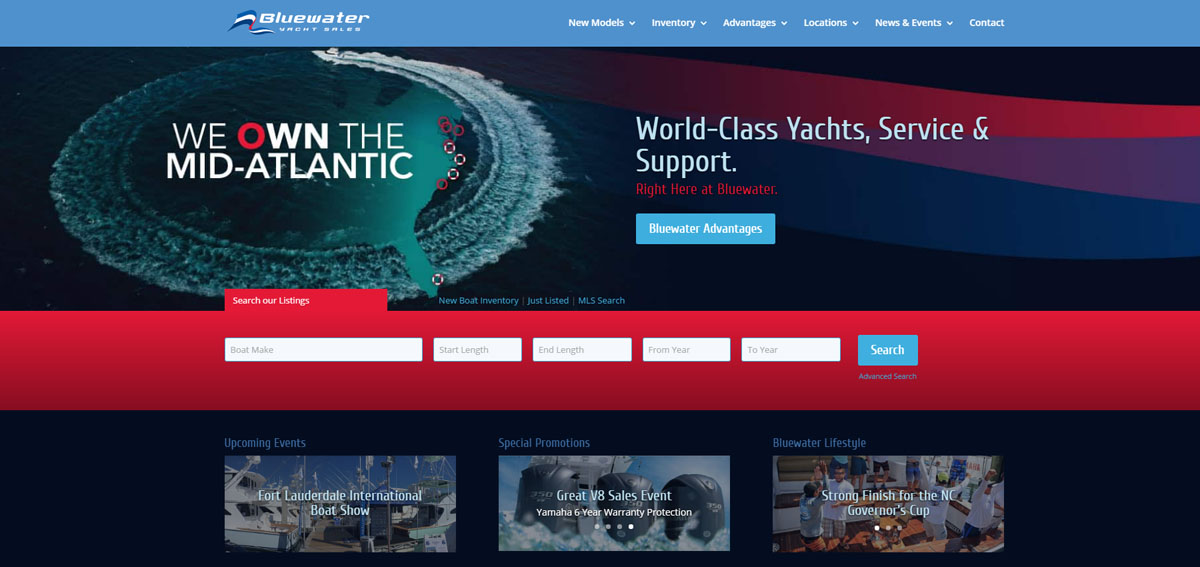 Bluewater Yacht Sales Launches All New Web Presence
Responsive Across any Device, BluewaterYachtSales.com Debuts for the Ft. Lauderdale International Boat Show
Bluewater Yacht Sales is pleased to introduce an all-new responsive website, just in time for the number one boat show on the planet, the Fort Lauderdale International Boat Show. Carefully optimized, easily navigable and custom designed for Bluewater's unique combination of sales, service and support customers, visitors can now enjoy consistent access to all of Bluewater's infrastructure at BluewaterYachtSales.com on any internet-ready device. From desktop and laptop computers to tablets and smartphones, the new website is thoughtfully optimized to provide a superior browsing experience for customers of all kinds.
Visitors to the all-new website can access Bluewater's impressive supply of new inventory and brokerage listings, along with thousands of co-brokerage listings offered through the worldwide MLS. Easily searchable by a variety of criteria, the inventory and MLS results put an emphasis on serving high-quality images and media while taking advantage of the maximum footprint of desktop, tablet and mobile devices.
Video, as well as third party reviews and articles are prominent throughout the refreshed new model showcase section, and all of these vital areas utilize clear calls to action, search engine optimization practices and social media sharing.
Continuing to boast expanded sub-sites for each of the company's Sales Professionals, Bluewater's unique team pages and "PURL" system allow users to learn more about each team member by way of biographies, social media and personal photos, as well as browse their current listings, sold boats and customer testimonials.
Bluewater President Jan Boone explains the company's strategy and attention to detail, "Our marketing team has custom developed several versions of our website for over 13 years now and have implemented all of the best strategies learned over all of that time and evaluation of our specific business and customers."
The site also becomes the new online home of Bluewater's award-winning magazine and customer newsletter, OnBoard. Visitors are encouraged to browse the array of authentic customer lifestyle stories, news, events and promotions available through OnBoard.
The result is an expansive new web presence that is quite possibly one of the finest yacht sales and brokerage websites in the world. Like any great piece of marketing, the Bluewater team treats their website as a living document, so customers can be assured that this is only the beginning of many exciting improvements and features for Bluewater's online marketing efforts. Boone concludes, "The new Bluewater website maintains our mission of leading the industry and providing each and every one of our customers with the best service possible in all facets of their yachting lifestyle."
By the Numbers:
Over 315 Exclusive Yacht Listings
Access to Over 5,000 Premium Co-brokerage Listings
240 Pages & 300+ Original Lifestyle & News Posts
Tens of Thousands of Images and Video Media Files