SUMMER TIME
IN ST. MICHAELS
Bluewater's Annual Cruise is a Growing Success
It is not often that you see owners of trawlers, sport cruisers, center consoles, downeast and sportfish boats all willingly rendezvous at one time and place. When it does happen however, you can be assured that the owners and guests of this eclectic gathering of yachts will be having a good time; and such is the case at Bluewater's wildly successful Summer Cruise.
The site of the 2015 edition, St. Michaels Marina on the Eastern Shore of Maryland, was filled to capacity in mid-July with thirty boats ranging in lengths from 28 to 65 feet.
The attendees—over 100 total —enjoyed a full schedule of events from demo boat rides, a cornhole tournament, seminars and boat christenings, all set against the charming and relaxing backdrop of St. Michaels. This casual and fun event was enriched by the generous support of Bluewater's sponsors, many of which attended as guests and had the opportunity to mingle alongside customers and Bluewater family. These partner companies also graciously provided many fine giveaways as well as financial support for all of the activities and entertainment throughout the 3-day event.
Arriving at their leisure throughout Thursday and Friday, customers were greeted with frosty "docktails" and oversized captain's bags bursting with gifts. On Friday evening, participants enjoyed a standing-room-only presentation delivered by Michael J. Manyak, MD, renowned physician, explorer and author.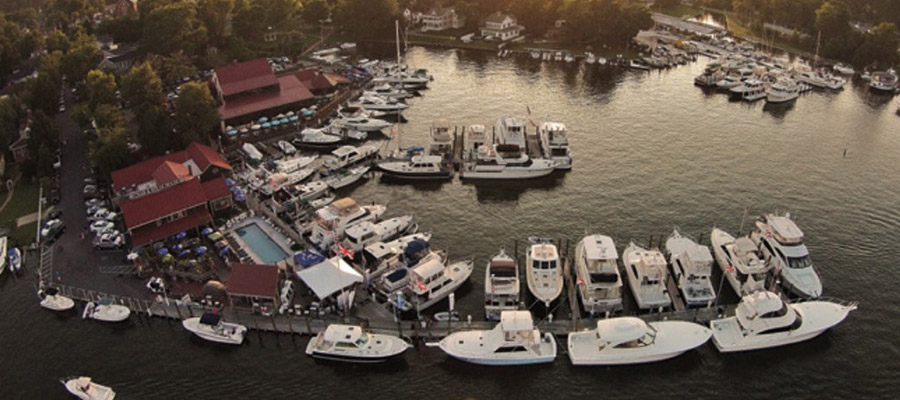 The history, charm, and great shopping and dining in the area are a great complement to our planned activities.
The doctor shared amazing stories and photos of the extreme travel and medical situations he's encountered in his many forays abroad, and ultimately how to prepare for emergencies and leverage resources while traveling to remote destinations by boat. Participants gained a wealth of helpful tips for handling common onboard incidents and also received signed copies of his book, Lizard Bites and Street Riots, at that evening's cocktail party. Crews also enjoyed a presentation and Q & A session with Cummins Marine representatives on propulsion and power generation packages, preventative maintenance, and new product technologies.
Throughout Friday and Saturday, Seakeeper offered demonstrations of their stabilization units aboard their center console as well as Bluewater's stock Viking 42 equipped with the technology. On Saturday morning, crowds gathered on the docks to witness and participate in a special opportunity and Bluewater tradition helping customers christen their new boat purchases. With mimosas and bloody marys in hand, owners and their respective Bluewater sales professionals shared their stories, one-liners, and mutual gratitude before soaking their rails with champagne.
Throughout the rest of the day, guests were invited to hop on one of many demo boats for a test ride or follow the fleet on their own to Bluewater's Grasonville office at nearby Mears Point Marina in Kent Narrows. Upon arrival at Mears Point, these crews were greeted with a warm reception by the Grasonville sales team, before enjoying their choice of several waterfront restaurants for lunch. All the boat hopping and rides were thoroughly enjoyed under beautiful sunny skies and calm waters before an Eastern Shore feast capped off the weekend's events later that night.
St. Michaels Marina's amenities and staff received great praise from Bluewater team members and customers alike, both throughout the event, as well as afterwards. Event organizer Robin Anderson recounted, "The staff at St. Michaels Marina are first-class. They went above & beyond to ensure any need was met, down to the smallest detail. The town of St. Michaels provides an ideal venue for a destination event like this. The history, charm, and great shopping and dining in the area are a great complement to our planned activities." In fact, the experience was so overwhelmingly positive in all aspects that it was quickly agreed that the Summer Cruise would return to the same venue in July 2016.
When pressed for a favorite aspect of the Summer Cruise, attendees all struggled with a clear-cut answer—between boat christenings, games, great food and drink, guest speakers, and sea trials, the Summer Cruise can offer excitement for boaters of all ages and interests. Everyone agreed that being able to unwind, relax and enjoy time with friends while surrounded by such a beautiful and historic setting such as St. Michaels, is truly a special opportunity. The only problem cited is a good one for the company to have—so many Bluewater customers have expressed interest in the follow-up event that reservations will likely overflow into adjacent marinas. President Jan Boone exclaims, "Book now for 2017!"