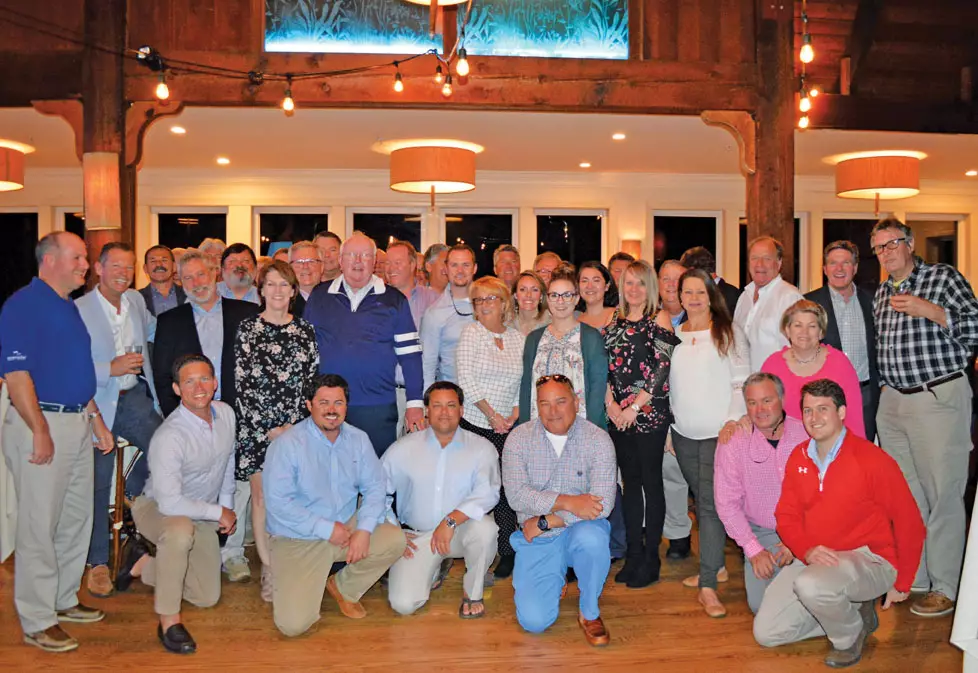 Bluewater's Annual Meeting and Team Appreciation Event
The first week of April brought together Bluewater's Sales, Support and Service teams for the annual Team Appreciation Event in Virginia Beach, Virginia. Over the course of two days, the entire company joined together to hear from our brands, take part in discussions, build camaraderie and recognize success. The meeting's theme was structured around the idea of building for the future and planning for the changes coming from across the industry and our company.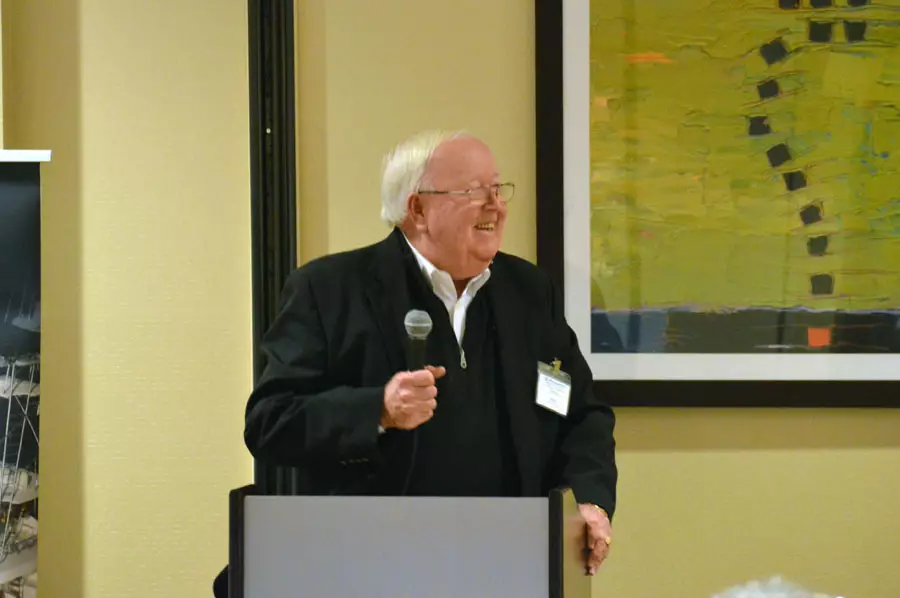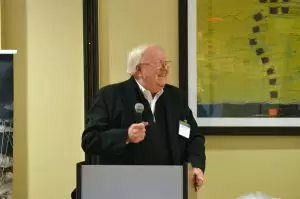 The bulk of this year's meeting was dedicated to interactive brainstorming and discussion sessions about how to better market in an increasingly digital landscape. As the boating industry continues to adapt to the latest marketing trends, Bluewater is taking a proactive approach to advocate for our buyers and represent our sellers in the most effective ways possible.
In addition to the marketing sessions, attendees enjoyed presentations from our internal financing, documentation and service teams to emphasize our mission of providing a seamless experience for each and every one of our customers. Our Financing Manager, Vera Sohovich spoke in depth about the benefits for buyers who use our new in-house financing services, while Service Liaisons Donnie Lee and Harry Johnson addressed the latest innovations from our service departments. Bluewater is proud to have the people in place to support our customers through every stage of the buying and selling process.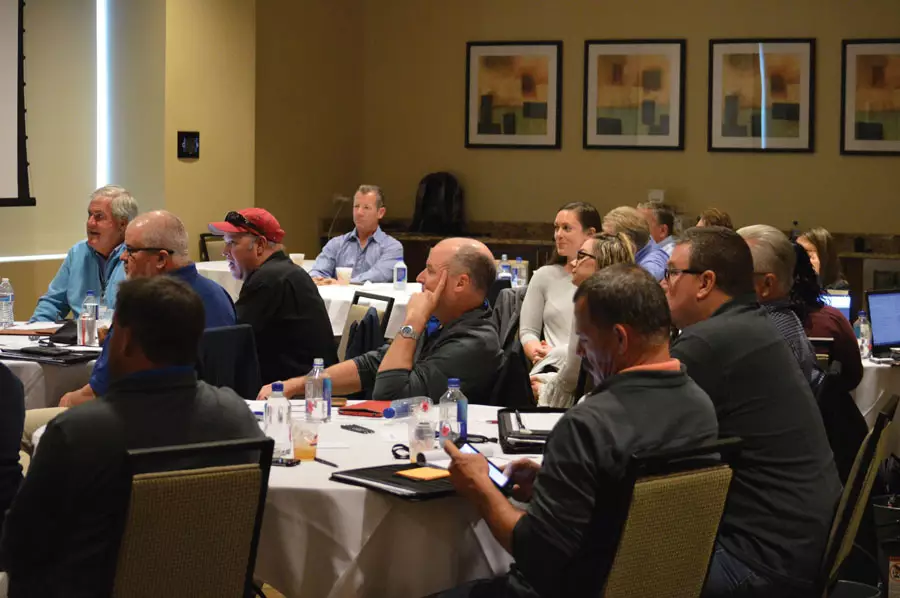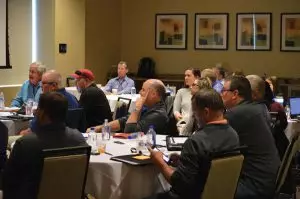 This meeting also served as a platform to announce new models and product updates from our brands, further enabling our team to be prepared for the upcoming model year. Manufacturer representatives came from along the East Coast to talk about these changes, with speakers from Sabre, Back Cove, Viking, Valhalla, Jupiter and Regulator.
Sabre and Back Cove's Vice President of Sales and Marketing, Bentley Collins kicked off the brand meetings by addressing their expansion into the outboard boat market with the Back Cove 34O, and also spoke about the newly announced Sabre 58. Viking's Mark Waldron and Sean Healey discussed the growth of the Billfish series and the addition of the much-anticipated Valhalla Boatworks center console brand.
Jupiter Marine's National Sales Manager, Les Ares spoke in-depth about the design, construction and customization features of their boats, along with their company plans for the new model year. Closing out our brand presentations was Regulator's Joan Maxwell and Keith Ammons presenting their latest marketing innovations along with plans for the recently debuted XO Series.
Although much of the time was dedicated to presentations and training, there was still plenty of fun with our team building night at Top Golf and our Awards Celebration at Waterman's Surfside Grille. The Awards Celebration is the culmination of the hard work that our team puts in throughout the year, and we were excited to recognize a remarkable number of achievements in 2018.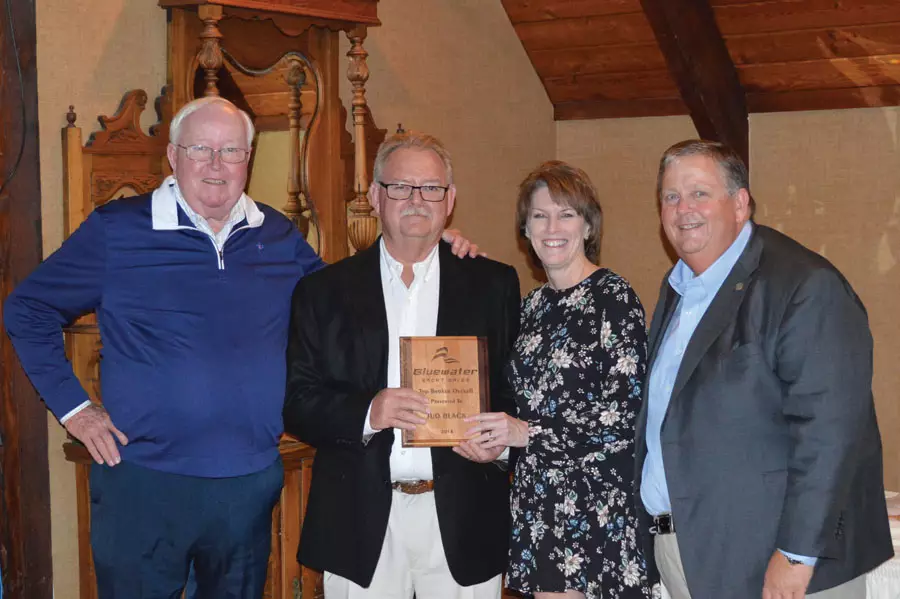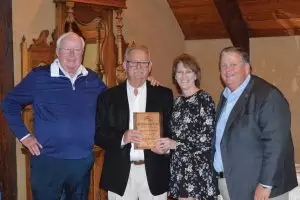 Jud Black took home four of the top awards, winning Top Sales Overall, Top Broker Overall, Top New Boat Sales and the Paramount Achievement Award. Also coming off a wildly successful year, Chris Hall Jr. won the Pinnacle Achievement Award. This year's Ovation Achievement Awards went to Chuck Meyers and Scott James, with Scott also winning the Top Gun Brokerage Award. We were proud to have five winners of the Sales Achievement Award, which went to Joe Green, Johnny Hicks, Danny Meadows, Bob Hoste and Mark Connors. Finally, the Most Improved Sales Achievement Award went to David Black. Bluewater would like to thank all our customers and friends for their continued business and support while congratulating our entire team on an outstanding 2018.

---
More Photos from our Annual Sales Meeting and Team Appreciation Event:

[custom-facebook-feed album=2244356855646466 num=100]