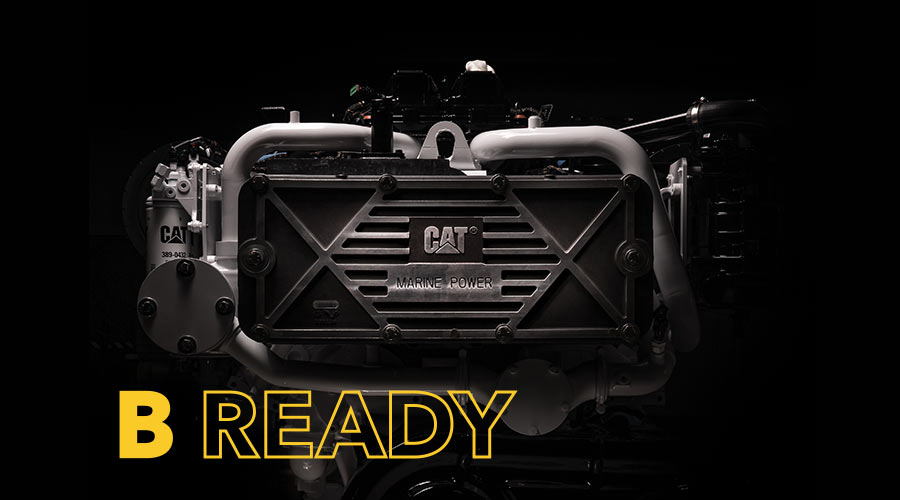 Photos by Luke Pearson / Lift Films
Cat is Delivering More Horsepower to Boat Builders Near You
Cat Marine Power and their worldwide network of dealers recently announced long-awaited power upgrades to their high-performance marine diesel engines. The new C32 "B" is built on the proven C32 platform, but is essentially all new from the block up, specifically designed to pack more punch.
A 5% boost in power weighs in at only 2% heavier than the original C32—more muscle in virtually the same package. As Cat's Product Strategy Engineer Allen Bowman explains, the new engines have nearly the same footprint and the exact same displacement. "The core engine components, crankshaft, connecting rods, pistons and block have been improved to handle the higher power density of the C32B ratings. Other improvements include the sequential turbocharging system and advanced unit injection fuel system, both which help enable the C32B's higher power ratings."
As he recently explained to Marlin Magazine editor Sam White, the new engines also retain the low-end torque capability that existing Cat customers appreciate when maneuvering in close quarters and fighting fish. "That's one of our calling cards. We know our customers depend on that capability," Bowman says. "We made core changes to the engine to help improve the strength of the internals. We can now inject more fuel into the cylinder on a given power stroke, so that's how we were able to increase the power density," he explains.
Quiet Reliability
Remarkably, the series also features a 25% noise reduction during lower end operations, such as idling and trolling. "The improved unit injection fuel system now allows for a multi-shot fuel injection at lower RPMs, allowing us to reduce engine noise. This is a key feature for the yachting and sport fishing markets." Bowman adds, "The sequential turbocharging system will also provide for faster acceleration and engine response."
Reliability is another feature already baked into the platform. "The C32 has been around for over 10 years in the marine high-performance market. Cat has so many applications, we have great confidence in our products and that the reliability is going to be there." In fact, they are already proven according to Bowman. "The C32B core components are being used across a variety of applications and we've accumulated over 35,000 hours of testing on those components. They're well-proven in the lab and in the field." Cat backs that up with a standard full coverage warranty of two years and multiple flavors (Platinum and Platinum Plus) of their extended five-year service coverage.
| | | |
| --- | --- | --- |
| power range | speed range | Emissions |
| 2400 bhp | 2300 rpm | EPA Tier 3, IMO, IMO III |
| 2433 mhp | | |
Repower Ready
The order board is open for the new C32B series and pre-production engines started shipping to North America in early 2021. The first boat to receive a pair of the 2,433 mhp (metric horsepower) rating is the 70' custom Jarrett Bay, Iron Leader. Previously known as Wayne's World, Ravaganza, and originally commissioned as Q.E.D. by another engine manufacturer for propulsion testing, this boat is currently being repowered by Gregory Poole Cat and Jarrett Bay Boatworks in Beaufort, North Carolina.
"The Iron Leader will not only be the first vessel on the water with these engines, but also demonstrate how great a fit the C32B will be for repower projects," says Bowman. The engines have the same footprint, connection points, and overall installation requirements as the previous C32 line, but will also excel as replacements for competing engine makes. That is the case in the repower of Iron Leader, which was initially built around 2,400hp MTU M93 common rail engines.
"We're very excited about the future of the C32B and looking forward to getting everyone some more power density," concludes Bowman. As most captains can agree, more power is almost always welcomed.