The boating lifestyle is often contagious and Dr. Kent and Judy Webb can give first-hand testimony to that. Since initially falling in love with boating on the lakes of Minnesota, the Webbs have owned nearly fifty boats of greatly varying makes and sizes.
Now enjoying their time on North Carolina's open waters aboard their Viking and Regulator sportfish boats, Dr. Webb shared the origins of their lifelong passion for boating and fishing, "During my time as the chief resident at a hospital in Minneapolis, I took a medical student under my wing. The parents of this med student thanked me for my efforts by inviting my wife Judy and I for a weekend stay at their lake house, which included access to all of their toys. We had so much fun on their boat that we were determined to have one of our own."
After years of hard work and multiple jobs to payoff medical school and fund their first boat purchase, the Webb's decided "Moonlighter" would be the perfect name for their new pride and joy. Since that first boat, a 16' runabout perfect for cruising around the Land of Lakes, the Webbs have owned nearly fifty boats of varying makes and sizes. Currently the Webbs own both a 2012 Viking 60C and a 2013 Regulator 28 that they enjoy cruising and fishing the Wrightsville Beach area with. Moving forward they plan to travel the East Coast from Maine through the Florida Keys and Bahamas on their Viking, while wintering in Palm Beach, Florida.
"We love to spend the time on our boats with family – cruising and fishing. My career has kept me from spending as much time as I would have liked with my family, in particular my teenage grandson. Now that we are nearing retirement, we plan to spend as much time together fishing and enjoying boating as possible.
"Since that first little runabout, we have owned nearly twenty boats that have exceeded thirty feet in length and roughly two dozen boats that measured less than that. A few of the boats that stand out was a 46' Bertram we sold to the Bee Gees and a 54' Bertram that we won Top Bertram with at the prestigious Hatteras/Bertram Shootout when it was in Walker's Cay, Bahamas. We also owned hull number one of the 63' Hatteras Raised Pilot House but Judy's favorite vessel so far was our 75' Hatteras motoryacht."

The Consult
Unquestionably experienced buyers, the Webbs expressed their appreciation for the positive service they received while working with Regulator, Viking, Bluewater Yachts Sales and broker Clark Sneed on their purchases.
"My wife and I cannot say enough good things about our Viking 60' or our new Viking Family. Viking Yachts President Bill Healey personally took the time to show us the plant when we visited. His hands-on approach was something you just don't find much these days with a company of Viking's size.
"We have owned a lot of different boat brands, and there are just so many things about this Viking that we fell in love with. The OctoPlex system alone was enough to sell me on this boat. Managing, monitoring and having remote access to all of our boat's complex systems gives us great peace of mind. Having Caterpillar power was also a selling point for me. I've always been partial to Caterpillar because of their great service. This boat is the most responsive convertible we've owned. Even at 44 knots she still handles like a sports car. We also love how cleanly styled and functional everything is – from the flush-mount cleats and excellent storage throughout, the well appointed interior décor and cabinetry – to the minute details, such as the bilge lights that automatically switch on and off."
Also experienced at customizing their boats, the Webbs have never been afraid to ask a manufacturer for something new or different, "With guests of all ages being aboard our vessels, and being safety conscious by nature, we had Viking install grab rails at the top of the bridge ladder, and as you walk forward where you leave the side of the house before the non-skid pad starts on the bow. AME Electronics also customized a mast to give our FLIR and other imaging devices the best vantage point.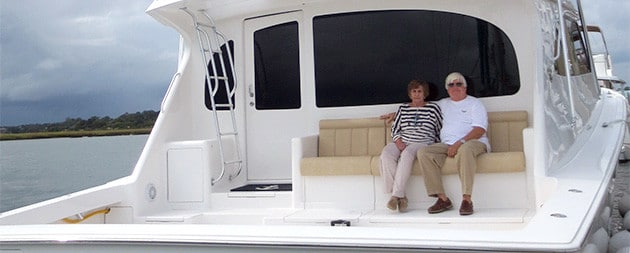 Another Prescription
"Our 28' Regulator is just the perfect size for our family. We had a 26' Regulator and moving up to this 28' gave us that little bit of extra room to make our ride more comfortable. With the twin 300 horsepower Yamahas pushing her to 60 mph, we get to and from the fishing grounds quickly.
The head room on the Regulator – meaning that the head is large enough for us to stow all of our cushions – is better than any in its class. And the finish work compared to Regulator's competitors' is unmatched."
Dr. Webb and his wife Judy summate their stories and experiences by simply stating "Thoughtfulness throughout. We love it!" There is no greater compliment a boat builder or boat dealer can receive than the happiness and continued satisfaction of their customers. Bluewater Yacht Sales continually strives to meet and exceed all of our customer's expectations and requests, and we are proud of our manufacturer partnerships that frequently demonstrate these common beliefs and goals.