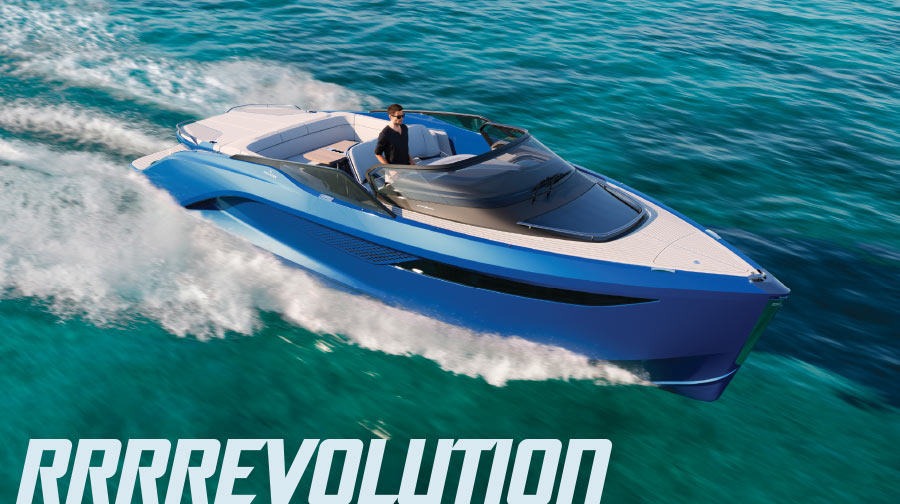 Collaboration between Princess Yachts, Pininfarina and BAR Technologies births the all-new R35
What does it take for a large production luxury yacht builder to shift gears and unleash an innovative new concept boat on the public? The newest model from Princess Yachts was a top-secret endeavor from day one. The first demo boat remained shrouded in mystery even after initial sea trials, thanks to a clever hull wrap that tricked the eyes to see different shapes and lines.
The Princess management team explains they had been toying with this idea of a radical, relatively small, new model for a few years. But the concept never fully took flight until Antony Sheriff became the new Executive Chairman and reignited that conversation. He recalls, "The first day I came in, I sat down with the team and I said 'Gosh, wouldn't it be cool to build a small boat?'"
Not every team member at Princess was originally on board with creating a high-performance small boat, but the project thoughtfully moved forward. Great care, discussion and research was undertaken to ensure they could indeed execute the revolutionary design without sacrificing the qualities that a Princess yacht is known for.
Andrew Lawrence, the Head of Design for Princess Yachts explains some of the detail and collaboration that went into this radical new yacht, "We came at the project from two completely different angles: the boat needed to be useful and it needed to be comfortable. This is not a racing boat, it's a high-performance boat." Lawrence adds, "We went through many iterations of the general arrangement—about five before finalizing the plan."
A new yacht design with Italian supercar DNA.
This healthy dose of vision, research and development is what gave birth to the breath-taking new Princess R35—a true revolution in yacht design, both above and below the waterline. To reach these ends, Princess developed some impressive partnerships in the design and technology of this new build, including the top-notch outfits of Pininfarina and BAR Technologies.
If all the secrecy and stealth remind you of a hot new concept car, there's good reason for that. Pininfarina is a world-renowned Italian design studio with over 85 years of heritage, penning some of the most iconic and breathtaking luxury sports cars for generations. The R35 immediately catches the eye with her incredibly sleek form and those massive air intakes molded into the aft hull sides. There is certainly a hefty dose of Italian supercar DNA in this new yacht design.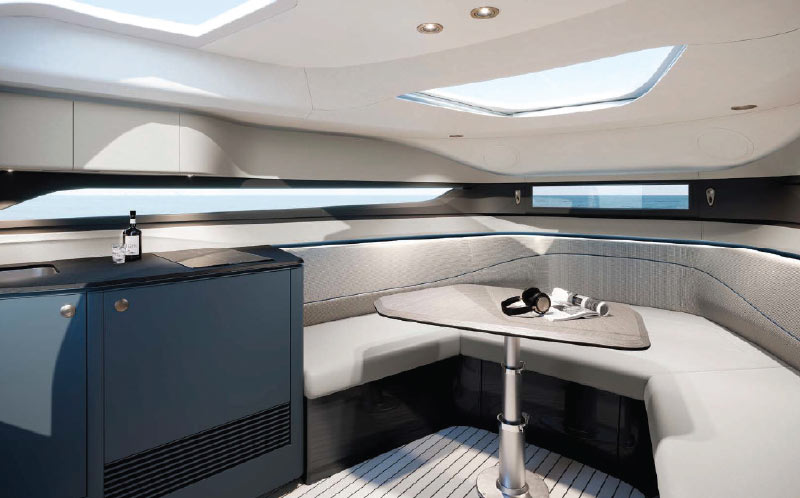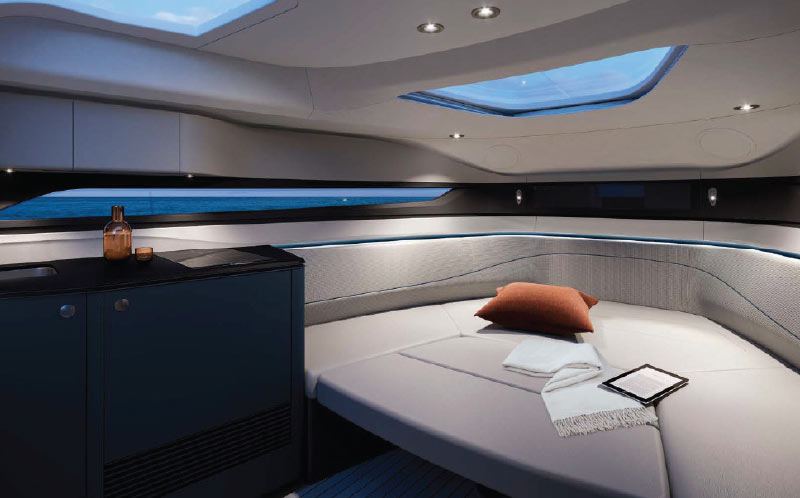 BAR Technologies has been at the forefront of high-speed yacht designs and played a starring role in the most recent America's Cup series which featured flying catamarans. These high-speed sailing cats used composite foils and daggerboards developed by BAR Technologies and exceeded speeds of 40 knots on the race course. Naturally, when Princess wanted to extract more speed and stability from their revolutionary sport yacht, they sought expertise from BAR Technologies.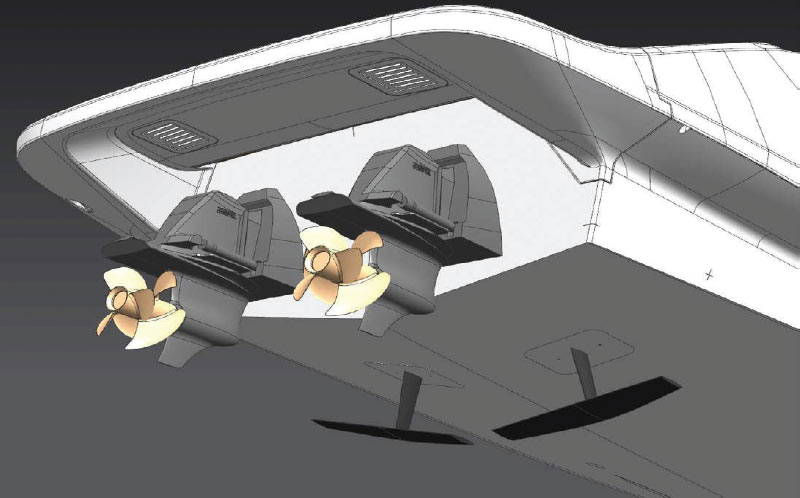 A foil system with automated adjustments provide the R35 with amazing handling.
High-Tech Foils & Propulsion
In addition to using carbon fiber throughout the entire build of the R35, Princess and BAR Technologies developed the Active Foil System (AFS). These twin foils don't elevate the boat from the water but rather provide improved dynamic stability and increased efficiency—imagine a more pillowy ride but with the ability to carve sharp turns. Like the BAR America's Cup yachts, this is achieved by precisely trimming the running gear with constant adjustments that can't be left to human error. An onboard computer makes roughly 100 calculations each second, continuously adjusting the precise angle of the foils to provide ultimate efficiency through the water.
Due to their superior power to weight ratio, gasoline engines were selected for this new yacht instead of diesel. The R35 is powered by twin Volvo V8's, each developing 430 horsepower which is enough to produce speeds approaching 50 knots.
The R35's active foils make the boat very safe and easy to control, even at high speeds in excess of 40 knots. "We pushed the boat as hard as we could and tried as hard as we could," Lawrence exclaims. "There was just no way we could make that boat misbehave! You can't put into words just how exciting this boat is to drive."
In-House Fabrication
When it came time to take the R35 from concept drawings to physical creation, Princess did not farm out the carbon fiber duties. Instead, they outfitted their facility with all of the equipment and tooling required, including large ovens that are needed to cure the carbon fiber. This massive investment will benefit the entire Princess line from 40 feet to 40 meters, including the new skills gained by their craftsmen in composite technologies.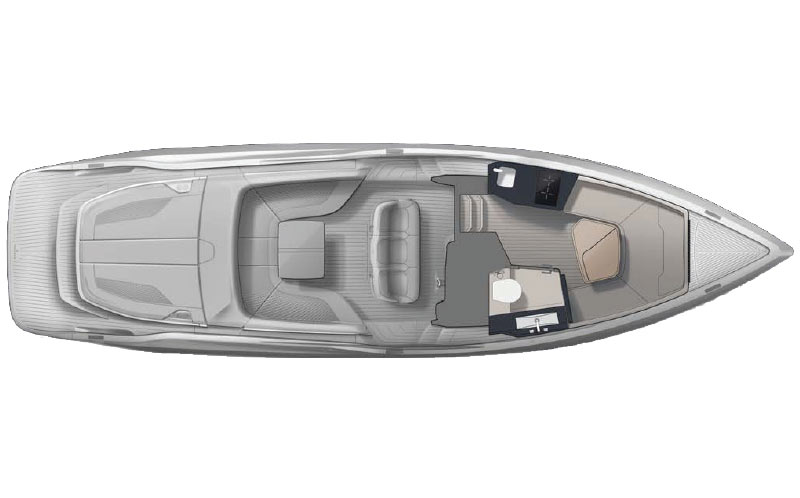 With typical marine construction methods, carbon fiber produces an average 15-20% weight savings over more conventional fiberglass. However, these savings were not lofty enough for the Princess team. By utilizing resin film infusion techniques when working with carbon fiber, the R35 was able to ramp up the weight savings to 25%.
This obsession over weight savings paid off.
The half load displacement for the Princess R35 comes in at just 14,000 lbs.
Weight savings became an obsession and the extensive use of carbon fiber was not the only trick up their sleeves. The Princess team avoided using gelcoat on the boat, which would have added over 650 pounds to the finished product. Instead, the R35 is painted after the infused carbon receives a thin coat of fairing compound to hide the fiber weave from "print through."
Lawrence explains that further weight savings were achieved with materials selected for the interior. Solid surfaces use industry-leading lightweight components like Esthec floors that are both beautiful and durable. The final look of the interior is every bit Princess—flawless fit and finish with an impressive collection of color options for both soft and hard surfaces.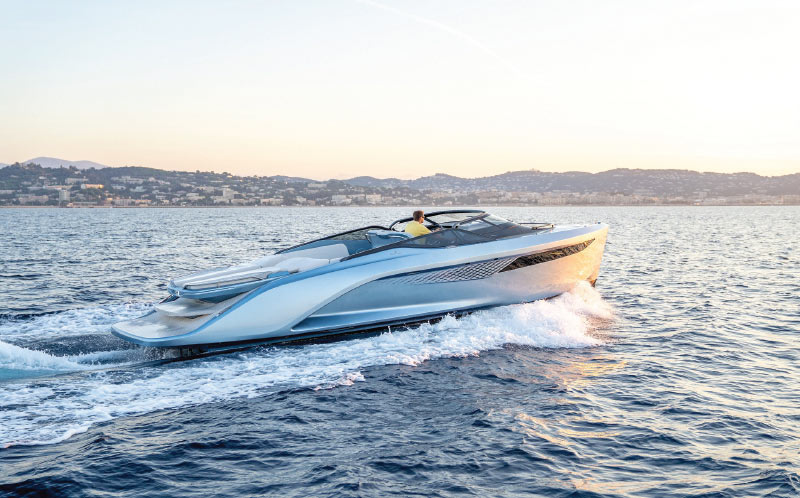 PRINCESS R35
LOA: 35′ 9″
Beam: 10' 8"
Draft: 2′ 6″
Fuel Capacity: 158 gal.
Water Capacity: 37 gal.
Holding Tanks: 21 gal.
Displacement: 14,000 lbs.
Power: Twin Volvo V8 @ 430hp each
Top Speed: 50 knots
A Revolution has Begun
The entire Princess team is clearly excited about this revolutionary new direction for Princess design and technology. Although Pininfarina led the design of the R35, Princess Yachts' long-standing partners in design and naval architecture, Olesinski, was also involved. Their team is now working to implement aspects of the R35's design language into the next generation of larger Princess Yachts.
"The new R35 shows how far Princess is willing to go to be on the leading edge of technology in yachting," Bluewater's Chuck Meyers said. "This boat is truly a work of art and stops people in their tracks." Meyers is also stunned by the amount of detail that went in to every component on the boat, from the helm to the cabin and galley below. A radical new design, but distinctively a Princess in every way.
Princess Yachts' R35 is not just a fun side project or pilot program, but rather the beginning of this esteemed yacht builder's next evolution in design and engineering. With the skills acquired by their team in new composite technologies, and the new equipment in place for production, Princess is poised to integrate these innovations and techniques into future new models. This, combined with tomorrow's efficient high-horsepower engines will provide the same, if not greater speed and performance over today's propulsion packages.
Without question, Princess Yachts is launching a revolution in luxury yacht design, construction and performance.
FRESHLY LAUNCHED
The new V65 from Princess features an Olesinski-designed deep-V hull that is optimized for greater lift and less drag, which produces lower planing speeds and greater efficiency. Her twin MAN diesels provide a total of 2,800hp pushing the V65 up to 38 knots. Built to entertain, her spacious cockpit offers a sunpad and well-equipped dining area that leads to the fully-equipped aft galley. The sizable sunroof and sliding aft doors provide for the helm and salon spaces to be flooded with natural light. Below deck are the four luxurious cabins all bathed in sunlight from the beautifully integrated hull-side windows.
PRINCESS V65
LOA: 66′ 10″
Beam: 16' 9"
Draft: 4′ 9″
Fuel Capacity: 1,083 gal.
Water Capacity: 230 gal.
Displacement: 67,000 lbs.
Power: Twin MAN V12 @ 1,400 each