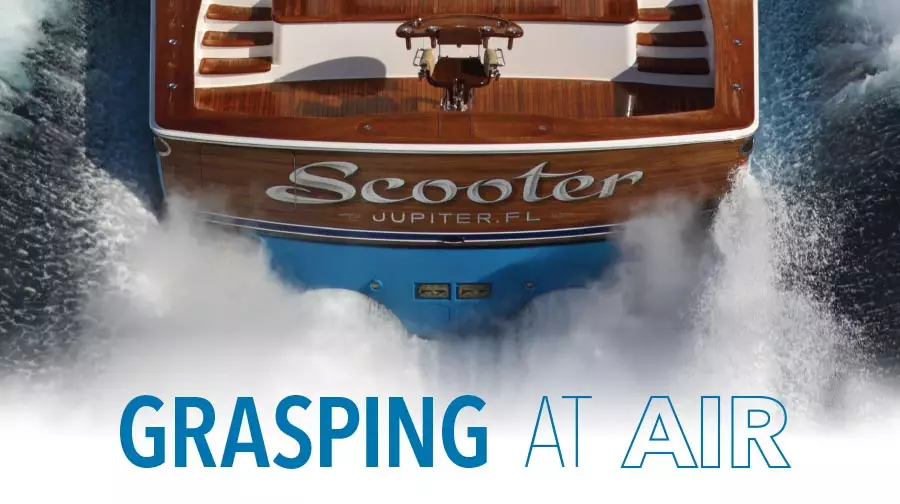 Engine Manufacturers Toil to Reach Emissions Compliance, Leaving Yacht Builders In the Wind
"This is the greatest threat to the marine industry since the luxury tax of 1990," said Viking Yachts President and CEO Patrick Healey, during a press conference on opening day of the 2019 Fort Lauderdale International Boat Show. Healey was addressing the enforcement of International Maritime Organization (IMO) regulations that will require compliance with their Tier III emission standards for all diesel yachts with a waterline over 24 meters (roughly 90 feet of overall length).
The intent of the IMO's Tier III regulations is to reduce nitrogen oxide emissions (NOx) by approximately 70 percent compared with the current Tier II standards. Currently, this drastic reduction goal can only be attained through specialized exhaust treatment systems that add a great deal of bulk and weight to a yacht's engine room. The new Tier III regulations apply to any vessels that moor or may pass through North America, the US Caribbean, the Baltic Sea, the North Sea, and all future NOx Emission Control Areas. Yachts constructed prior to 2021 will be granted exceptions, grandfathering them in from this new rule.
Healey maintains that if his efforts to enact an extension or amendment to the January 2021 deadline fails, Viking will cease production of the 92 Convertible and 93 Motoryacht, forcing the layoff of an estimated 300 employees at their New Gretna, New Jersey plant. This is just one example from the many yacht builders that will be affected globally in the 90 to 150-foot segment.
"We've spent a combined $18 million in R&D on those two yachts [92C and 93MY]," says Healey, via Viking's statements widely circulated to the press. "Viking will not compromise the engineering integrity of our yachts with a technology that would have so many negative effects. We would not be building a better boat by using this technology in its current state."
Viking is not the only yacht builder rallying efforts for an extension of the Tier III emissions regulations for smaller yachts. Another of Bluewater's brand partners, Princess Yachts in Plymouth, England is also working to maintain viability of their larger yachts including the 'M' and all-new 'X' series. Several more European superyacht builders are also standing alongside Princess and Viking in this effort including Ferretti Group, Overmarine, Monte Carlo Yachts, Sanlorenzo Yachts and Sunseeker.
IMO Tier III standards have already been in force for over four years on larger superyachts and commercial vessels that exceed 500 gross tons. The smaller yacht segment of 90-150′ was initially spared from the regulations and given a 5-year window to work on compliance measures. In 2016, it was believed that exhaust treatment systems would become more advanced, even to the point of being integrated into the engines. However, the technology is not there yet and simply won't be ready by the January 2021 deadline.
Viking may have to cease production of their 92C and 93MY due to Tier III emissions regulations.
The Theory
Much testing has been performed to research a streamlined, in-motor solution, but manufacturers have yet to find a silver bullet. This is where Selective Catalytic Reduction (SCR) systems for exhaust gas treatment come into play. An SCR system consists of several bulky components that inject chemical solutions into the exhaust system. These components require a great deal of plumbing, ventilation and additional space in the engine room, which can be the equivalent of adding another full engine footprint to a yacht's belly.
The exhaust catalyst comes in liquid form and is known as Diesel Exhaust Fluid (DEF) or by a more basic chemical name: urea. The urea must be stored onboard in a separate tank, and estimates are that a yacht would require 10% of their fuel load in urea storage capacity.
The equipment required for a functioning SCR system adds several tons in weight, depleting performance and fuel efficiency of the yacht. The bulky components would cramp engine access which also leads to safety concerns. An engine room would need to be stretched in length and height to accommodate the system. Space within a yacht is always at a premium and this would completely change the proportions and layout of any given yacht model—decreasing livable space and requiring engineers to return to the drawing board to keep a model in production. Top these concerns off with an estimated purchase price increase (for a Viking 92C) of over $500,000 and heightened operating costs, and the fear is that most prospective buyers would steer clear of SCR-equipped models.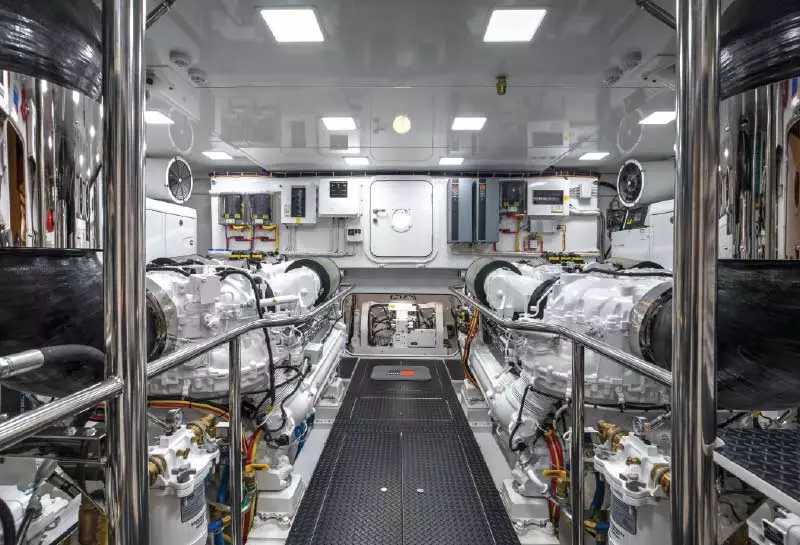 The engine room of the Viking 93MY would be a much more complex and cramped space with additional SCR equipment.
In Practice
For SCR to perform efficiently and provide the claimed reduction of NOx emissions, the diesel exhaust needs to be incredibly hot, exceeding 500° F (260° C). High heat is what activates the chemical reaction required between the urea and the noxious exhaust particles, to break them down into less harmful ammonia and water vapor. However, these high temperatures are only achieved when the engine load is high—over 80% load in the case of Viking's models—a figure that is rarely sought after in operating large cruising yachts and sportfishing convertibles.
Aside from current SCR and DEF equipment being inadequate at lower engine loads, there is also the concern of obtaining and maintaining urea. Executive Co-Chairman of the Viking Group, Bob Healey. Jr. explains, "There will be very few ports that have urea, certainly not your mom-and-pop marinas or remote locations. Only your major ports like Miami and Fort Lauderdale will have urea." Boat owners and captains can face hefty fines for operating a vessel in current and future Tier III zones with a non-functioning SCR due to empty urea tanks.
There is also a maintenance issue surrounding urea: it has a relatively short shelf life. Being concerned about fuel integrity and lifespan is nothing new for mariners. However, where gasoline has a whole market of conditioners and stabilizers, and diesel benefits from advanced filtration and circulation systems, urea has no backup plan yet to prevent chemical degradation. The typical storage life for DEF (urea solution) is roughly 6 months. Beyond this time frame, the solution can crystallize leading to blocked DEF plumbing and other maintenance concerns.
It could become quite a juggling act for Captains to determine the amount of DEF to maintain in their specialty tanks. Too much unused urea could lead to maintenance issues, while having too little onboard exposes them to citations and fines.
""We would not be building a better boat by using this technology in its current state."
– Pat Healey, Viking CEO"
Finding a Way
Major marine diesel engine manufacturers including MAN and MTU have been pouring resources into their R&D departments to design, test and certify a solution. However, it hasn't been enough and none of these systems will be yacht-ready by the January 2021 deadline.
Tobias Kohl, Senior Manager for Yacht Applications at MTU told Boat International's Kat Lardy, "Considering that we have the highest power density engine (Series 2000), the integration with SCR systems requires intensive testing and optimization." Kohl continued by suggesting that a transition phase (deadline extension) is needed to further develop and implement the new SCR technology given the technical challenges involved.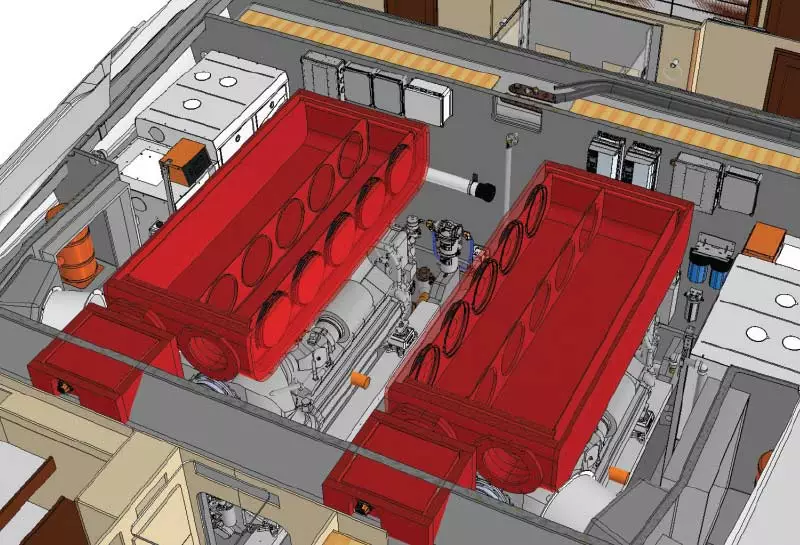 Illustration of overhead SCR units in a Viking 92C
Rather than wait on engine manufacturers to design and test an all-in-one solution, some yacht builders are seeking the assistance of third-party developers and well-known yacht exhaust specialists like MarQuip. While marine exhaust companies and diesel engine manufacturers are scrambling to create solutions for yacht builders, their efforts are unlikely to be production-ready by the looming IMO Tier III deadline.
• The International Maritime Organization (IMO) is the United Nations special agency responsible for regulating the safety, security and pollution impact of ships.
• The IMO started developing emissions standards in 1997 and have revised, amended and significantly strengthened them several times, including in 2008 and 2014.
• Nitrogen oxide emissions (NOx) are a greenhouse gas emitted by diesel combustion engines.
• Tier III regulations aim to reduce NOx emissions by 70% over Tier II standards.
• Vessels over 500 gross tons must already comply with Tier III standards.
• Tier III rules will apply to all new yachts (over 24 meters) built after January 1, 2021.
• Compliance is most often achieved by using a Selective Catalytic Reduction (SCR) system.
• Current SCR technology adds bulky components to a yacht's engine room along with several tons in weight and the necessity for diesel exhaust fluid (DEF)
• Marine engine and exhaust manufacturers have spent millions to develop more advanced and compact SCR technology for the smaller superyacht segment, but an ideal solution does not yet exist.
• Viking's Pat Healey and many European yacht builders including Princess Yachts are lobbying for an extension of the IMO's Tier III deadline
Innovating a Solution
European superyacht builder, Feadship, recognized the pitfalls of SCR and has been working to innovate their own solution that does not require bulky SCR equipment or unstable urea storage. Known as Oxywash, their new technology has been tested and demonstrated in the lab and large-scale prototype tests are ongoing ahead of developing certified systems for fitment on the first yachts. This new technology could usher in a whole new way of reducing NOx emissions for the global superyacht market, but the first yacht-ready systems may not be ready in time for the current January 2021 deadline.
While environmental responsibility and improved emissions standards are of equal concern while afloat or ashore, it is difficult to accept that the IMO is pushing what appears to be an unfeasible deadline for Tier III implementation. The facts remain that even if outfitted with SCR technology, vessels in this segment will struggle to reach the operating ranges needed for effective catalyzation.
According to Healey, "This is a jobs issue! The regulators didn't consider the people building the engines, the people taking care of the engines and the people building the boats." The trickle-down effect of a halt to global superyacht production from 90'—150' could indeed be staggering. Ancillary businesses providing the materials and equipment to build these boats along with the aftermarket that provides electronics, enhancements, sales and even yacht tenders, may suffer.
MAN Engine's SCR proposal is a big space hog too.
While it is obvious that SCR is not currently an ideal solution from builders' perspectives, the industry must acknowledge the importance of reducing their environmental impacts. After all, yachting won't thrive if we don't do our part to take care of the environmental resources that these vessels are built to enjoy. That is the spirit and intent of the IMO's pollution oversight, and it would be in everyone's best interest to iron out a balanced solution that addresses manufacturers' concerns while marching towards emissions reduction goals in a meaningful way.