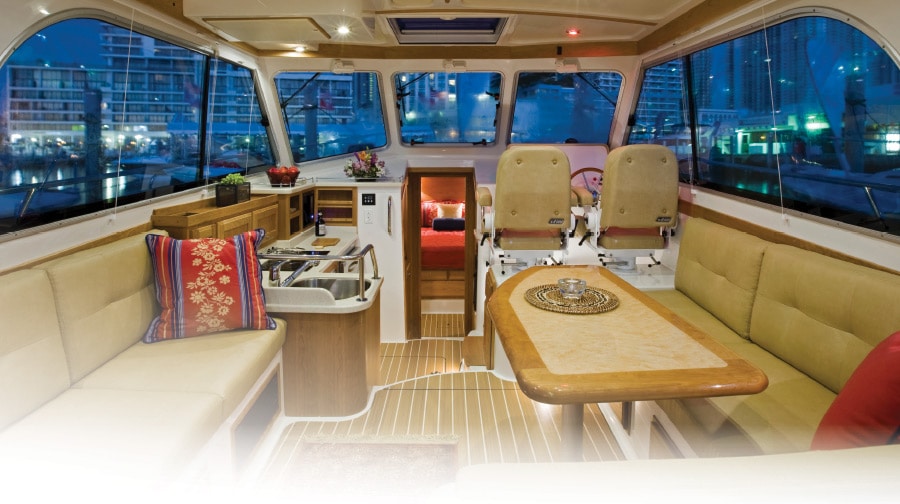 Examining Back Cove's Single Engine Success
When a boater is ready to fulfill their cruising ambitions, there is no shortage of options available on the market to satisfy that itch. Downeast style sedan bridge layouts remain a popular choice due to their classic looks, refined interiors, easy handling and low bridge clearances. Sabre, Grand Banks, MJM, Hunt, Back Cove, and Legacy Yachts all make well-optioned boats in this category, but only Back Cove has focused on the simplicity of single inboard power throughout their model lineup.
Founded in 2003, Back Cove Yachts is a relatively new company. However, this line was formed out of the expressed demand for a smaller, simpler version of its sister-ships offered by Sabre Yachts—a boat builder with nearly 50 years of heritage and experience. What first seemed like a gamble in producing the very first Back Cove 29, evolved into a remarkably successful brand which recently celebrated the launch of their 800th hull, along with their 15 th year of production.
Keeping it Simple
Several propulsion options were considered when the engineers and design team at Sabre Yachts first set out to create the Back Cove models. Kevin Burns, Vice President of Design & Product Development provided us with a break-down of that initial research and development phase. "Fundamentally, looking at all the driveline options available at that time, the simplest and most reliable is an inboard straight shaft single diesel engine with a rudder." Burns continues, "even large shipping vessels and commercial fishing boats use this configuration due to ease-of-maintenance and reliability."
Not only is a single engine configuration a tried-and-true approach throughout multiple marine segments, it also provides many other advantages over twin engines of equivalent horsepower output. "In terms of cost, there is a huge advantage for the single engine setup," explains Bluewater's Mark Connors. "From initial purchase price to cost of maintenance, a single engine keeps the financial burden much lower than a boat with twin engines."
A second inboard does more than just double the cost of the engines, spare parts and upkeep—it also increases the required cooling, number of thru hulls, and fuel capacity. Twin engines need twice the amount of exhaust plumbing, which can add complexity to the build and greatly reduce the amount of available space below-decks. "A single engine takes up much less space, giving the owner additional storage to work with. Maintenance becomes easier as both sides of the engine are more readily accessible," Connors explains.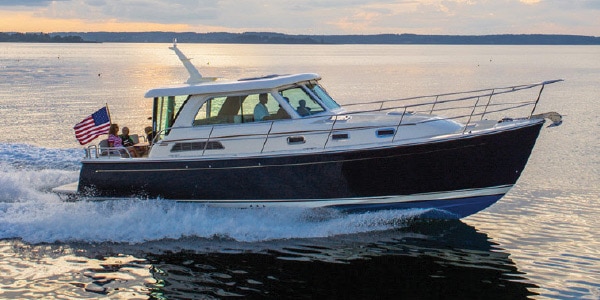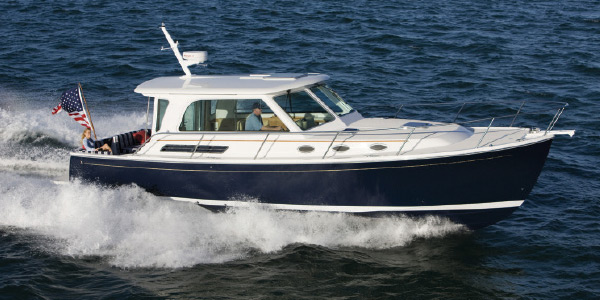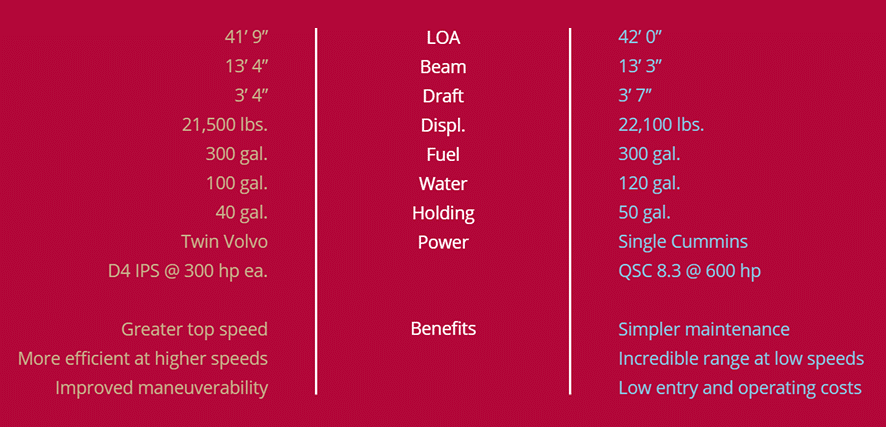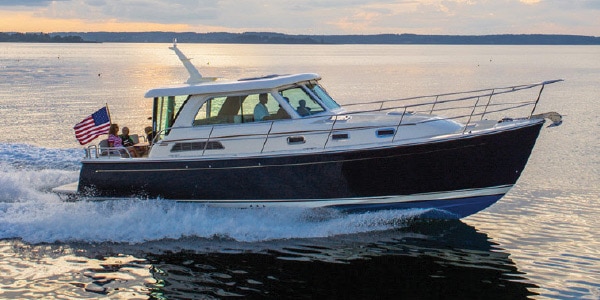 LOA
Beam
Draft
Displ.
Fuel
Water
Holding
Power
41' 9"
13' 4"
3' 4"
21,500 lbs.
300 gal.
100 gal.
40 gal.
Twin Volvo
D4 IPS @ 300 hp ea.
LOA: 41' 9"
Beam: 13' 4"
Draft: 3' 4"
Displ.: 21,500 lbs.
Fuel: 300 gal.
Water: 100 gal.
Holding: 40 gal.
Power: Twin Volvo
D4 IPS @ 300 hp ea.
Greater top speed, More efficient at higher speeds, Improved maneuverability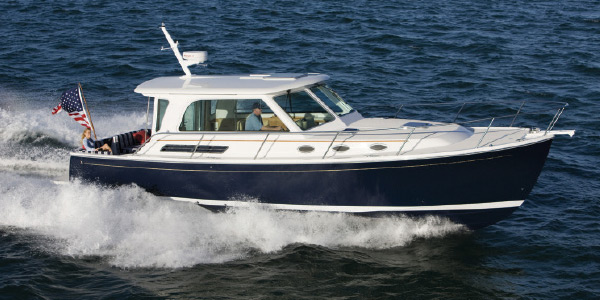 LOA
Beam
Draft
Displ.
Fuel
Water
Holding
Power
42' 0"
13' 3"
3' 7''
22,100 lbs.
300 gal.
120 gal.
50 gal.
Single Cummins
QSC 8.3 @ 600 hp
LOA: 42' 0"
Beam: 13' 3"
Draft: 3' 7"
Displ.: 22,100 lbs.
Fuel: 300 gal.
Water: 120 gal.
Holding: 50 gal.
Power: Single Cummins
QSC 8.3 @ 600 hp
Simpler maintenance, Incredible range at low speeds, Low entry and operating costs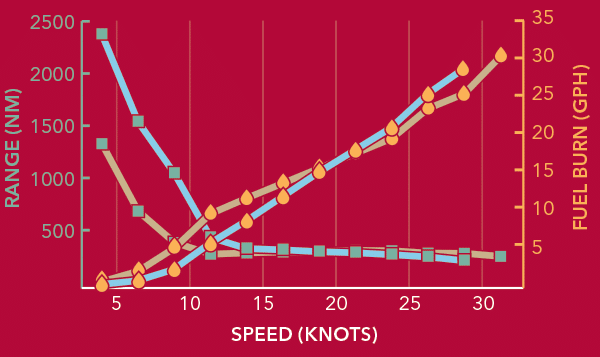 A Winning Formula
"A great deal of thought and concern has gone into choosing the driveline and it absolutely makes the most sense from every angle… quality, cost savings, ease of maintenance, service life, and robust materials & equipment," Burns concludes. With a 240,000 square foot facility in Rockland, Maine and 200 remarkably talented team members, most Back Cove models can go from hull lay-up to final delivery prep in roughly 90 days, which helps keep up with the impressive demand these boats have developed.
There's never a feeling of compromise for Back Cove owners. They get to enjoy the exceptionally low operational costs of a single inboard diesel engine, while the propulsion package still includes a bow and stern thruster to help take the stress out of docking. The efficiency of a single engine is consistent throughout the entire rpm range, allowing operators to easily settle into their favorite speed and fuel burn ratio for the weather conditions. A Back Cove 37 with single Cummins boasts a range of over 375 miles while running at a respectable 20 knots, and she can top out near 29 knots.
"…a single engine keeps the financial burden much lower than a boat with twin engines."
"After running a Back Cove 37 Downeast, you'll be impressed with the ride and efficiency, plus the noise levels at the helm are very low. Back Cove Yachts are fantastic for a couple who like to entertain as well as spend a few nights aboard cruising," advised Connors. Bottom line, boat shopping should always be accompanied by a little homework and the expertise of a well-versed sales professional who can help guide you towards the best boat for your lifestyle. Efficiency and ease-of-operation are just some of the highlights of a single screw cruising champion that shouldn't be ignored. If you're a fan of Downeast style cruisers, take a good look at Back Cove and sea trial one—we think you'll be awed by its mix of performance, refinement and value.