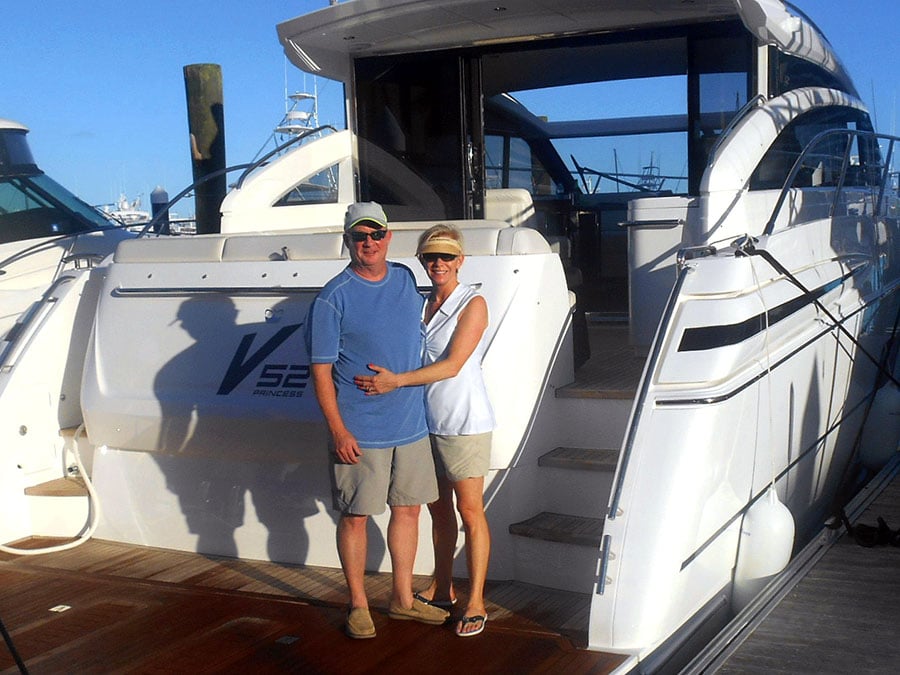 Initiating an affinity for boating along the winding shorelines of Lake of the Ozarks over twenty years ago, Kathy and Erich Hahn's first boat was a sporty 25' Checkmate cuddy cabin. Since that somewhat modest beginning, they've moved through various brands of sport cruisers while relocating from Kansas City, Missouri to Annapolis, Maryland.
The Hahns now thoroughly enjoy being aboard BuckyHawk, their beautiful new Princess V52, and whether cruising open waters or tied up in their slip, they are committed to getting the most quality time they can out of her. Erich Hahn recounted the lengths they went to use their first boat, even when a trip wasn't possible, "On a couple occasions we spent the night aboard while still in the lift!" Spending time in a Sea Ray 40 Sundancer, and now their Princess, they've explored the Chesapeake's top cruising grounds including St. Michaels, Solomons, Cambridge and Baltimore, but one Chesapeake location stands out. "We really enjoy the quiet of anchoring out on the Wye river south of Kent Narrows. It's very pretty and peaceful there," explains Hahn.
The Buy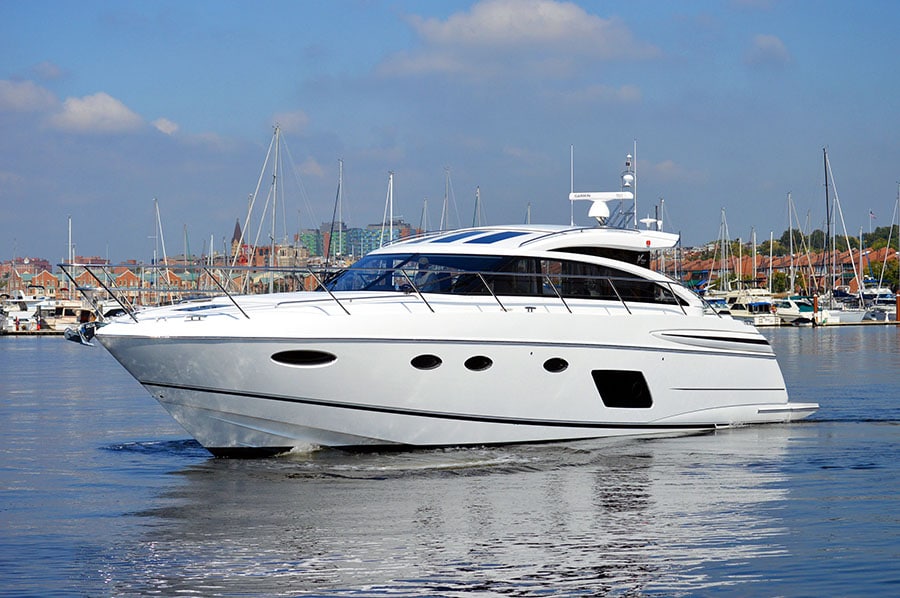 When it came time for the adventurous couple to move up from their Sea Ray to their new Princess V52, they called on Bluewater's John McDevitt. His hands-on, knowledgable approach and expertise as a captain comforted them throughout the entire buying process. Erich noted, "John is exactly the kind of person I wanted to buy a boat from. Knowledgeable, informative, and provides both sides of any issue. It was a great experience." After the sale, McDevitt spent considerable time with the Hahns helping them become more familiar with handling and docking the boat. Mr. Hahn also praised Princess Yachts and their customer focused mentality, stating, "representatives from the company have truly been a joy to work with. We can't say enough good things about the team at Princess."
In buying a new boat, many people enjoy adding their own special touch—leaving their mark if you will—to make the boat feel more custom and unique. For Hahn, that mark had a little bit of a "geek" streak. He outfitted BuckyHawk with a tremendous suite of electronics including upgraded stereo and satellite systems, AIS and WiFi throughout. Hahn summarizes, "We are very connected." The Hahns also praised the vast array of luxury comforts Princess offers that come together to make BuckyHawk feel like home. Features like the transforming scissor berth in the forward stateroom and the extensive use of sunlight throughout are some of the European design sense built into this sleek and well-appointed model. Hahn also greatly appreciates the smooth and exhilarating speed she maintains while cruising effortlessly at 28-30 knots.
Getting Around
As they were settling in on BuckyHawk, the couple was introduced by McDevitt to fellow Bluewater customers Tim and Sara Hale. The Hales purchased their 67' Flybridge, Lanikai, through McDevitt a few years ago and were more than happy to introduce the Hahns to other Princess yacht owners. Erich and Kathy quickly developed friendships with several of the other families and signed on for an exciting circumnavigation of southern Florida to attend a Princess Owners' Event. To take part, the group traveled across the Okeechobee Waterway from Stuart through the center of the state, destined for South Seas Resort on Sanibel/Captiva Islands. Hosted annually and rotated between various destinations by Princess Yachts America, the rendezvous is a great place to meet fellow peers who share many of the same values and boating ambitions. "The Princess events are always top-notch and first class—an unforgettable experience," recounts Mr. Hahn. For their return trip to Palm Beach, instead of locking through the Okeechobee again, the group departed Captiva and turned south. After a stop in Naples they spent a night on the hook in Little Shark River, an often-used, but remote anchorage in the Everglades' Ten Thousand Islands renowned for its voracious mosquito population. From there they ventured through the Florida Keys and up for a stay at the prestigious Ocean Reef Club before returning to port in North Palm Beach.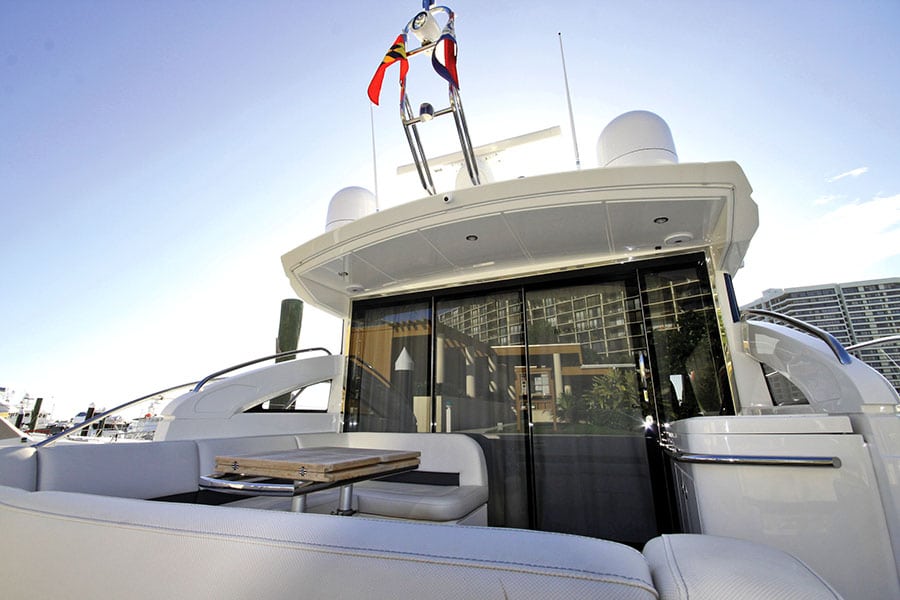 After escaping this year's brutal winter in Palm Beach, BuckyHawk was poised for another great adventure. Another contingent of Princess boats and owners banded together for the next rendezvous weekend in Key West, and fellow Princess owners Don and Ellen Harris joined the Hahns aboard BuckyHawk. The parties chose to make a ten day extended trip out of it, hopping in and out of the Lower and Upper Florida Keys and also making it out to Fort Jefferson and the Dry Tortugas. Raft-ups, dinghy excursions, shopping, cocktail parties, fishing and diving blurred together in a beautiful aqua marine haze as the group made the most of the excellent springtime weather.
Planning Ahead
One thing the Hahn's recent travels and experiences have taught them is that they can accomplish anything with a little preparation and willpower. A deep appreciation for the quality of the Princess brand and their people has also been growing during this time, and with the help of Bluewater's John McDevitt, they are now eyeing their next move up to the new Princess 60 Flybridge. Erich explains, "I've always wanted a flybridge boat, I just had to convince Kathy it wasn't too big for us."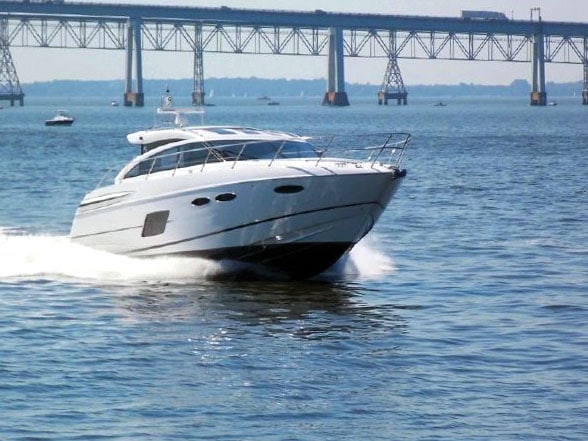 It certainly may seem big in comparison to that original 25' cuddy cabin they shared in the early 90's, but they've since gained the confidence and experience to handle a large yacht together. And rest assured, the V52 will not be easily forgotten by Hahn. He recounts, "Interestingly, two years ago I happened to be in a [Ozarks area] service station when I noticed a very familiar looking blue and white Checkmate on a trailer behind another car. Turns out, it was my old boat. There it was, twenty two years later, still running strong." One would hope for such a great outcome for all the Hahn's vessels as they continue to pen their boating legacy with Bluewater!