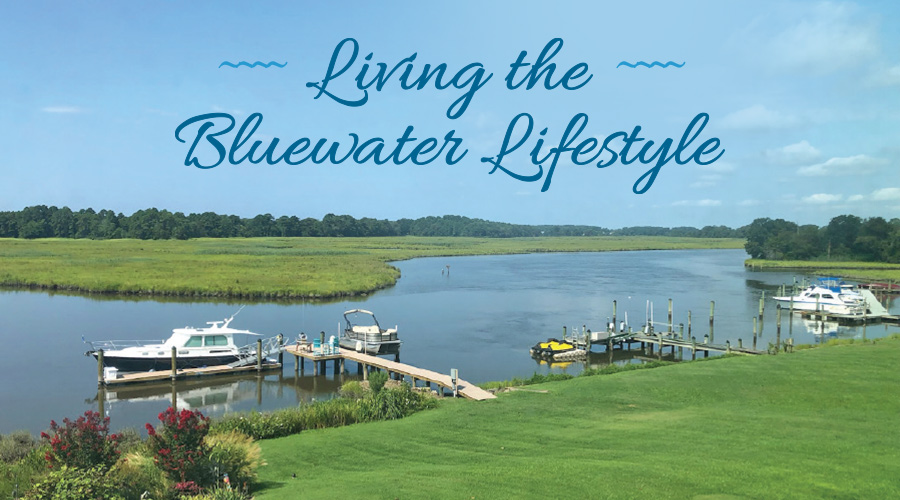 From Summer Cruise to Cruising Adventures
John and Avery Morris met Bluewater's Chuck Meyers several years ago as they were hunting for a larger boat. John grew up crabbing with his grandfather on the Assawoman Bay in Ocean City and learned to waterski—a sport he performed 5-days a week. His thirst for the water and adventure was quenched through the years on runabouts, sport boats and mid-size motoryachts.
One of those vessels was a 38 Silverton purchased with the help of Chuck and Bluewater's support team. In this process, John and Avery found a new boating family to be a part of. That summer they christened the Lost Keys II during Bluewater's annual Summer Cruise event, and have looked forward to returning each year since. "We enjoy the Bluewater Summer Cruise each year," John says. "We meet new people that are all so very friendly, and we learn new things along the way."
Making new friends and checking out each other's boats is what drove the Morrises to their next purchase with Meyers: a 2016 Sabre 42 they named Bubbles. "Chuck is very straight forward, honest, trustworthy, full of integrity, and he's very responsive," John explains. Attending Bluewater events like the Summer Cruise has allowed John and Avery to feel like part of the family, one that always has their best interest in mind. "We've gotten to know Chuck's family, and also enjoy spending time with many others in the Bluewater family, including Chris Hall Sr., Chris Jr. and Scott James."
"Chuck is very straight forward, honest, trustworthy, full of integrity, and he's very responsive"
As John nears retirement and his love for on-water adventures refuses to wane, he and Avery decided it is time for another move up. With Meyers' help, they quickly sold their Sabre 42 to take ownership of a Prestige 500 Flybridge. "With me retiring, my wife thought it was fitting to name our new boat The Office since this will now be the office."
New adventures aboard The Office will include Long Island Sound and navigating a portion of the Little Loop via the Erie Canal. John and Avery will return to the Chesapeake Bay in time for Independence Day celebrations with family and friends, just before heading to one of their all-time favorite marinas: Spring Cove Marina for one of their favorite family events: the Bluewater Summer Cruise.
Through the remainder of summer and into fall, the couple hopes to enjoy traveling the Bay including northern favorites like Rock Hall, Solomons, Annapolis and Kent Narrows followed by their favorite southern stops: Tides Inn, Cape Charles, Portsmouth, Hampton, Williamsburg and more. As winter approaches, John will dock the boat in Charleston to provide for easy access to southern locales in the winter months.
When it comes to adventure, taking delivery of their new boat was not without its surprises. Traveling south through a debris-laden Potomac River, they were met with incredibly dense fog once they hit the northern Cheasapeake Bay. Four hours of the 8-hour journey were made through fog so dense Avery described it as "visibility much less than 100-feet." John relied largely on the radar and chart plotter for navigating through the fog, being sure to stick to the shipping channels. "Chuck provided the calming influence needed for Avery in this journey," John quips.
As they approached Kent Island, the fog had burned off to reveal a perfect clear blue-sky day as they docked their new pride and joy. The Office proved itself a faithful companion in their first adventure together, and this couple is sure to have more exciting stories to share with the Bluewater family soon!