Getting to Know Cruisers Yachts
With dealer locations in over 30 countries on six continents, Cruisers Yachts has become known as one of the world's premier providers of midsize luxury pleasure yachts from 33 to 60 feet. Despite their international appeal, a small town just north of Green Bay, Wisconsin by the name of Oconto is home to the Cruisers Yachts design and manufacturing facility. Located just minutes from the waterways of beautiful Lake Michigan, Cruisers hosts an annual dealer meeting each summer which includes demos and sea trials aboard their entire model line-up, plus a factory tour and informational sessions.
Having recently partnered with Cruisers Yachts to be their exclusive dealer throughout the Mid-Atlantic, Bluewater was pleased to participate in their 2015 international dealer meeting. President Jan Boone, along with team members Chuck Meyers, Mark Connors, Bill Berger and John McDevitt enjoyed their time in Wisconsin learning about the Cruisers Yachts brand and their model offerings. The group also had the opportunity to demo literally every boat Cruisers builds on nearby Sturgeon Bay, including the all new 60 Cantius and several models from their Sports Series under 30 feet.
Baltimore Sales Professional Chuck Meyers reflected on the team's first trip to the Cruisers factory, "I was impressed that the owner, K.C. Stock, down to the technicians, builders and ladies in the upholstery shop, were all made available to answer questions. The Midwest approach of honest work and pride in every aspect is prevalent throughout the facility and in every model being built," Meyers stated.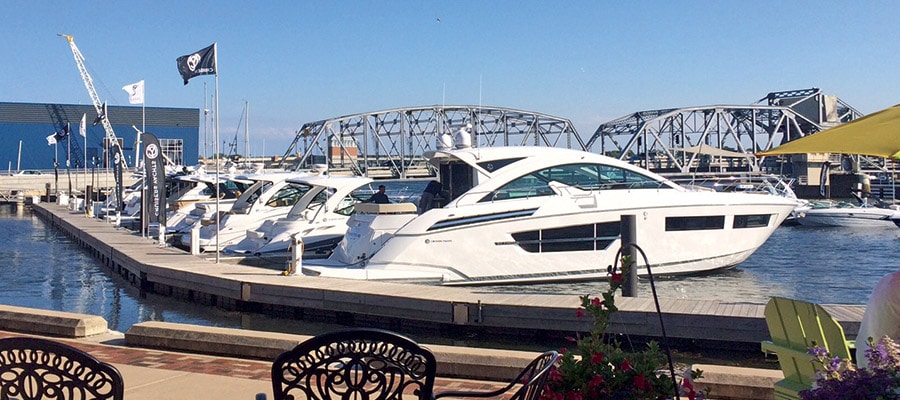 Since experiencing these factory tours and sea trials, Bluewater's impressive new boat inventory has grown to include many models from Cruisers, from 33 feet up to the flagship 60. These boats have enjoyed a great deal of publicity and warm acceptance from Bluewater's team, customers and colleagues, largely coinciding with their public appearances at the 2015 United States Powerboat Show in Annapolis. "Our organization is committed to selling the highest quality yachts," said Jan Boone, Bluewater Yacht Sales President. "Cruisers Yachts is positioned well for the future as their ownership and management team share similar values as us. Cruisers product is an excellent fit with our existing boat lines."
The Cantius Journey
With the introduction of a sleekly styled 48-foot coupe in 2011, Cruisers launched the Cantius line—a series that has become highly regarded and immensely popular. Since that time, the addition of the 41 and 45 Cantius models along with their flagship, the 60 Cantius has effectively invigorated Cruisers' core offerings. Following in the breathtaking new design of the 60, the 54 Cantius was recently unveiled at the new Yachts Miami Beach Show. Both models feature large picture windows in the hull, drenching the fullbeam master stateroom in natural lighting, which have become part of the new design language of the Cantius series. As Meyers explains, "The design of the new Cantius series offers the best layout arrangements in the business and maximum use of square footage and length. Cruisers is not trying to mass produce yachts like some of their competition, rather they create their own designs and march to their own beat—and customers are really responding to that." For their 2017 model line, they will be introducing two new flybridge models at 54 and 60 feet in length.
Cruisers is not trying to mass produce yachts… they create their own designs and march to their own beat.
Nearly every piece of a Cruisers Yacht is built in their Oconto facility from the hull and deck-house to all of the custom metal work and wood cabinetry along with interior and exterior fabrics and finishes. Aside from stunning designs, classleading arrangements and layouts, and luxurious appointments, the Cantius lineup from Cruisers also enjoys impressive fuel economy and maneuverability thanks to their Volvo Penta engines mated to pod drives with Joystick controls. Volvo's diesel power options are available from 330 horsepower in the 41' up to 725 horsepower in the 60' and benefit from decades of cutting-edge technology and advancements pioneered by Volvo Penta. The helm-mounted joystick control makes docking a breeze even for an owner/ operator.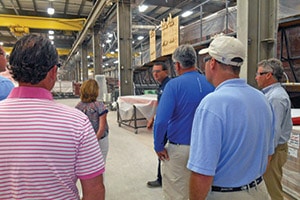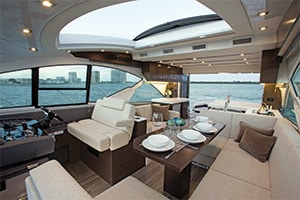 Although a production boat builder, Cruisers Yachts offers an immense amount of options and customization available throughout their entire model lineup with additional luxuries kept just for the Cantius series. Color options are numerous and not only apply to the hull, but can be customized to different sections of the boat including the deck house, top sides and a hull accent. Teak decking can be added almost anywhere from the swim platform to the bow seating, and an integrated SureShade hardtop is also an option. Additional refrigerators, ice makers, a central vacuum system and premium electronics from Garmin and Raymarine are just a small sampling of what Cruisers Yachts can do to make your new Cantius truly one-of-a-kind.
Meyers agrees, "Cruisers Yachts is very willing to listen. Their new models are a reflection of management's consideration to their customers and building what the customer wants." Meyers has also noticed a strong following and sense of camaraderie among long-term Cruisers owners, further proof that Cruisers Yachts continues to focus on what matters most in their business: the customer. "Cruisers Yachts is committed solely to the quality of each customer's experience and has no intention to ever grow so big it isn't possible to know every customer and every dealer," stated Dan Zenz, Cruisers' Vice President of Sales. "Bluewater is a big enhancement to our already strong dealer network, and we are proud to continually partner with successful, stable, and established dealerships." Zenz continues, "With our current lineup of yachts and the direction of our new products, the team at Cruisers Yachts is excited about everything that Bluewater Yacht Sales brings to the table, including first class service, an elite sales team and an ownership group that is committed to the boat business."
Bluewater Yacht Sales is excited to help you learn more about the quality, style and luxury a Cruisers Yacht has to offer and look forward to helping you shape your Cruisers journey.