PUTTING THE ROCK IN YOUR ROLL
Gyro-Stabilization Becoming Must-Have Equipment on Yachts Large and Small
A decade ago, the phrase "gyro stabilization" would have baffled most people, including the mariners for whom this new technology was intended. However, at the time, a small team of researchers and thinkers put in thousands of hours developing what has become more widely known as the Seakeeper. A Seakeeper uses gyro stabilization technology to dramatically reduce a vessel's roll by up to 90%, and even more in some instances.
A Seakeeper gyro stabilizer, without falling into a physics-intensive explanation, is basically a finely machined flywheel spinning at a high rate of speed within a vacuum. This weighted flywheel desires nothing but to maintain its own momentum and axis. When the force of a wave hitting either side of a boat threatens to upset the flywheel, opposing forces are delivered which help to drastically counteract the potential energy distributed by that wave. With some sophisticated microchips and hydraulic dampeners, the Seakeeper gyro stabilizer reduces roll efficiently and quickly. "Experiencing it engage for the first time is nothing short of magical," explains Bluewater partner Chris Hall, Sr. after a recent company-wide demo event. "It's something you really must see, or feel, first-hand. Video and pictures just don't do it any justice."
Most importantly, the comfort and stability delivered by Seakeeper is making offshore travel accessible to anglers and guests who otherwise just couldn't stomach it. Bluewater salesman and Captain Scott Steffy quipped, "My client's wife would have never let him get this new Viking without Seakeeper involved in the build." That's quite a testament to how this relatively new technology is opening minds and giving more people the opportunity to fully enjoy the boating lifestyle. "It is a true game changer for our customers and the industry as a whole," adds Bluewater partner Earle Hall. Hall goes on to explain not only is the technology vanquishing much of the anxiety and seasickness for less experienced guests, it is also benefitting the saltiest of anglers and mates. "Imagine the guys that are on their feet all day in the cockpit trying to make a living, it makes their jobs a lot easier, no more thrashing about and taking a beating all day." As a practical matter, it also means access to more calendar days on the water for charter operations and recreational owners alike—a fact that is making Seakeeper upgrades a no-brainer for many of Bluewater's yard customers. "It has the potential to pay for itself in a few trips," proposes Hall.
By the Numbers
Rather than just making a simple claim of roll reduction, Seakeeper has tested hundreds of both production and custom boats in varying sea conditions and collected data with the system both disabled and enabled, in order to compare the mighty strength and determination of the high-speed flywheel inside the units. A 2005 Viking 61 Convertible equipped with a pair of Seakeepers was tested in moderate chop off the coast of Fort Lauderdale and demonstrated an impressive 92% roll reduction during the trial.
Even more remarkable is the test of a 2015 Regulator 34 equipped with a full tower and a single Seakeeper 3DC. This mid-size center console equipped with triple Yamaha F300 engines experienced a 94% reduction in roll—impressive data considering "No one should have been out on the water in Beaufort that day" as Seakeeper Vice President of Sales and Marketing Andrew Semprevivo recalls. NOAA had issued a small craft advisory and gale warning, with wind speeds exceeding 25 knots. These rough sea conditions were perfect for testing the new direct current powered Seakeeper aboard the Regulator 34.
Seakeeper launched their first models in 2008 amidst a struggling economy, but word of their break-through technology has spread throughout the yachting community. Semprevivo continues by stating, "We are very fortunate to have caught fire just in the last few years. It is a testament to the product's value and worth." The Bluewater team couldn't agree more after having demoed several Seakeeper equipped boats of varying sizes as well as now having installed many Seakeepers on both new boats and refit projects at each of the company's three service facilities.
Wave Paving
With six different models to choose from, and installations ranging from mid-size center console fishing boats to superyachts exceeding 200 feet in length, Seakeeper has quickly made a name for themselves in the marine stabilization market. Now over 200 manufacturers and custom boat builders have added Seakeeper to their new build options list. Further demonstrating its popularity, currently all three custom builds in progress at Jarrett Bay Boatworks are being built with one or more Seakeeper gyros, and they are becoming must-have options from many of our manufacturer brands such as Viking, Princess and Sabre. Bluewater and the Halls emphasize that you don't have to be buying new to enjoy this amazing advancement in your vessel and in fact, Seakeeper attributes approximately a quarter of their sales to aftermarket installations. Semprevivo explains that the Bluewater and Jarrett Bay yards have been instrumental in their products proliferating throughout the mid-Atlantic market. "We're very lucky to have the experience and professionalism that the Bluewater service teams bring to the table when installing our products for customers."
Seakeeper's sudden and immense popularity can be attributed not only to its roll-eliminating effectiveness, but also its ease of installation and operation. A vessel's displacement is the primary factor when determining which model and how many units are required for an installation. In addition, the units are not required to be installed on center-line, and when multiple units are needed for larger boats, they act independently. Semprevivo explains that each Seakeeper is an isolated unit meaning no additional networking or wiring is needed to link the units together, even when an installation calls for as many as five of their largest units aboard a superyacht! Semprevivo concludes, "Justthink about how a few years from now people are going to say 'You remember when boats used to roll?'"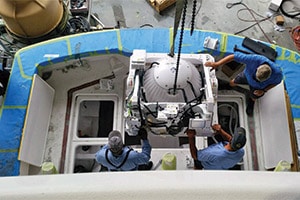 "Experiencing the gyro engage for the first time is nothing short of magical."
Bluewater is proud to partner with Seakeeper and boasts several factory trained technicians throughout our three service yards skilled in the installation of Seakeeper units on both motoryachts and sportfish alike. All of Bluewater's featured new model brands along with our three world-class service centers install Seakeeper as an option. Bluewater is strongly urging their friends and clients to check that box and see what a Seakeeper gyro stabilizer can do for you—not just from reported data and testing, but personal experience. And if you are not ready to move up from your current boat, let the professionals at Bluewater upgrade your ride with the remarkable stability offered by a Seakeeper gyro.