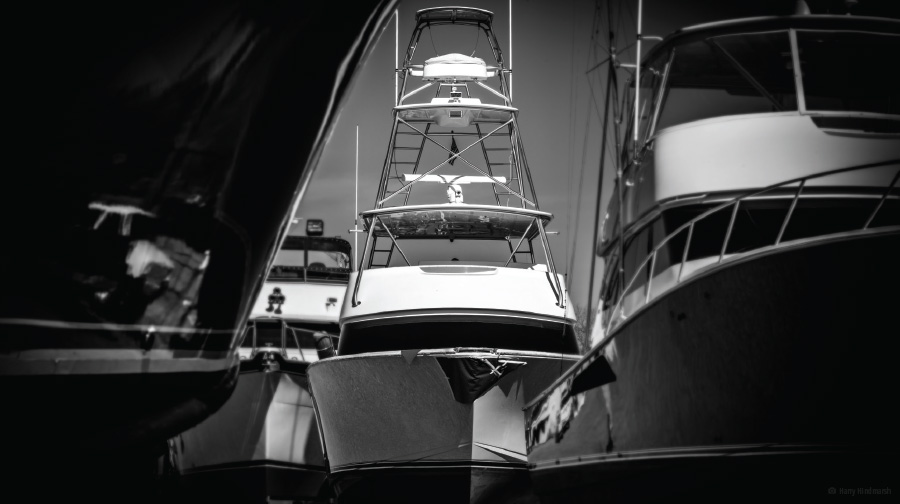 Ingenuity and Experience Make the Bluewater Yards Exceptional
Viewed from above, Bluewater's Yacht Service Yards present a pretty picture: orderly rows of boats framed by manicured landscapes. Back down on the ground, your senses gain another perspective amid the acrid scent of paint and fiberglass, roaring machinery, buzzing tools. The lower perspective wouldn't normally inspire the avid waterman to spend much time here, instinctively reluctant to trade this for time spent on the water.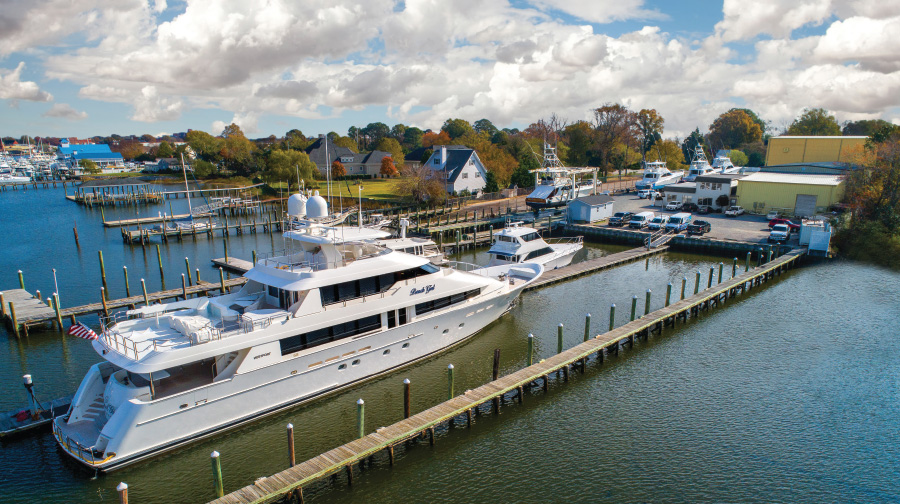 But that characterization disregards a perspective that both the soaring overview and blind immersion miss. By looking deeper—past the paint, sawdust and power-washers—these distractions mask a fascinating choreography of engineering, artistry and imagination.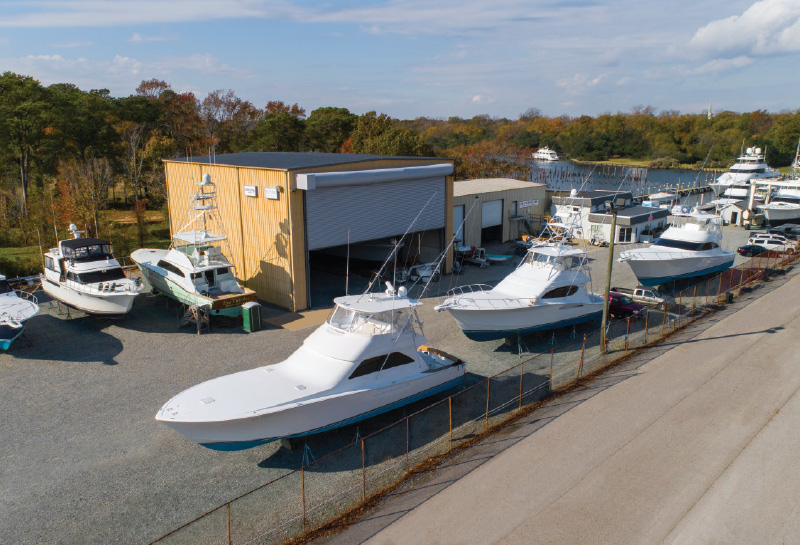 Service customers lined up at Bluewater Yacht Yard Hampton
Yes, Bluewater Yacht Yards can change your props, sandblast your hull and fix your bilge pumps—they do that every day. But sitting right next to the mundane repair, perhaps hidden by drop clothes and plastic, daily, something special is happening—something you may not have imagined or believed possible. For every other ordinary work order, someone arrives asking for help with an unusual problem or simply asks VP Earle Hall, "Can you do this?" The answer is often surprising and invariably positive.
Getting Creative
"The best parts of our work are the biggest challenges. The customer who comes to us with a problem to overcome, or an experience they want—and can't quite see the solution yet. We get to create it for them, build it and give it to them—it's a good feeling," Hall says.
"The best parts of our work are the biggest challenges."
Unlike building a boat from scratch, refurbishment, refits, or rebuilds don't start with a clean slate and get to roll straight from imagination, to engineering and design. Starting with an already constructed vessel means re-imagining, re-designing and re-engineering. This presents an added level of difficulty.
Bluewater's multifaceted workforce has built vessels from the ground up, completed half-built boats and literally rebuilt boats from the inside out. With over fifty years in the boat business, Bluewater technicians have worked over the guts of nearly every production and custom boat you can imagine, all with different designs, systems and structures. Every day—even every hour—they are troubleshooting a completely different set-up. That's not easy. And this, their biggest daily challenge, is also their greatest strength. This broad-spectrum expertise combined with their craftsmanship and artistry buttress a creativity built on necessity.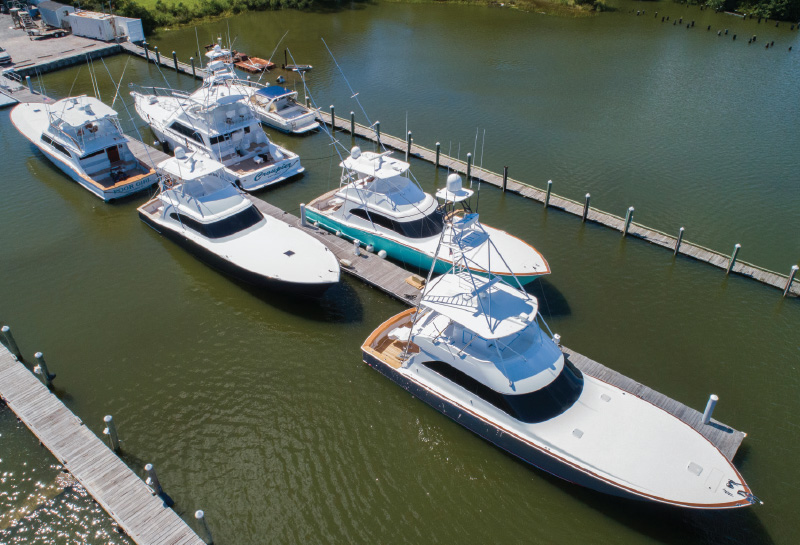 Getting "creative" is required for working within the parameters of an already existing structure and recreating it in tune with the owner's wildest dreams. Bluewater's decades of experience, doing exactly that, uniquely positions them to deliver tailor-made results within this challenging paradigm.
To start, there must be an intimate knowledge of the subject boat. The years of experience add up to knowing what parts of the structure are integral, what can be safely modified or removed entirely. On these questions, countless times, the crews at Bluewater delivered results both innovative and unerringly more robust. One rule they never fail to follow, every project has to add to the strength and integrity of the whole. "We have the laminate schedules from the original production in many cases (detailing what layers added at what point in the process, and how many) or we can look and determine for ourselves," explains Yard Manager Craig Messick, "and we always add to it, putting extra layers of glass/epoxy in between and on top."
Whether you only wished for a convenient cup holder or a whole cockpit, the processes and standards remain the same. Before committing his boat Maverick to a major project at Bluewater, Captain Joel McLeod watched every performance closely. His observation was that the technicians at Bluewater were sufficiently committed to their "art" that their attention to detail and craftsmanship shone through in even the most minor repairs. This gave him confidence that he'd found the right team to undergo the major projects he had in mind.
Deeper Improvements
In recent history, both mezzanine and Seakeeper installations have become wildly popular, and Bluewater has been at the forefront of these refits since the beginning. Many wishful boat owners look around their boats and can't imagine where the stabilizer would fit. Cutting out the entire cockpit deck on a 64-foot Viking is a major project, and getting a new teak deck and mezzanine fitted afterwards almost looks like an added bonus to the Seakeeper install.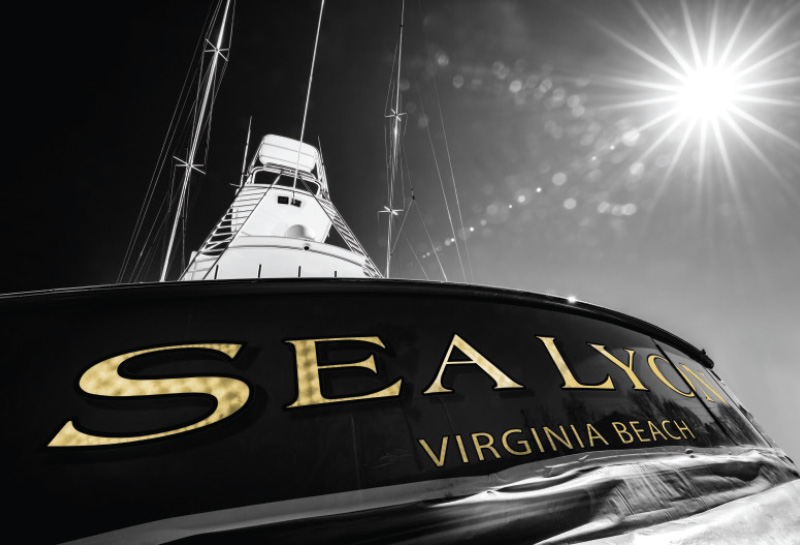 Both Sea Lyon and Contango are in the Hampton Bluewater Yard undergoing the modifications necessary to retrofit the magical gyroscopic stabilizer below decks. In both cases, the best place required modifications to the fuel tanks, building new bulkheads and stringers, installation, and then rebuilding/installing the deck and adding a new teak cockpit. The whole job is labor- and fabrication-intensive, so Bluewater installed a Conex shipping container at the transom to house a complete workshop dedicated entirely to the project.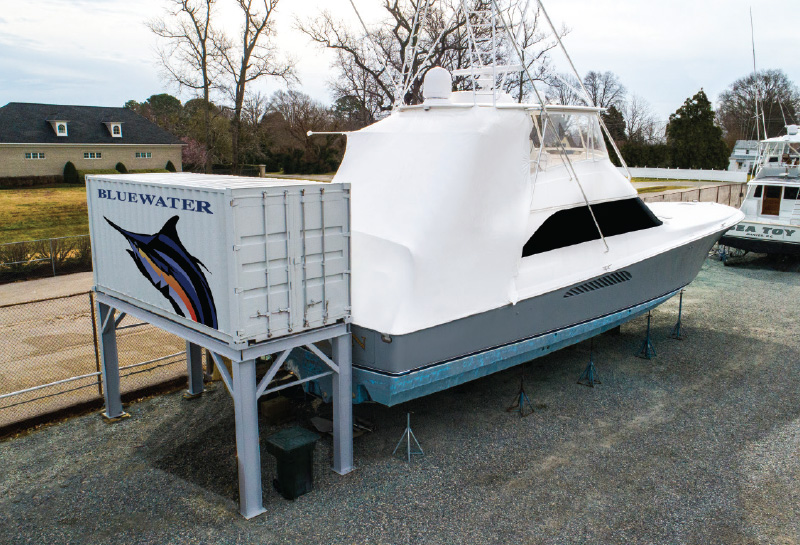 Working on a major upgrade in the yard isn't always convenient.
Bringing the workshop straight to the cockpit has saved time and effort.
Design, innovation and structural re-engineering are nowhere as well-illustrated as the accessibility projects Bluewater has undertaken. The chance to bring disabled individuals into unfettered boating experiences and the freedom to comfortably enjoy offshore fishing and cruising is highly rewarding for all.
The Knot Done Yet challenged the Bluewater crew to imagine all the ways Perry Nichols and his scooter could be accommodated throughout the 64 Viking. The installation of a davit on the fly bridge and a hinged rocket launcher allowed for access to both bridge and cockpit. A ramp was installed from cockpit to salon and a scissor lift bypassed the stowed steps giving passage to the companionway. The master stateroom was opened up with the addition of a 3-panel pocket door and double-doors in to the bath. Since completion, the Knot Done Yet has fished the tournament circuit chasing billfish, flown rigger-loads of flags and demonstrated daily that they clearly aren't done yet.
On March 1 of this year, Bluewater undertook another big project that began with hauling an unfinished 65' Guthrie hull from Harker's Island to their North Carolina Yard in Wanchese. Much like the Ambush project before her, you can follow the build process on Bluewater Yacht Yards' social media pages as our service craftsmen turn this hull into one of the finest charter boats to run out of Ocean City's Sunset Marina.
Committed to providing world-class service for over 50 years now, Bluewater is passionate about bestowing our customers with the best of boating on a daily basis. Our network of yards and seasoned experts are capable of handling projects of any size and scale, and serve as the backbone of our sales organization. We continually look forward to meeting challenges and bringing ideas to fruition while providing you with comprehensive support throughout your boating lifetime.