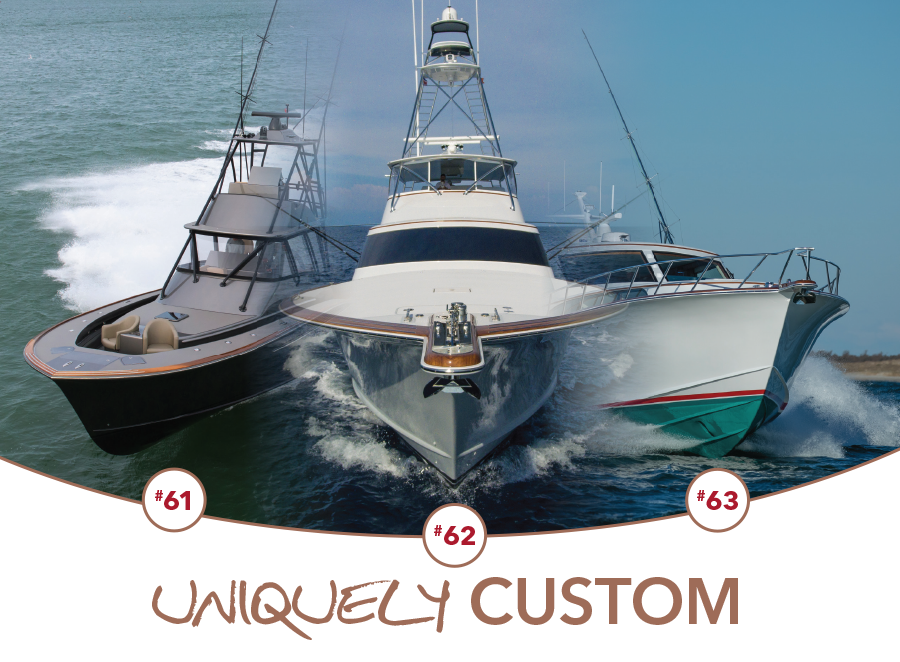 Jarrett Bay's Last Three Launches Perfectly Embody the Company's 'Truly Custom' Ethos
Now planing towards 35 years of boat building, Randy Ramsey and the team at Jarrett Bay have long hung their hats on the philosophy that "no owner's request is too big, or too small." Throughout the years, Jarrett Bay's fleet of nearly 65 custom yachts (and over 100 boats total including their semi-production line) have been loaded with special appointments and innovative ideas. Look no further than the company's most recently completed wood and composite masterpieces for proof that Jarrett Bay can routinely deliver what no other builder has attempted before.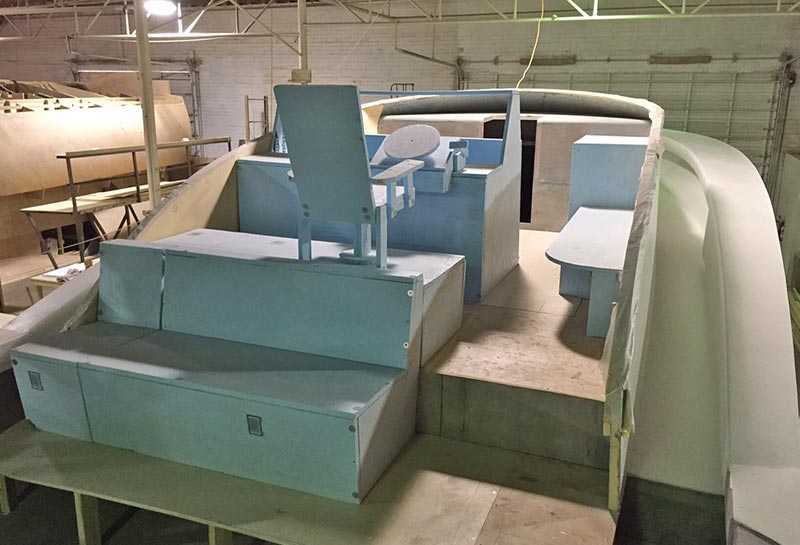 Chronologically, the last three boats to splash have been the Grander, Jaruco and Privateer. Each of these vessels is completely unique in some rather extreme ways while still possessing the ride, performance and craftsmanship that Jarrett Bay is renowned for. These boats' wide range of sizes, configuration and styling best reflect their owners' individual objectives and boating lifestyles.
Grander Pursuits
The 46' Grander is arguably the most eye-catching of the three yachts due to her unusually dark metallic color scheme and stark tower design. It's an aggressive and exciting look, which also flies in the face of conventional thinking that boats (most often used in direct sunlight) should be finished in a light color. Jarrett Bay Construction Foreman RV Hodge indicated the owner went as far as to ask the construction team for input on the final colors he was considering. Hodge recounts, "He asked the guys to weigh in with the general intro of, 'I want it to look mean like a PT boat.'" Mission accomplished. The Jarrett Bay construction teams are no stranger to working closely with their customers but that was surely a thrill for the workers to choose the final paint colors!
Part of the process that goes into every custom Jarrett Bay is a full-size mock-up stage. Before arrangements in cabins, bridges or cockpits are finalized in the hull, the owner and crew typically pay several visits to the factory floor. Walls, cabinetry, consoles, fish boxes—everything—can be roughed in with temporary foam and reviewed by owner and crew. The distance, size, shape, height and orientation of each space and its components are literally custom fit to the exact people who will be operating and fishing the boat.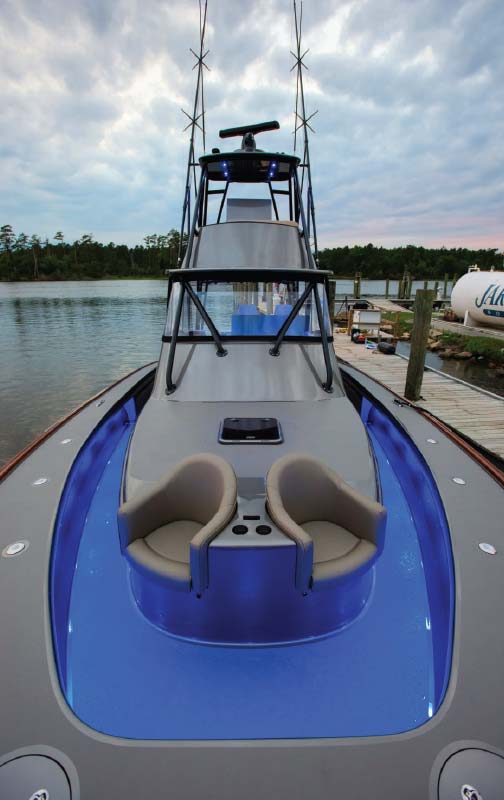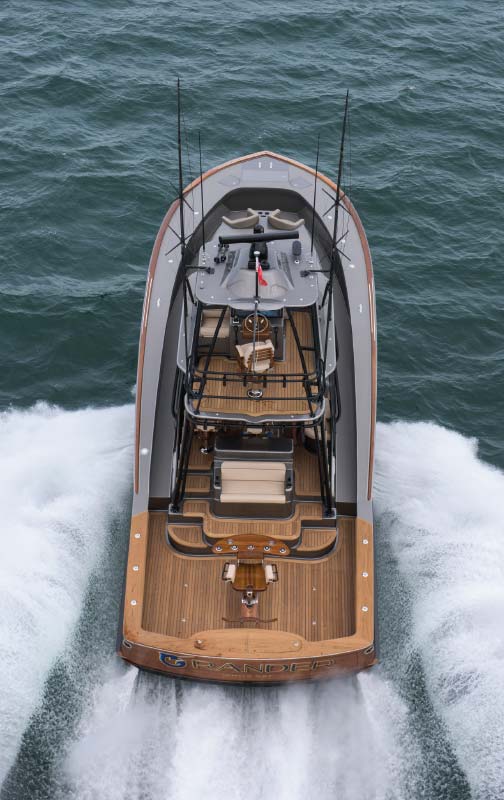 The 46' conspicuously highlights another Jarrett Bay introduction—their signature bucket seats. First debuted by the builder on several convertible flybridges in the early 2000s, Ramsey says many competitors have copied this cushy convenience. "They were an idea that just makes so much sense, not only for comfort, but also safety, aboard a moving bridge or deck," he says. The accompanying drink and mobile phone holders molded in nearby are an example of the "no detail too small" philosophy.
An emphasis for seating is also made on Grander's mezzanine cockpit and tower accommodations—the perfect aft-facing perches for eyeballing a trolling spread and identifying incoming gamefish. Belowdecks, a settee area and well-appointed galley give way to ample storage for custom tackle, a metallic-finished head and express style v-berth.
The Grander's offshore campaigns consist primarily of day fishing for big game out of her home port of Jost van Dyke, British Virgin Islands. Her speed and economy are well-balanced for premier trips and charters to the North Drop, one of the world's finest spawning and fishing grounds for big blue marlin.
Have it Completely Your Way
Clearly their most ambitious recent build, Jaruco is the flagship Jarrett Bay stretching in at 90 feet and heralded as the most advanced custom sportfish ever built. This is largely due to an intensive research and development program initiated by her owner's background in engineering and composites. No roll of carbon fiber was left unturned in the material selection and implementation of the 90's various lamination and infusion processes. The proprietary matrices and other cutting-edge materials (such as titanium shafts) used in Jaruco afforded a massive weight savings of approximately 40,000 lbs. versus traditional construction techniques!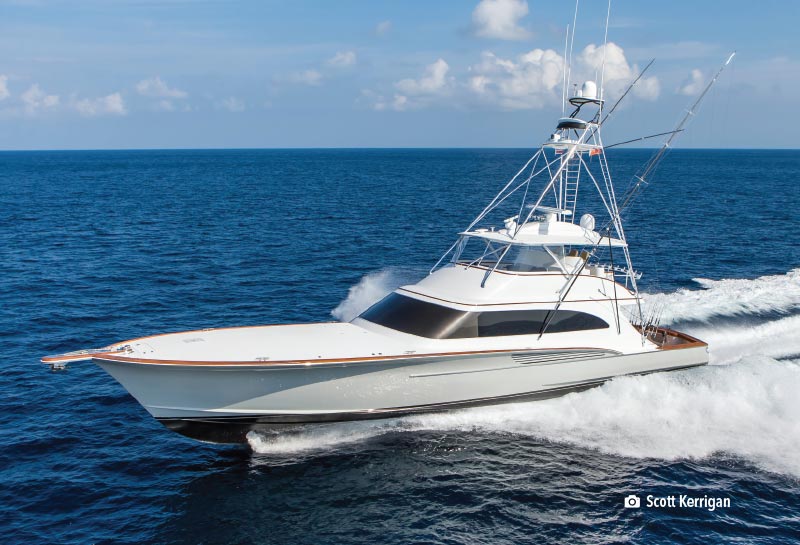 Built around the fastest recreational marine engines available, the results speak for themselves—flinging the 90-footer around at a top speed of 44 knots (50.6 mph). A V-drive propulsion configuration allows the MTU 16V2000 M96Ls to spin those titanium shafts at the perfect angle of attack. Jaruco was also outfitted with experimental running gear such as carbon fiber rudders and removable hydrofoils—all part of a rigorous design program that was computer modeled and tank tested.
And oh yea, the owner also stipulated she be built to the utmost standards in safety and seaworthiness. Jaruco's hull structure meets American Bureau of Shipbuilding specifications to withstand 8-foot seas at 50 knots. This requires great strength and seakeeping abilities highlighted by her point of entry, a frontal crush zone, and the use of novel materials such as Kevlar and fire-proof Nomex composites in certain parts of the hull layup.
No roll of carbon fiber was left unturned during material selection…
Even sitting still, the Jaruco is a jaw-dropping sight. Features such as redundant Furuno radar arrays (the largest of which swings a whopping 12-foot boom) and carbon fiber tower elements set her apart from what is already an elite fleet. The number of people that can comfortably fish and spectate from her cockpit is honestly just ridiculous. Next-level appointments continue throughout, including adjustable window tinting, aerospace-grade floors and counters, carbon fiber toilets, and computer engineered veneers.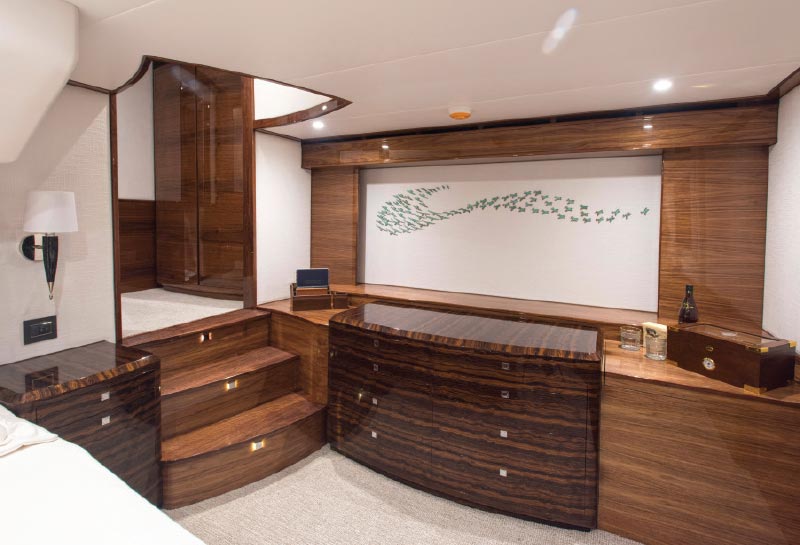 The owner's lofty wishes for the Jaruco's performance, extraordinary equipment list and the utmost safety, truly resulted in a ground-breaking achievement. Upon her maiden voyage to Los Sueños, Costa Rica, other topflight sportfish owners and captains took immediate notice. Once she pushed past the breakwater and dropped the hammers down for the first time, the docks were abuzz asking what exactly went into Jaruco's special sauce.
Of course the details of that are for Jarrett Bay engineers to know, and the rest of the industry to wonder. The term 'game changer' has become somewhat of a cliché in the boating industry of-late, but the construction techniques and performance of Jaruco are already changing the way custom and production sportfish yachts are being built moving forward.
Change of Pace
Regarded as a "sport yacht" the 67' Privateer's owners have a more laid-back plan for the use of their brand-new boat. Although she's configured for angling with a large cockpit, mezzanine and outriggers, features such as the integrated swim platform and cabin-top paddleboard mounts make Privateer a more versatile cruising vessel than any Jarrett Bay to come before her.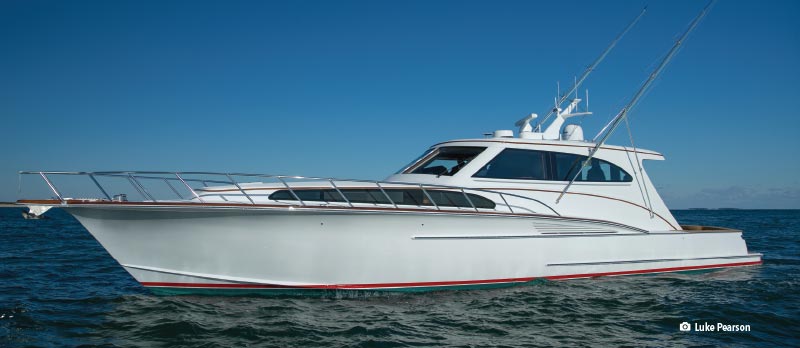 Jarrett Bay 67
LOA: 67' 3″
Beam: 18' 2"
Draft: 4' 9"
Fuel Capacity: 1,320 gal.
Water Capacity: 200 gal.
Holding Tanks: 150 gal.
Dry Weight: 64,000 lbs.
Power: Twin Cat C18s w/ACERT
@ 1,136hp ea.
Genset: Cat C2.2T
@ 27kW
Stabilization: Seakeeper 16
Cruise Speed: 26 kts.
Top Speed: 32 kts.
Measuring in at well over six-foot tall, the commissioning owner wanted plenty of headroom throughout his yacht. Jarrett Bay Project Manager Nile Mitchell points out this became a driving factor in the boat's retro-like trunk cabin design. The results of this enclosed helm and galley-down floorplan are impressive, with all the interior levels—including the engine room—boasting over six and a half feet of headroom, and the lower level finished out at over seven feet!
"The raised forward cabin really highlights the old school style of this boat while still incorporating modern materials and classic Carolina-built features," summarizes Mitchell. For example, there is a lot of technology you can't see in the final product. He adds, "all of the cabin sides and cabin tops are constructed of lightweight core material with specific densities of core in strategic locations. These are sandwiched with E-glass and vacuum infused for a high strength-to-weight ratio." Undoubtedly, the build team is already putting techniques developed for the Jaruco build into play on some of their subsequent hulls.
Immersed in natural light thanks to nearly 360-degrees of windows, the interior of Privateer hosts luxury appointments throughout. Entering her main salon and helm area through double sliding doors, the maple and teak woodwork and classic décor offers a warm welcome. Creature comforts are situated at every level, including plenty of seating, a wet bar, sub-zero refrigerator/freezer and Kohler fixtures. Mitchell also explains that the engine room was designed to make her many systems as accessible and easy to maintain as possible.
"…it's still all about skilled craftsmen bringing the best materials to life…
Based out of Charleston, South Carolina, the Privateer will also frequent South Florida with trips to the Bahamas and other Caribbean islands. In addition to the primary helm station and electronics suite on the interior, a pop-up console is built into the port-side cockpit mezzanine. Outfitted with chart plotter/fish-finder and Cat Three60 controls, this auxiliary helm is perfect for operating the vessel while docking or fishing.
These modern conveniences are smartly tucked away in an overall aesthetic that would feel right at home for early Downeast boat building pioneers such as Myron "Ace" Harris or Ray Davis. (Ray is grandfather to long-time Jarrett Bay superintendent Gary Davis, by the way). Generations of learning and innovation may have replaced the Juniper boards and hand-cut frames of these influential mentors with today's Okoume plywood and CNC-plotted jig stations—but it's still all about skilled craftsmen bringing the best materials to life to form a superior quality boat.
According to Ramsey, that's what it means to be building "offshore's new classic," a melding of historic design qualities with all the modern features of tomorrow's sporting yacht. The result is another world-class yacht which is custom tailored to her owner's every whim—exactly how the crew at Jarrett Bay has always liked it.