Long-time Bluewater Customer Jumps Back In with a New Regulator
Trolling offshore catching billfish on his new Regulator 34SS, Krusen, is how Bill Kruse plans to get away for a little rest and relaxation. Excited to get back on the water after a few years not owning a boat, Bill worked with salesman Jud Black to have the boat delivered directly from Regulator to Bluewater's Hampton service yard for a hands-on commissioning.
Bill's passion for boating and his relationships with Bluewater team members go way back. As a sailor in the Hampton Yacht Club, Bill would find himself frequenting Bluewater's service department to pick up new lines and blocks. This is where he met Kathi, the Bluewater parts girl and future Mrs. Kruse. He also developed friendships with Chris and Earle Hall. "My first offshore fishing trip was on a Topaz 37 that Earl Hall had. It was run that day by Andy, the captain for Charles Barker's boat. That experience got me hooked." Bill bought a new 29-footer from Bluewater, followed by his first Regulator, a 26.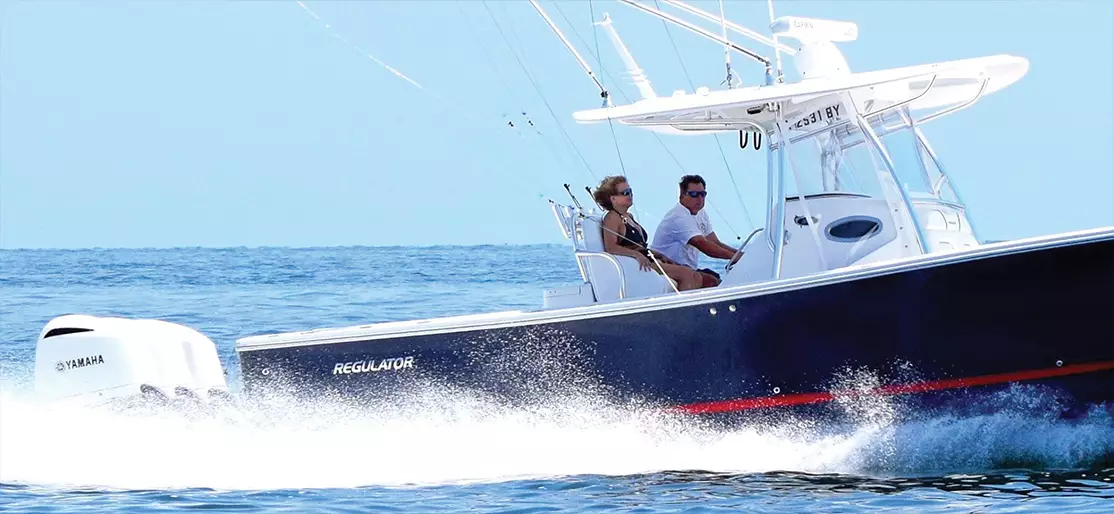 "I'm a Regulator guy through and through."
Over the years, the Kruses have owned powerboats ranging from 22 foot Makos to 40+ foot Vikings. Recently focused on the construction company that he had built and poised to sell, Kruse didn't own a boat at all for a while. Then he was invited to a birthday party aboard Sportsman, Stuart Wade's Egg Harbor 37, purchased through Bluewater Yacht Sales in 2015. Wade and Kruse are long-time friends from their days in the Peninsula Saltwater Sport Fishermen's Association in Newport News. "I fished with him and it was a big surprise because he didn't know I was coming." Kruse exclaimed, "I got the fever again right after that!"
"Jud keeps sending me all these emails with temptation after temptation on new boats… But at the end of the day, I'm a Regulator guy through and through. One visit to their factory had me sold for life." Kruse adds, "I mean, how many boats do you open the hatches to the hull and see finished gel coat?" Installing electronics and updating systems like his new FLIR night vision or dual 17" displays for Krusen's 96 mile range Garmin radar keeps Bill busy as he prepares for the fishing season. An electrician by trade, Bill explains he prefers to install all systems himself to "know what's where when I'm 100 miles offshore." He praised the Regulator designers for making these upgrades easy due to the configuration of the new center-console helm station and T-top.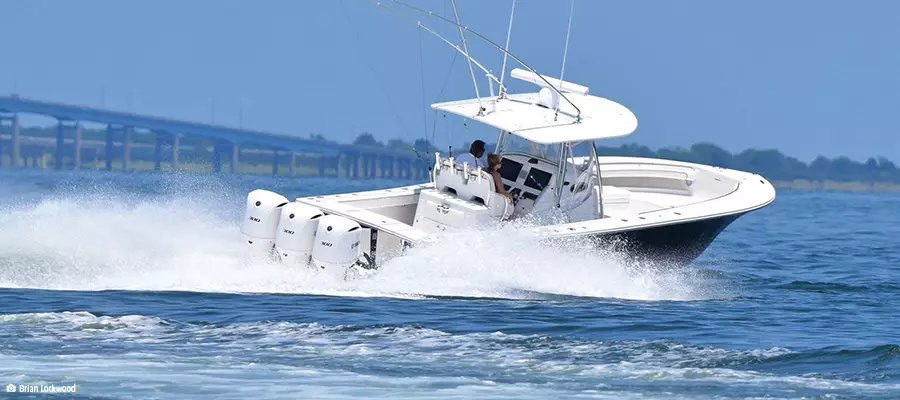 Speeding offshore before dawn on Krusen's triple Yamaha 300s at nearly 60 miles per hour, this Regulator lives up to her given name. Being super quick and having plenty of storage, the 34SS has been great for fishing tournaments, including the White Marlin Open in Ocean City, Maryland. "We were rigged for tuna, but caught marlin." Bill recalls of last year's event. The boat was set up to catch the largest Bigeye of the tournament (a sweet calcutta payout with slightly less competition), but their spread brought in 5 white marlin to release instead. The largest catch for Krusen during the tournament ended up being a 50 pound yellowfin. "Typically I would rather billfish. Tuna catches itself, but you've really got to go after the billfish."
Overall Kruse is elated to have a boat of his own again, especially such a well-equipped rig carefully outfitted to his exact liking. Anxious to escape the hustle and bustle of daily life ashore, Kruse is now gearing up for the season by fishing vicariously through Youtube and, "just waiting for the Gulf Stream to come in." The Bluewater Yacht Sales team is also looking forward to seeing what this lifetime friend and customer can do in his new ride!