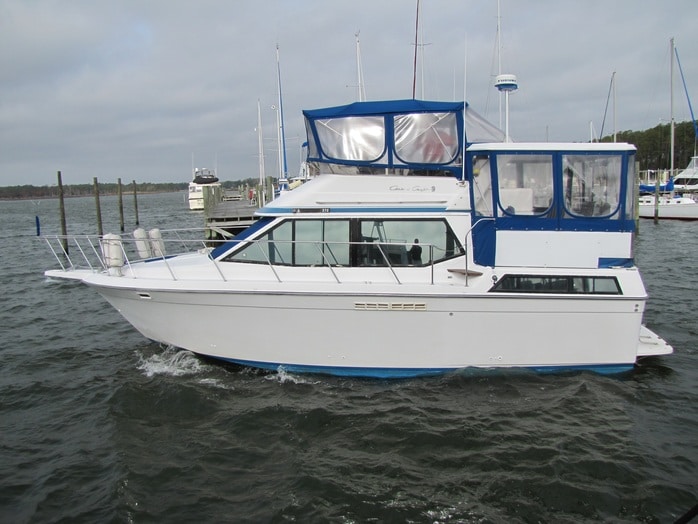 Good afternoon Jan,

My name is Jerry Music and I recently was represented by Bluewater in the sale of my Chris Craft Catalina 372 named Mental Floss. I was really not prepared for what all had to be done to sell my boat. I thought I was ready along with the boat, but quickly found out different. I enlisted Mr. Pete Peters to represent my interest in the sale and I am still talking about his knowledge, drive, and handling of the buyer. (We probably hold the time record for keeping a client interested in purchasing a particular boat). We started this project back in March and finally closed at the end of July!

Mr. Peters not only kept the client interested in my boat but kept my spirits high as well. He is truly a super salesman. If it could go wrong on my boat, it did. He kept me, the buyer, and all concerned completely in the loop and "bird dogged" every project that had to be performed. This boat would never had been sold if it weren't for the above and beyond efforts of Pete. He was completely dedicated to the well being of both parties and ensuring the boat was absolutely in correct order for everyone concerned. I have never met anyone with such determination. Both parties were completely satisfied as to the outcome of the deal. I could not have done any of this without the help and guidance of Pete. I would not hesitate to recommend Bluewater and Pete Peters for any brokerage or new boat sales. Most of the time you hear of all the "bad news" from customers, but Pete ensured only good news came from everyone's efforts.

Thanks Pete Peters, thanks Bluewater, and to you Jan, thanks for listening. I wanted someone to know of the terrific efforts from Pete Peters and how he represented Bluewater Yacht Sales. Have a terrific day, and thanks again. Please feel free to post this on your website!

Jerry Music, Sr.