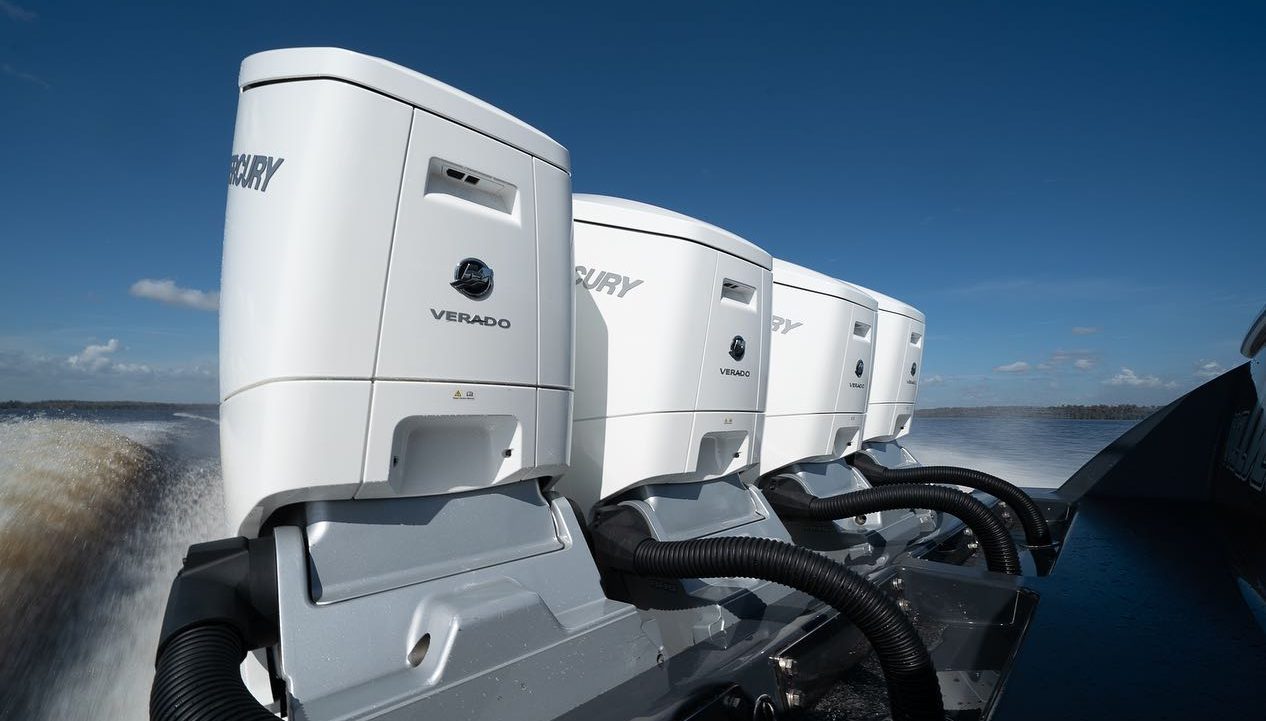 It is no secret that outboard-powered boats are becoming ever more popular within the marine industry, and the size of outboard boats are growing as well. Over the past few years, it has become increasingly common to see three or four engines mounted to boats well over forty feet. Since there is always a demand for speed, engine manufacturers and boat builders have had to either increase horsepower or add more engines. Because there is only a limited amount of space on a transom to support and maneuver outboards, builders have been kept from adding much more horsepower to boats. That is until Mercury Marine announced their newly developed 600hp Verado engines.
Mercury released their impressive outboards this Winter during a press conference at Lake X, their once-secret test facility in Florida. The 600hp engine will feature a 7.6-liter V12 powerhead, along with a two-speed transmission, and a unique steerable gearcase. One of the first boats to be outfitted with these engines was the
Valhalla V-46
, which received a set of quad outboards for testing. The 2,400hp of Mercury power propelled the V-46 to an impressive 73mph top speed and an easy 48mph cruise at 4,500rpms. Needless to say, this new outboard package will now be an option on this boat going forward.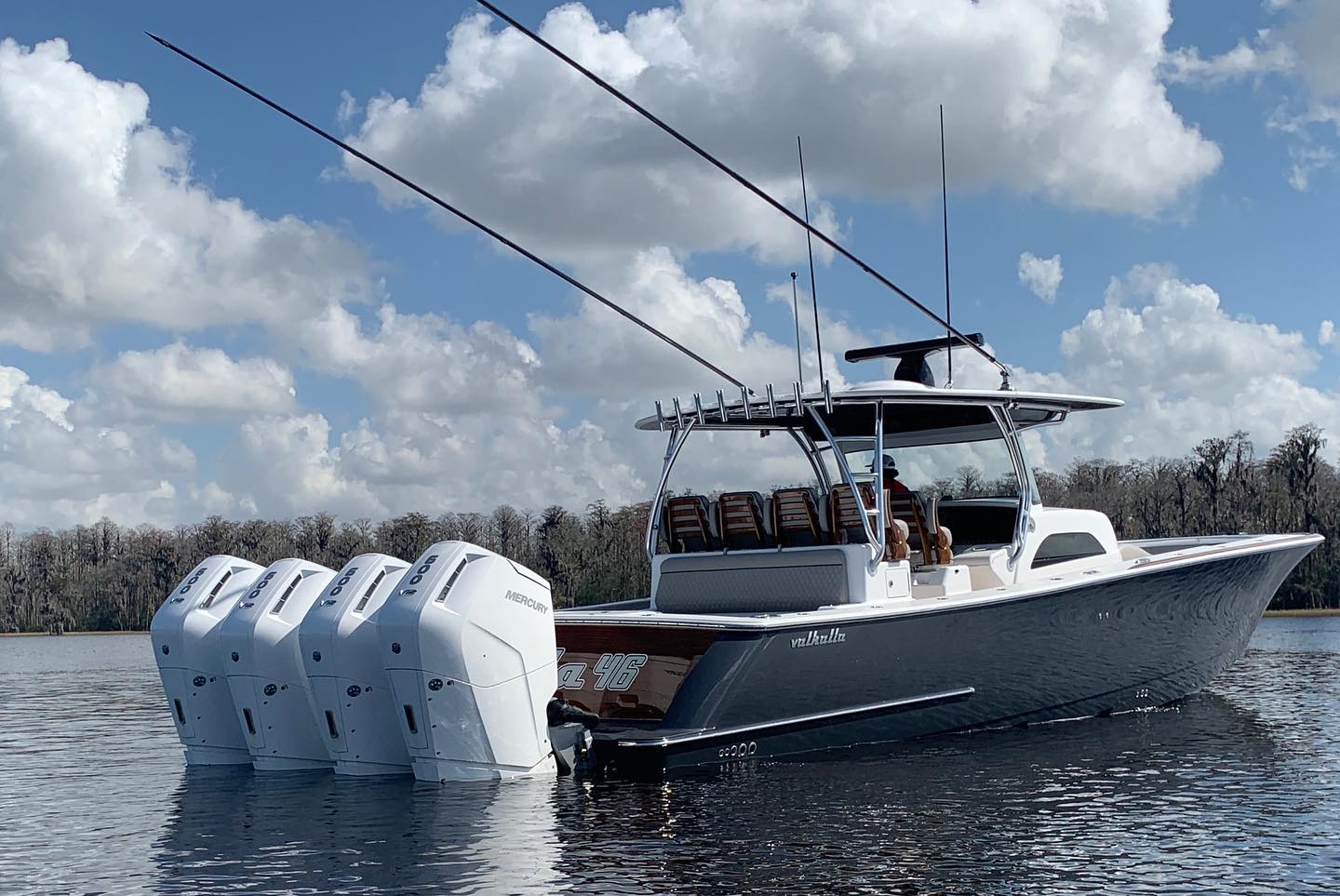 Mercury's next step forward came through the industry-first outboard two-speed transmission which allows the engine to provide torque across the range of speed, providing a fast hole shot and power while underway. The best part of the new transmission is that the shifts are barely noticeable while operating the boat. While this single feature is enough to make waves in the industry, it is just the beginning of Mercury's push towards innovation.
Because of the steerable gearcase, the engines will actually remain stationary on the transom, while only the lower units will move underwater. One common problem with standard outboard engines is that they can only turn so far because of the transom, which impacts maneuverability, especially when docking. Since the Mercury engines will stay in place, they will be able to rotate an additional fifteen degrees when using the joystick system, so handling boats with these engines will be considerably easier. The new outboard will also have an additional counter-rotating propeller, which will give the blades more surface area, and thus more thrust and better maneuverability. These props also give the motors more bite when in reverse, so boats can be backed down with power and without cavitation.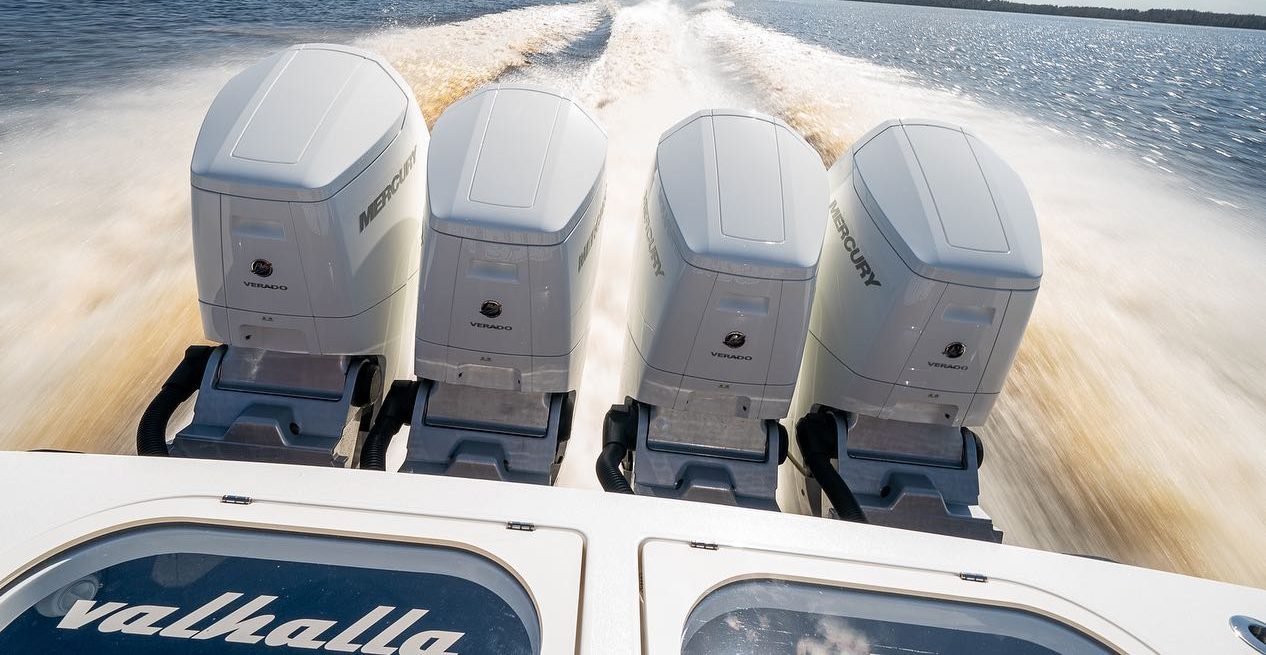 Finally, the new engines will have a completely redesigned look when compared to the previous Verado designs. It will do away with the standard engine cowling in place of a gas-assisted hood that will pop open for simple service and maintenance. It will also feature a freshly designed binnacle with a joystick and next-generation digital controls. The new binnacle will provide users with convenient access to throttles, active trim, and more, as well as an integrated display panel.
The Mercury 600hp outboards will begin rolling out on new models soon, and Bluewater is excited that Valhalla Boatworks will be one of the first brands to get access to the new engines. The recently launched
Valhalla V-46
will now be available with Quad 600hp Verados, and more models will likely follow suit. The V-46 with the new engine package will be available for showings during the Palm Beach International Boat Show in March.
Contact a Bluewater Yacht Sales Professional
today for more information about this industry-leading debut.