More Lifelong Customers Praise The Bluewater Team
Forging life-long relationships is not an easy task for everyone, but for some it just comes naturally. Twenty years and five boats into their relationship, Bill and Sandy Wiygul wouldn't consider asking anyone but Bluewater's Chuck Meyers to list their current boat or help with their search for a new one.
Meyers' relationship with the Wiyguls stretches back to the mid-nineties when he was running the Fort Washington Marina on the Potomac River. It was here that he became acquainted with Oscar Wiygul Sr. while working on his 53' Hatteras Classic motoryacht, Seafari.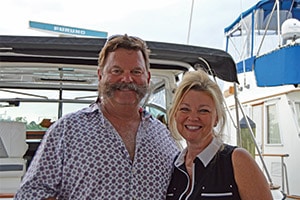 Chuck recalls those early days, "To me, Seafari represented what a motoryacht should be, and I contribute my fondness for this class of boats directly to Seafari and Oscar." His son, Bill Wiygul and wife Sandy eventually purchased the yacht from Oscar, and it became their first big motoryacht.
After 17 years of family ownership, Seafari was sold with help from Meyers, and a long list of boat upgrades began. Meyers helped the Wiyguls navigate the purchase and sale of several large motoryachts and convertibles, most known under the moniker of Outa WAC. Their latest yacht is a return to the "floating condo" theme, but with much more modern amenities—a beautiful 2002 63' motoryacht. "We're on the boat a lot," Bill tells us. "We primarily use our boat as a second home, wintering in Charleston and cruising to the Chesapeake Bay for summer." Home port for the Outa WAC is Solomon's Island, Maryland, and aside from winters in Charleston, SC, voyages to parts of Florida have also been logged. With eight grand kids and counting, Bill and Sandy love to host day cruises and weekend excursions with their family—all of which live nearby in the Bay area. Although the Wiyguls do enjoy life on the water, they are still deeply involved with the family business and their many grandchildren, so long-term expeditions are not in the cards just yet.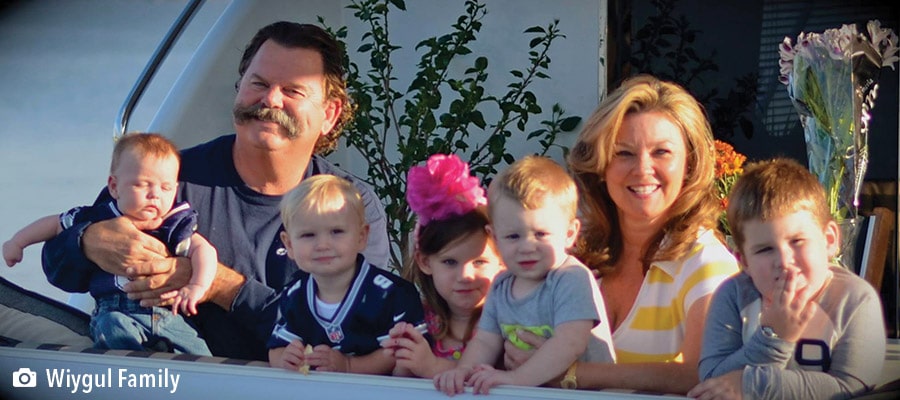 The Wiyguls enjoy hosting friends and family aboard Outa WAC, including Meyers and his family. Chuck explains, "my family and I have spent several Spring Breaks onboard the 63 down in Charleston at Bill and Sandy's invitation. They always have the big boat set up for us to stay in comfort while having their tender Little WACky ready to launch and be enjoyed by the kids. They are always happy to entertain and Sandy's spaghetti sauce and cooking in general is impossible to beat!" Meyers also cites their love of Jazz and Blues music, and how it led to an impressive audio upgrade on the boat, including a new multi-room, internet streaming Bose Soundtouch. Coupled with a five zone Bose Lifestyle sound system, this represents a large investment for serious audiophiles.
"Chuck has never let me down in 20 years… never disappointed me."
Never passing up the opportunity for an upgrade, the couple has recently bid farewell to the 63', and their hunt has begun anew for the next rung in their yachting ladder. Without question, Chuck Meyers is the sole man for the job Bill says. "He is the hardest-working, no-excuses, alwaystakes- your-phone-call, professional broker that you will ever meet. Chuck has never let me down in 20 years… never disappointed me." Wiygul adds, "[Bluewater President] Jan Boone is another super professional. I have a lot of respect for her. Also [comptroller] Heidi Speciale and the closing team have protected my interests on more than one occasion." He adds, "In this business integrity is incredibly important, and Chuck and Bluewater have it!" When asked what type of boat the next Outa WAC will be, Meyers responded, "We are not sure, but if in the future you happen to come across a boat with good jazz music playing, the smell of gourmet cooking, folks with drinks and smiles in their hands, and a gentleman with a distinguishable handlebar mustache, then it's a good chance the Wiyguls have pulled up to a dock near you!"