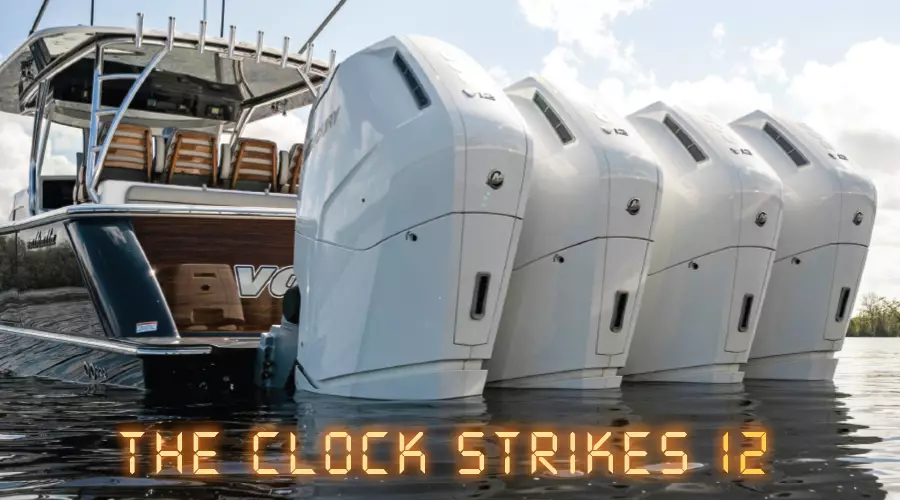 New Mercury V12 Verado Revolutionizes Outboard Industry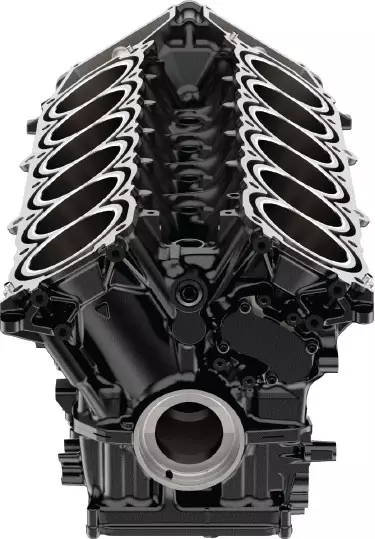 A new era has dawned for high horsepower outboard boats, thanks to the recent unveiling of Mercury's incredible V12 Verado engines.
Over the last two decades, as center console and express boats continue to grow in length and add more weight with sophisticated components and expansive interior spaces, outboard engine builders have been challenged with answering the call for more power. Manufacturers have several avenues to provide more push: increase displacement, cylinder count or introduce forced induction, to name a few. While horsepower figures have steadily climbed over the years, cylinder count has long been stuck at eight. Yamaha produces big horsepower via displacement, direct injection and natural aspiration. The former Seven Marine cranked up huge power figures thanks to a supercharged Corvette engine, while Mercury has also relied on superchargers to extract the most horsepower from their inline-6 and new V8 engines.
With Volvo's shuttering of Seven Marine, the industry lost their only 500-plus horsepower outboards. Thankfully, Mercury had already committed to years of design, development and implementation of a top-secret unit that was sure to fill the power gap and literally revolutionize the outboard engine industry.
In early 2021, at their secluded "Lake X" test site outside of Orlando, Florida, Mercury made an announcement to members of the press, boat builders and dealers: greater horsepower has arrived.
Mercury's all-new 600hp Verado engine features a 7.6-liter V12, along with a two-speed ZF transmission and a unique steerable gearcase. One of the first boats to be outfitted with these engines was the Valhalla V-46, which received a set of quad outboards for testing. The 2,400hp propelled her to an impressive 65-knot (75 mph) top speed and 44.6-knot (55.9 mph) cruise.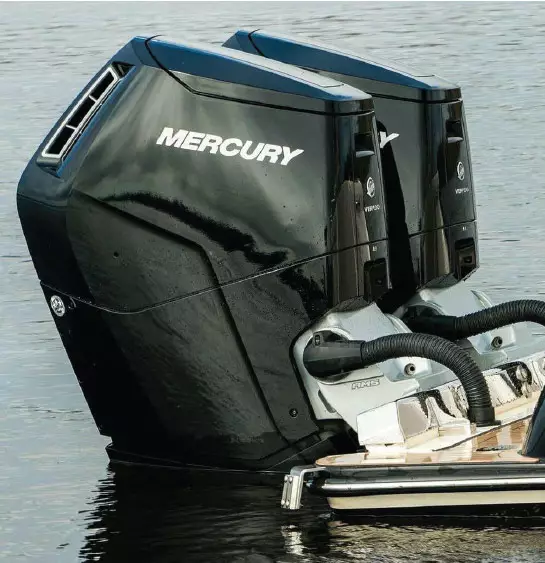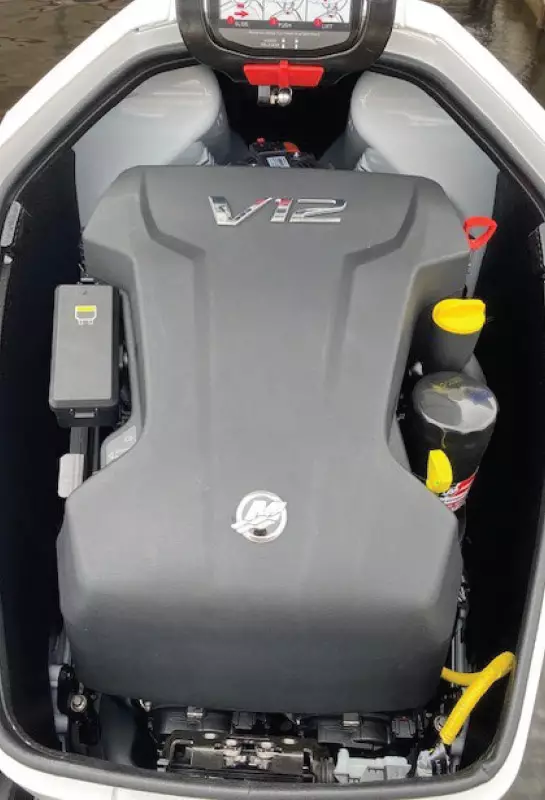 Baxter Lusink, a veteran of Mercury Marine's saltwater initiatives and Sales Manager for Bluewater Yacht Sales, was invited to the unveiling of Mercury's new 600hp outboard and demo rides aboard the Valhalla V-46. "The hole shot is incredible with these new engines," Lusink reports. "The quad-engine 46 jumped out of the gate with only three engines in the water and ten people on board." Bluewater partner Earle Hall also attended the demo event and marveled at the boat's ability to run at over 40 knots with only three engines.
More Firsts
The industry-first two-speed transmission allows these outboards to produce torque across the range of speeds, providing a quick start and consistent power while underway. Another trait of the new transmission is that the shifts are almost imperceptible while operating the boat. Lusink continues, "During test runs we tried to feel the shift and it was barely noticeable at best, and there was absolutely no 'clunk' when engaging into gear."
The innovative steerable gearcase allows these enormous engines to remain stationary on the transom, while only the lower units rotate underwater. This system is compatible with Mercury's latest joystick controls and features greater range of motion over standard outboards.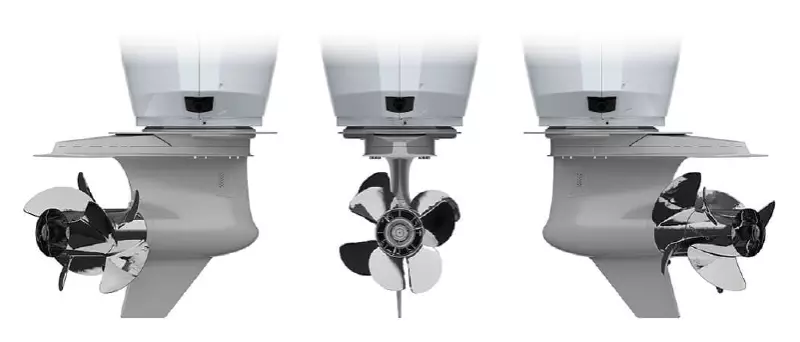 The articulating lower unit along with contra-rotating propellers make the V12 Verado as innovative under the waterline as it is above.
Another innovation includes the twin contra-rotating Mercury props: The dual prop carries more total blade area than a single large 4 blade propeller, and the 7 blades (4 blades in the front and 3 behind) use a smaller torpedo than a standard single prop. This configuration provides more surface area in contact with the water, which equates to more "bite" and power when accelerating, backing down and other high torque moments.
Finally, the new engines have a completely redesigned look when compared to the previous Verado designs. It does away with the standard engine cowling dome for a gas-assisted hood that pops open for service and maintenance. Speaking of maintenance, the first service occurs past 200 hours while the second service is not performed until 1,000 hours or five years.

2,400hp of Verado outboards were demonstrated on hull 2 of the Valhalla V-46 at Mercury Marine's secluded "Lake X" testing site.
Wow Factor
By all accounts, Mercury appears to have delivered a true game-changer. "It's not very often you see something that actually revolutionizes the industry," Lusink explains. "The new Mercury V12 has brought true innovation to the market at a time when power figures have increased but the wow factor has not."
"It's not very often you see something that actually revolutionizes the industry."
To back up this revolutionary new powerplant, Mercury is providing a factory-certified technician to every customer when they take delivery of their new V12-powered boat. This tech will offer a thorough orientation of all engine-related systems on the boat. Owners also gain access to a special toll-free, direct tech support line along with a 3-year exclusive warranty, while Mercury covers the cost of the first 200-hour maintenance.
Mercury's new powerhead is designed to be incredibly versatile with multiple outputs becoming available including a commercial boat edition rated at 500 horsepower. Everyone seems excited to see hull 2 of the Valhalla V-46 outfitted with these impressive new engines and anticipate more Valhalla models accepting this powerplant in triple and quad configurations. If the opportunity for a ride aboard a boat powered by Mercury's new revolutionary outboards presents itself, Hall and Lusink highly recommend you seize it!