Princess Yachts is headquartered in England along with their main manufacturing facilities. Every new Princess Yachts seen stateside made her journey across the Atlantic, at some point in time, aboard a container ship. This method of yacht transport is fairly unique, and it takes a well-trained crew aboard the cargo ship to properly handle the loading, securing, transport and off-loading of every Princess. This seemingly complicated and peculiar task is a familiar occurrence for our own John McDevitt, who has been part of the Princess Yacht launch, inspection and initial run team for nearly 15 years.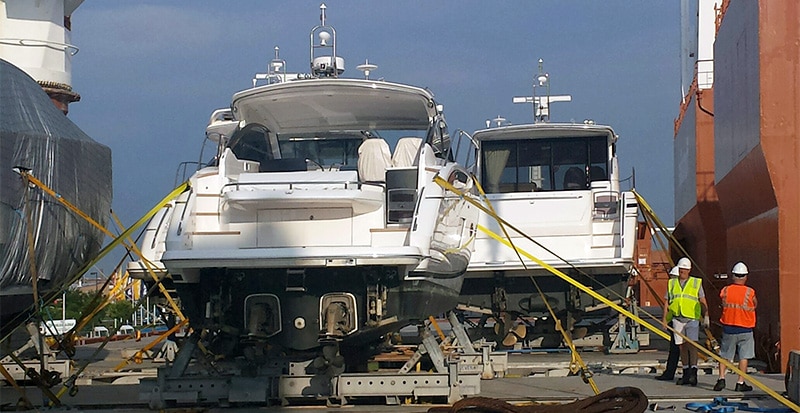 When a new Princess yacht makes it across the Atlantic, her first destination upon hitting the water is the Viking headquarters in New Gretna, NJ. Almost 20 years have passed since Viking and Princess first made an agreement to import Princess Yachts to North America under the name Viking Sport Cruisers. With the developing strength of the Princess name, the Viking Sport Cruiser name is no more, and Princess Yachts proudly wear their original name, while still being gently and expertly tended to by Viking and Princess Yachts of America personnel.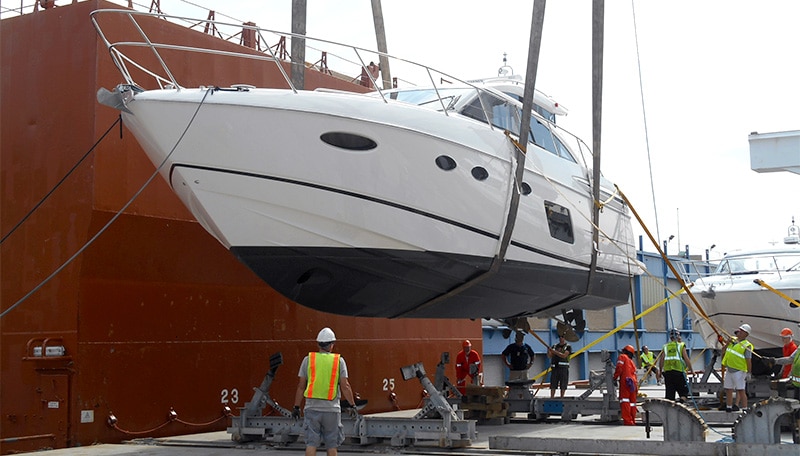 As part of that team of experts, John McDevitt attended yet another Princess off-loading event in Philadelphia this week. This shipment included the Princess models V39, V52 and V62. Each yacht, one-by-one, was supported by a pair of slings tethered to massive braided steel cables suspended by a crane. With the guidance of several crew members, each boat is lifted from her transport cradle and slowly hoisted out over the side of the container ship and gently lowered into the water.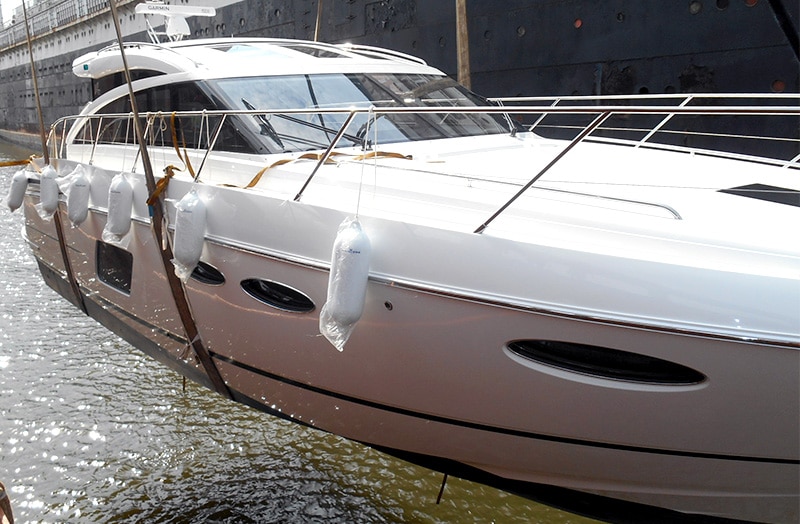 Once each boat is buoyant, it is boarded by personnel and receives a thorough check and walk-thru of all systems. The inspections don't end there. In their roughly 160 nautical mile  journey from Philadelphia to Viking headquarters in New Gretna, NJ, each boat is continually inspected and all engines and generators are checked for proper operation and performance. All of the boats also require fuel along the way, as these boats do not travel with much fuel in their tanks due to regulations aboard the container ship.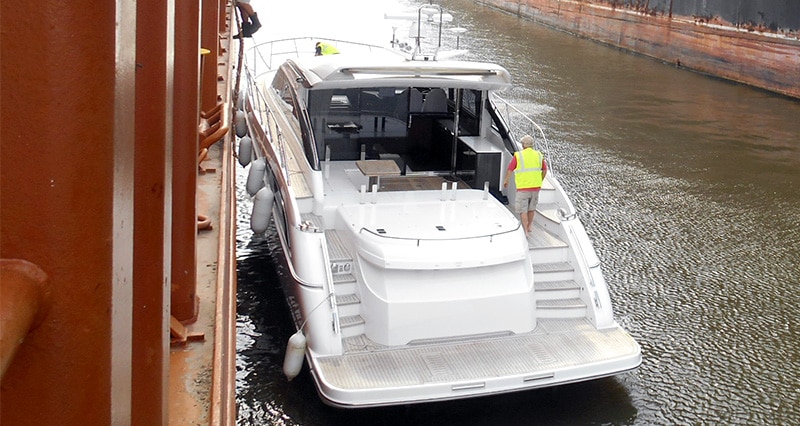 Now that these beautiful yachts have made their journey stateside, passed a long list of inspections, and made their way to Viking Yachts for completion and commissioning, they are only a couple weeks away from being released into the fall boat show circuit. Of these three beauties, Bluewater will be showing the V52 in Baltimore in the weeks leading up to the US Powerboat Show in Annapolis, so stay tuned for more information for your chance to greet a Princess!