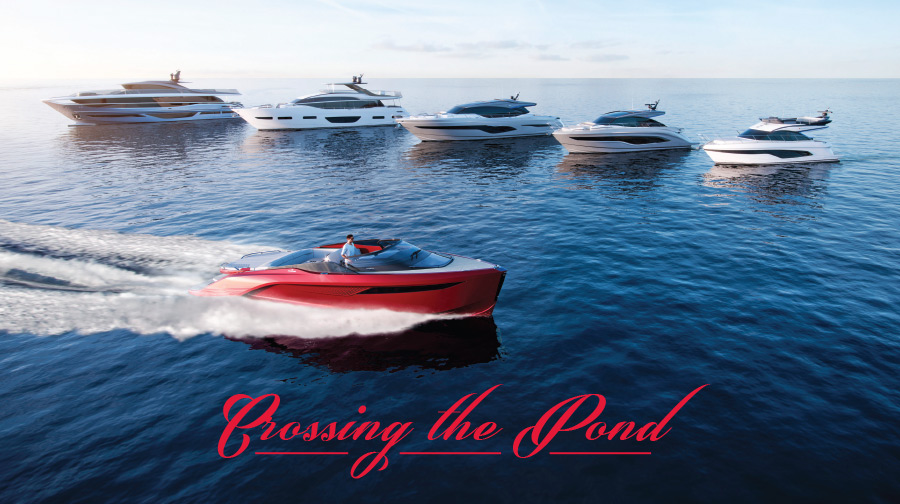 Princess Yachts Celebrates 25 Years in America
Originally known as Marine Projects, Princess Yachts got their start in Plymouth, England in 1965 building sporty run-abouts and cabin cruisers. Through the years, their product offerings and yacht sizes grew while their attention to detail and focus on luxury was unwavering. However, it would take 30 years for this European luxury motoryacht builder to become known in the United States and throughout the Americas.
Tom Carroll, now President and CEO of Princess Yachts America, traveled to Europe to visit the Cannes boat show in the early 1990s. He was impressed with the quality, style, and design concept of a line of motor yachts built by a company named Marine Projects. During a factory tour in Plymouth of what would eventually become Princess Yachts, Carroll met company principals and discovered many similarities between this European company and Viking Yachts. At the time, Carroll was the Executive Vice President of the Viking Yacht Company in New Gretna, New Jersey.
Converging Interests
Like Viking, Princess is a vertically integrated company that manufactures most components in-house and has a hands-on approach to design and manufacturing. Similarities aside, it was a ride in the rough waters of the English Channel that proved to be the convincing factor for Carroll that these boats had a future in America if the right partnership could be struck.
"In 1995, an exclusive relationship between Viking and Princess introduced Viking Sport Cruisers, a new class of luxury performance cruising yachts for the American market," explains Carroll. Many changes and updates were made to Euro-spec Princess models of the day to fit the American market. Interiors were redesigned with more spacious accommodations; refrigeration was increased to accommodate extended cruising and engine rooms were reconfigured to accept more horsepower. They even chose appliances from recognized and high-quality American brands and shipped them to Plymouth for installation on a newly designed 120/240V 60Hz electrical system.
As popularity of the Viking Sport Cruisers line increased, new models were developed solely for the American market as opposed to revamped and Americanized European models. In 2011, Viking Sport Cruisers began receiving the Princess Yachts badge and name and by 2013, Viking Sport Cruisers became Princess Yachts America. However, the partnership between Princess and Viking endures today.
Princess continually makes significant investments in new facilities, engineering, design, materials, and production techniques. This continual reinvestment has helped Princess develop a solid company-wide infrastructure, expanding capabilities to build a worldwide reputation firmly founded on quality, craftsmanship, and technological advancement with an unparalleled focus on efficiency to deliver remarkable value in every yacht produced.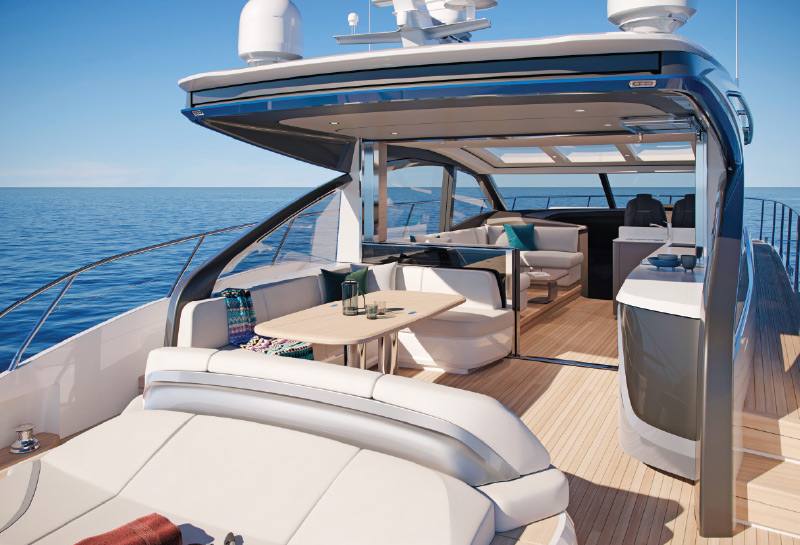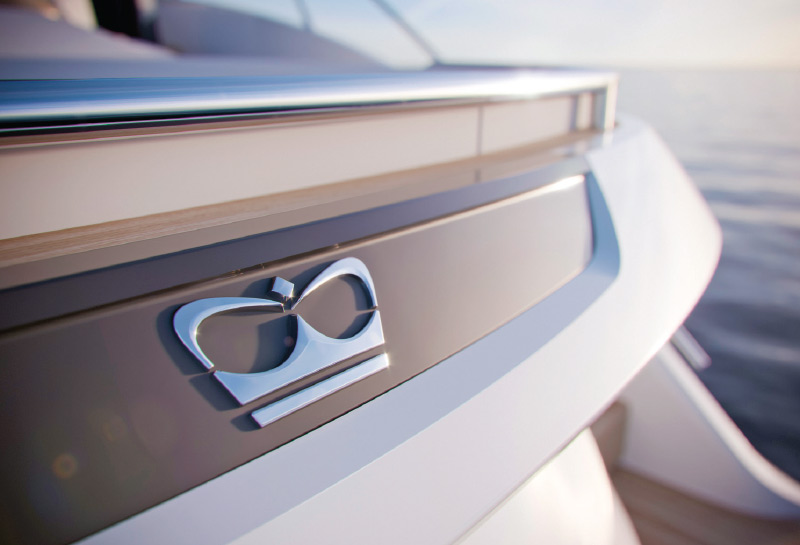 "Princess' design language is remarkably consistent, beautiful and desirable throughout their lineup."
"At Princess Yachts America, our focus each day remains firmly founded in our commitment to our customers and the quality of the ownership experience with their Princess," Carroll says. "Our aim is to maintain this relationship with each and every customer and further our understanding of their needs to continue to raise the standard of service in every aspect of our business in the future. "This drive for superior customer attentiveness and satisfaction coupled with continued improvements in production efficiency, and keeping 80% of every build in-house has allowed Princess to introduce new and redesigned models at a pace of 3-5 each year. Each model is in production for roughly five years before being replaced and enjoys a mid-cycle refresh in that time.
"Princess will set out to refresh a model midway through its life cycle. This is a company that is putting a lot of money into developing a product from scratch and then ensuring that the life cycle of the product stays consistent and is longer term," explains Princess Yachts America Vice President and Marketing Director, James Nobel. This production cycle offers added value protection: owners always feel like they have the latest and greatest since their Princess is the newest model available for a longer period of time. "There is a lot of longevity in the product line, and the boats are designed for that," Nobel concludes.
Always Evolving
In 2019, we experienced the highly anticipated launch of the exhilarating Princess R35, built with advanced composites and lightweight materials and a top speed exceeding 40 knots. While the world was captivated by the new R-line, Princess was already hard at work on their next collaboration with design firms Pininfarina and Olesinski: the X95.
This new concept ignores traditional yacht design and space by stretching both the main deck and the flybridge further forward and aft. Antony Sheriff, Executive Chairman of Princess Yachts, explains, "The X95 breaks the mold of traditional yacht design. The unique open plan architecture and layout provides 10 percent more outdoor space and 40 percent more indoor space than a traditional motor yacht of similar exterior dimensions."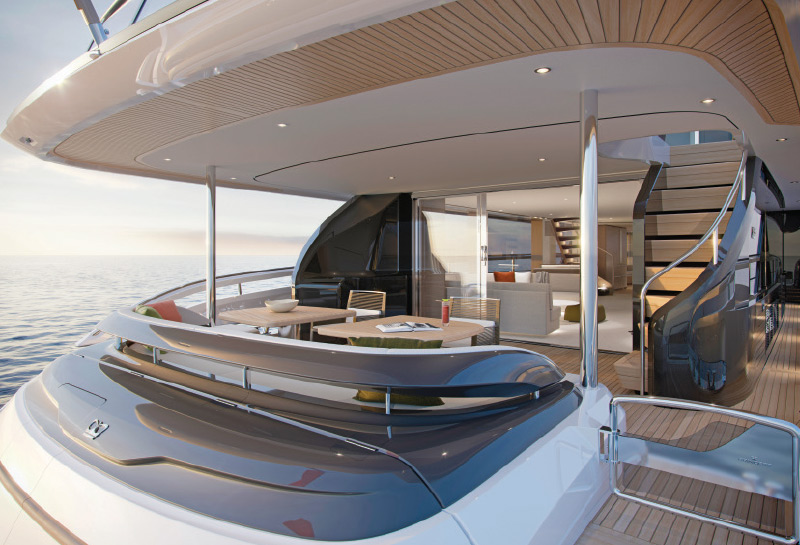 Consistency: The X95 aft deck finishes could easily be mistaken with that of the V55 or other models.
In true Princess fashion, the X95 is offered with several layouts for each level, and each of those layouts can be customized further to suit the owner's requests and intended use of the yacht. The main deck offers multiple seating configurations in the cockpit and salon, plus wet bars are available for both of those spaces. The forward section can be optioned as a main deck master stateroom with panoramic views or as a vast country kitchen with spacious dinette forward that benefits from the impressive sights outward.
The flybridge features a large enclosed helm area with second salon amidships with a massive entertaining space aft and additional seating forward that can be optioned as a sunpad or even a jacuzzi. In all, based on configuration and owner preferences, the X95 features 5 staterooms and 5 heads for guests, plus optional day heads on the main deck and flybridge level and crew quarters aft the engine room.
Equipped with fuel-efficient MAN V-12 engines and nearly 3,000 gallons of fuel, the X95 boasts mid-20 knot top speeds and a cruising range of over 2,000 miles. The X95 is not just a one-off design of innovation and beauty, it's an all-new range of motoryachts in the Princess line. Hull #1 splashed in Plymouth in February of 2020 and her North America debut is slated for late 2020.
From humble beginnings in 1965, to an international partnership with America's leading production sportfish builder in 1995, to a surge of growth over the last 5 years, Princess is poised for tremendous success in the years to come.