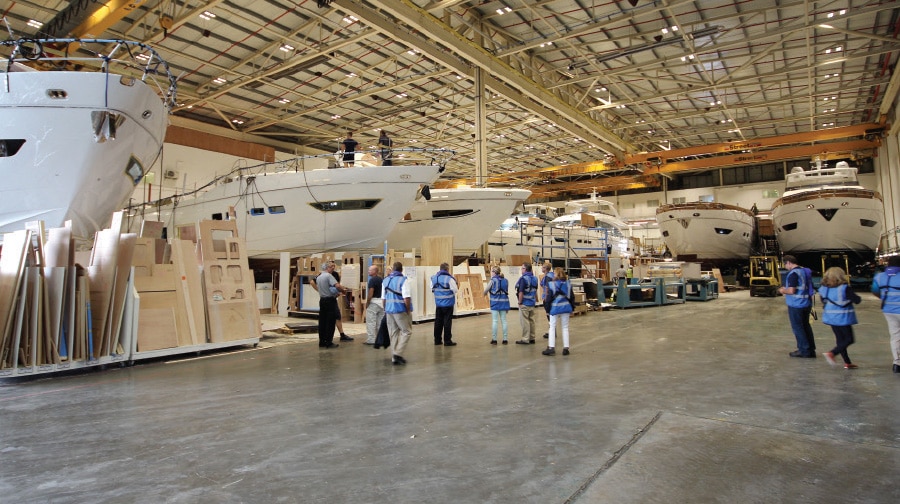 Princess Yachts' Incredible Production Capacity
While it is clear the Bluewater team are no strangers to factory tours and new product demos, the annual Princess Yachts dealer conference certainly takes the practice to another level. Travelling to Plymouth, England is just a small part of the adventure that awaits our team during the 4-day event. Plymouth's location at the southern tip of England, nestled in a bay just off the English Channel, has been a major epicenter of trade and shipbuilding for nearly a millennium. Today, that legacy lives on through Princess Yachts' facilities and workforce.
Princess has spread their operations throughout the area, taking care to retain the rich heritage of the town while occupying centuries-old buildings for carpentry, electrical loom assembly, metalwork and more. The former naval shipyard that constructed iconic tall ships of the late 19th and early 20th century is now home to one of six waterfront production facilities used to build Princess Yachts' impressive model range.
Touring these massive facilities along with the smaller ancillary shops peppered throughout Plymouth is an interesting opportunity. All are staffed by Princess Yachts team members where they diligently construct all the bits and pieces that are found in every Princess. "The scope of the organization and their ability to fabricate so many parts in-house is incredibly impressive," Bluewater Sales Professional
Chuck Meyers
explains. "It is truly amazing how many boats they build each year." In 2017, their production numbers soared somewhere north of 260 boats, with their eyes set on the 300-mark within a few years. These numbers are indeed impressive for a builder that offers 2 dozen models ranging from 40 feet to a staggering 40 meters.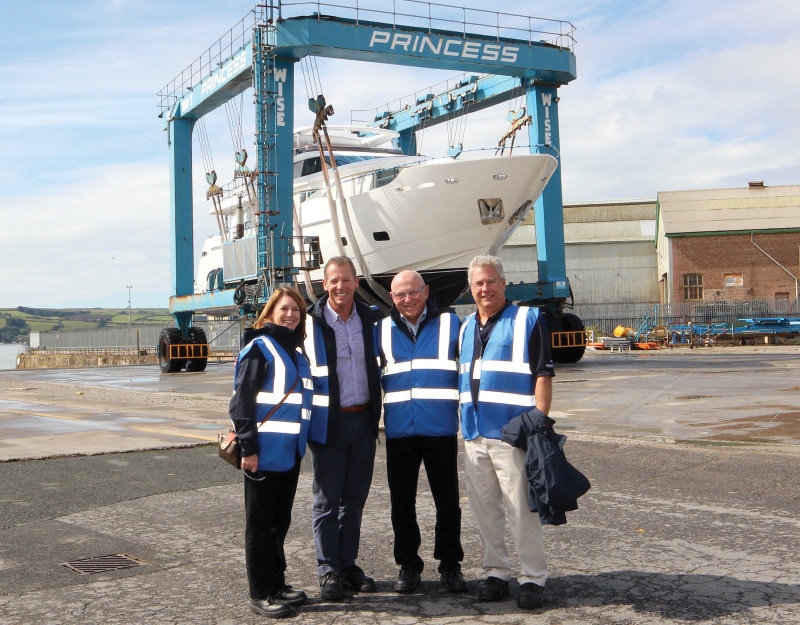 Facility tours were complemented by sea trials of several Princess products, including the S65 & 75 Motoryacht, plus an early peek at the 62 Flybridge prior to its North American debut. Hosted dinners and other events rounded out the multi-day conference along with meeting opportunities with Princess Yachts management and the Olesinski design team who have been responsible for every Princess model produced over the last 3 decades. This event provided a wealth of knowledge and experiences to our team that will prove immeasurable when working with prospective buyers for this iconic luxury yacht brand.
View our Exclusive Princess Yachts listings