Recapping Bluewater's 2017 Summer Cruise to St. Michaels
Like a great pair of jeans, once you find the perfect fit, you may never want to change. Bluewater found that fit in 2015 when they held their annual Summer Cruise at the St. Michaels Marina on Maryland's Miles River. In the years since, our team and customers have unanimously agreed that St. Michaels was indeed a perfect venue, and have returned to the charming locale for three consecutive years. With every slip filled and over 120 guests, the 2017 Summer Cruise was another roaring success as guests enjoyed some favorite events and new experiences.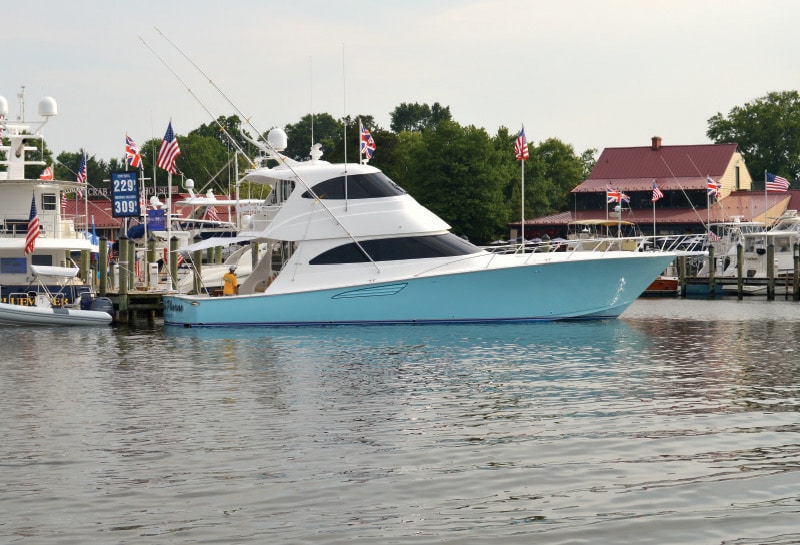 Some wet weather in the area did not hamper moods on opening night as cruisers descended upon the marina to rendezvous with friends and the Bluewater team, to enjoy the signature docktail party together. Friday morning began with clear skies and an open schedule for guests to roam historic downtown St. Michaels.
Some enjoyed a spa treatment, while others opted to simply enjoy the sun by the marina pool. Lunch was held at the famed Lighthouse Oyster Bar & Grill with an informative and fun presentation with Jody Argo Schroath, Editor-in-Chief of the Guide to Cruising the Chesapeake Bay. Jody shared details about the best places to stop along the Chesapeake and highlighted many of the must-see attractions along the way.
Lunch was followed by a fun cornhole tournament and a wine tasting compliments of the St. Michaels Winery. Saturday welcomed boat christenings, sea trials and tours of the Chesapeake Bay Maritime Museum which is situated just a short walk from St. Michaels Marina. The fun and camaraderie continued into the evening, with cocktails and hors d'oeuvres on the Navy Point Deck. An Eastern Shore Feast was held in the Small Boat Shed of the Chesapeake Bay Maritime Museum which included music and dancing for guests well into the night.
The opportunity to unwind and rekindle friendships in a relaxing and picturesque setting like St. Michaels is truly a treat for the Bluewater team and all the attending families and friends.
Throughout the years, this event has brought together boaters who otherwise may never have met and has helped build friendships that will last a lifetime. The hospitality of the marina and surrounding historic district are second-to-none and the location is easy on travelers, by both land and sea. While our team and customers greatly look forward to an unforgettable experience at the Summer Cruise and 50th Anniversary celebration in Hampton in 2018, rest assured that we shall soon return to St. Michaels!