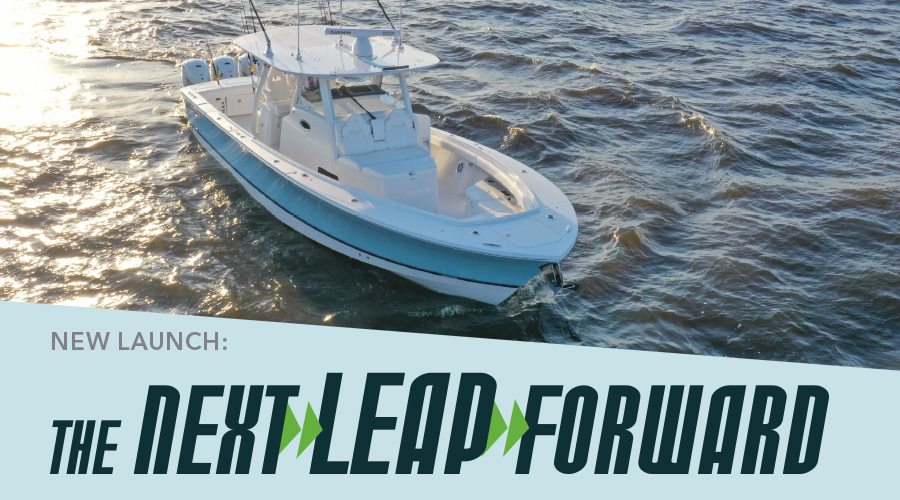 Regulator Launches the New 37 and MyHelm interface
True to Regulator's DNA and commitment to delivering the finest center consoles on the market, the new 37 does not disappoint. Pushing the envelope and learning more with every new project, the 37' combines engineering features that make ownership of the vessel easier with the classic Regulator performance that established the brand as a market leader over thirty years ago. What you don't see: the company's industry-leading fiberglass laminating technology, is finished with what you do: a vibrant, flawless gelcoat application.
Although this newest Regulator takes many cues from the flagship 41, the numerous improvements exemplify the company's drive and passion for continuous innovation. Big horsepower from Yamaha, factory-installed Garmin electronics packages, integrated wrap-around windshield and optional cockpit SureShade all return for the latest model, but the new features and upgrades go far beyond that.
Originally teased in the Winter of 2021, hull 1 of the new 37 took her time on the production lines of Regulator's state-of-the-art facility in Edenton, North Carolina. Regulator's craftsmen take great care in tooling and assembly of the first hull of every new model to ensure the next builds meet their stringent quality standards.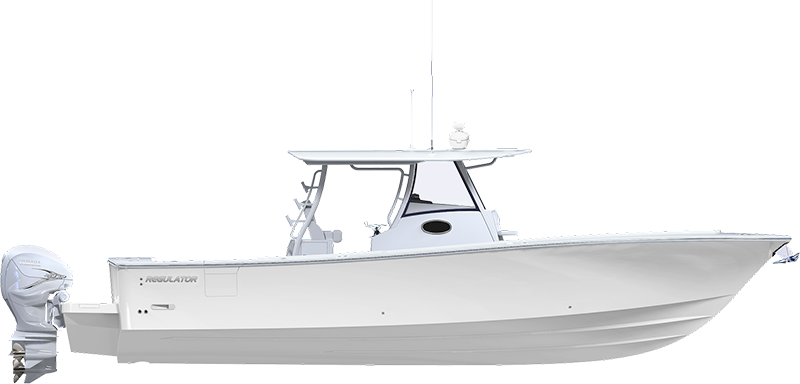 Regulator 37
Now On-Order with Bluewater Yacht Sales
Taking Command
No longer just a helm, the 37's new Offshore Command Center features factory-installed Garmin multi-function displays with digital switching and monitoring, along with the proprietary Regulator MyHelm interface. This all-new system offers a seamless and intuitive connection of key functions in one application that includes a wireless key fob to trigger systems like lighting, batteries, and more as you approach or disembark: all with the touch of a button.
Over 43 feet from stem to rear engine cowling and boasting a 12-foot, 7-inch beam, the 37's impressive proportions allow for triple helm seating flanked by an aft-facing bench, plus a deluxe cabin with queen berth, functional galley, stand-up head and hot water shower.
First Look: Regulator's proprietary MyHelm interface integrates with the Yamaha Helm Master controls and is operated via the giant Garmin multi-function displays.
Storage is also plentiful in the 37 including a Regulator first: optional refrigerated in-deck fish boxes. And, since all good things come in pairs, Regulator worked hard to match the storage options and capacity between port and starboard. The transom includes a pair of 33-gallon live wells flanking a generous 322-quart fishbox with optional refrigeration and dual hatches. The cockpit deck features a pair of 311-quart fishboxes that surround the bilge access, and the port side can host optional refrigeration.
The Regulator 37 provides fishability, comfort, and convenience at every turn.
Moving forward, the expansive sunbed conceals a deep cooler beneath the cushions. The forward seating with flip-up backrests also hides a pair of 154-quart fishboxes or dry storage units with an additional 420-quart storage compartment forward. It doesn't stop there either—the climate-controlled cabin features dual carpeted rod storage lockers.
Bluewater Yacht Yards in Hampton, Virginia was commissioned by Regulator to put the finishing touches on hull 1 of the 37, including bottom paint and boot stripe. Bluewater Partner and Sales Professional, Jud Black was fortunate to see the boat up close during its brief make-ready stay.
"The boat is awesome, and it's huge," Black explains, "It has some really cool features including the aft-facing mezzanine bench. The seat lifts up on gas shocks to reveal a pump room." This pump room—another first for a Regulator—features a false floor and is finished out for storage with the look of a custom sportfish lazarette. This space hosts equipment and systems that need periodic maintenance like batteries, livewell pumps, HVAC, and the optional Seakeeper gyro.
Like every Regulator model, the 37 excels at multi-tasking: fishing, cruising, diving, island hopping and more. Plus, the 37's climate-controlled cabin with galley, full head and queen berth means this Regulator is also great at overnighting for a couple.
Whether at anchor or underway, the optional Seakeeper 5 can keep the roll in check while the 500-plus gallon fuel supply ensures long trips without range anxiety. The Yamaha XTOs produce a total of 1,275 horsepower—plenty of muscle to get on plane quickly and offshore in a hurry. Being the first four-stroke outboard to offer direct injection, these engines can also settle into an efficient cruise mode when speed is not the priority.
With hull 1 already in the water and prepped with bottom paint from our Hampton Yacht Yard, more 37s are poised to depart Regulator's newly expanded factory in coastal North Carolina. If you are in the market for a premium center console, be sure to have a look at Regulator Marine and be on the lookout for more models to offer the MyHelm interface, Yamaha's HelmMaster EX and other exciting innovations.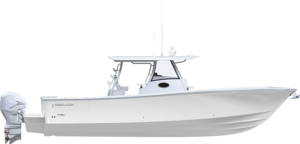 Regulator 37
Now On-Order with Bluewater Yacht Sales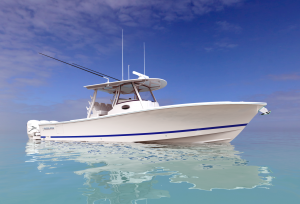 Regulator 37
LOA: 43′ 5″
Beam: 12′ 7″
Draft: 3' 10"
Weight: 19,300 lbs.
Fuel Capacity: 507 gal.
Water Capacity: 50 gal.
Power: Triple Yamaha V8 XTOs @ 425 hp