Sabre's Maine Craftsmanship Proves Irresistible
When you have a passion for history, an eye for beauty and a name like Kelly Flynn, odds are you're either a swashbuckler or an Irishman—and maybe, at least, a bit of both. Having spent the better part of thirty years boating the Great Lakes with several more eastern forays, he and his sweetheart Kathy's high seas adventures cover the Chesapeake Bay and essentially the entire coast from Naples to New England. But not all days are at sea; Flynn's travel bug is fueled by a fascination for American history, our battles and those who fought them—plus there's the fact that he's also into planes.
President of the Indianapolis Airport Authority, Flynn is both an FAA licensed pilot as well as a USCG licensed captain and did we mention the EMT, fire fighting and urban search and rescue qualifications? So, modern-day swashbuckler might not be so far-fetched. The seafaring side really took off on his last boat, a 59' Grand Banks Aleutian aptly named Irish Rover upon which they traveled from Hampton, Virginia up the Chesapeake Bay, through New York City to the port towns of Rhode Island. The Rover is how Flynn first came to visit the Bluewater Yachting Center in Hampton Virginia, as Bluewater's own Chris Hall owned her first.
When Flynn arrived, he found himself impressed by the Hall's vast experience of all things blue-water, in-depth boat knowledge and welcoming demeanor. "Chris Sr. and Jr., treated me like one of their own family from day one," Kelly expressed. "And no detail on these boats is beneath their notice—it is so obvious that they know their business—and their willingness to share their experience on every level went above and beyond. They are true, Virginia gentlemen." The combination obviously struck a chord and so for his next boat, he came back for more of the same, and a particular girl he couldn't forget.
For Flynn, the "very cool, 'down east Maine' styling," of the Sabre Yachts he encountered at Bluewater stayed with him. The "next boat" is now the new boat, as Kelly and Kathy recently returned to Bluewater to take delivery of their brand new 42 Sabre, Irish Rose. "I named her for my heritage (Irish) and 'Rose' for my sweetheart, Kathy. And the boat—beyond my expectations, the fit and finish is phenomenal," Flynn enthuses, "we can't wait to get started."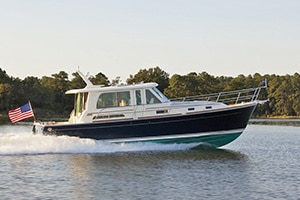 "The perfect blend of size and speed with a lovely interior."
The Sabre 42 features an impressive amount of space above and below decks and will comfortably sleep the owners and their guests in the two private staterooms. The salon is open and airy with a starboard helm station and a fully-equipped galley down to port. The manageable dimensions coupled with Sabre's modern and light-weight V-Hull means this boat can scoot along quickly without needing tons of power. A total of 760 horsepower is produced by a pair of Cummins QSB engines with Zeus pod drives which add impressive maneuverability and efficiency. Getting on plane in 10 seconds and hustling to her top speed of 32 knots in 30 seconds means the Irish Rose is no slouch, but she is most happy to cruise between 22 and 27 knots where her fuel burn holds around .85 nmpg and a range of nearly 300 nautical miles.
After a return trip to Bluewater for the boat's standard 25 hour "Sabre Assurance" checkup, their big summer cruise will begin. The itinerary will include another foray up the Chesapeake Bay to the Delaware then on up to New York City. A stop at Oyster Bay on Long Island will add to the historical aspect as they plan to check out Teddy Roosevelt's place on Oyster Bay. The bulk of the trip will focus on showing off the new Sabre amongst the storied seafaring ports of New England— Mystic, Block Island, Martha's Vineyard and Nantucket to name but a few. Kelly Flynn chose the Sabre because it is a beautiful craft, "the perfect blend of size and speed with a lovely interior." With her classic blue paint scheme, we expect she will catch a few New England eyes and maybe spark a bit of nostalgia herself.
Traditionally weaving his favored Civil War and older era historical landmarks in and out of his travels, Kelly described plans for his latest trip. The drive itself from Indianapolis will include a stop in historic Lexington, Virginia to take in the gravesites of both General Robert E. Lee and "Stonewall" Jackson. A few days in Hampton to familiarize himself with the boat systems, stow gear and get oriented, then off for a week or so exploring the Chesapeake to rack up 25 hours on the engines while still fairly close to Bluewater. Being a Navy fan, the Bay trip will include plenty of time in Annapolis, Oxford and a well-timed trip up the Chester River to a favorite spot in Chestertown, Maryland. "Chestertown takes you back to 100 years ago," Kelly describes enthusiastically. "They have a unique historic district and there's an incredible Farmer's Market—it is a 'don't miss' stop for us now."