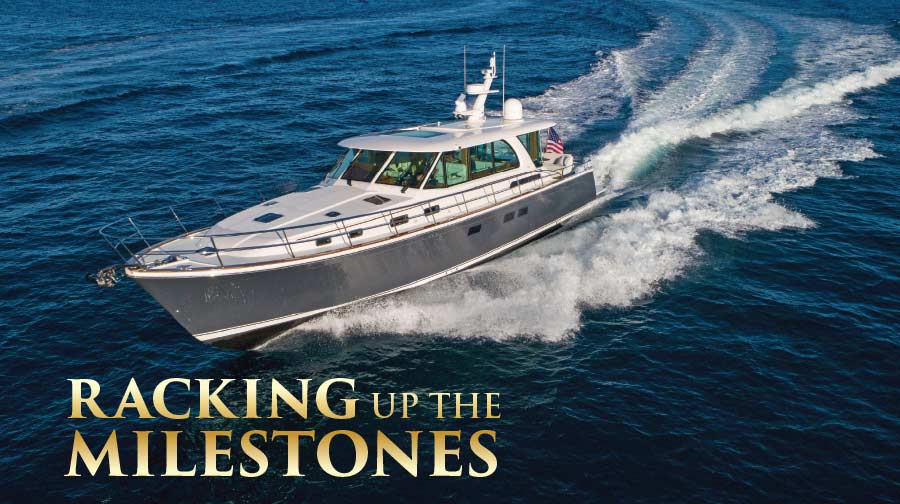 Sabre's Storied 50-year History and Unwavering Success
Sabre Yachts officially got its start in 1970 building small production sailboats in Southeastern Maine. Before that time, founder Roger Hewson was working in his family's construction company when he decided to design and build his first boat: a wide, blunt-nosed sailing scow that he named for its length and impressive speed in cutting through the water—like a Sabre. While attending McGill University Roger met a young lady named Charlotte, fell in-love and eventually they would marry. Charlotte's family happened to have a large property in Raymond, Maine where they operated a popular girls summer camp. Although 25 miles from the nearest ocean put-in at Casco Bay, the couple decided to build Sabre Yachts from this location.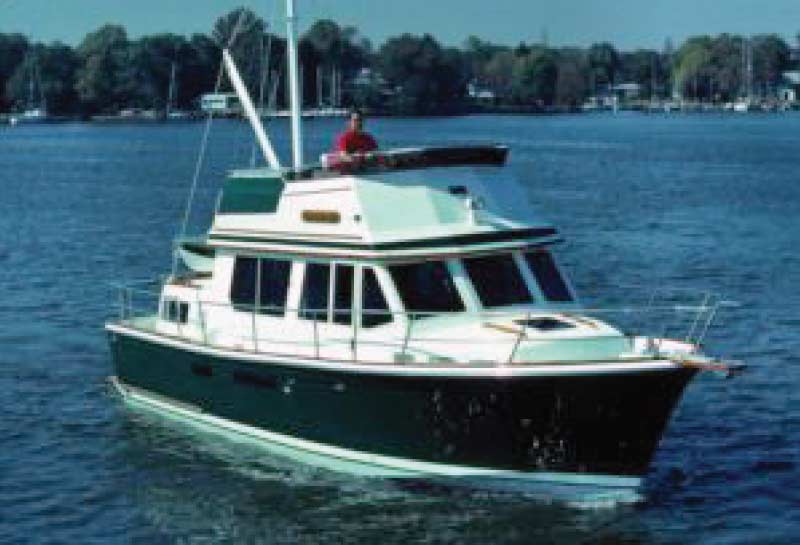 With just a 4,000-square-foot building and a handful of employees, the Hewsons set out to build the finest possible 28-foot sailing yacht, using production line methods and fiberglass technology. Sabre's 28-foot ocean racer/cruiser offered standing headroom, a full complement of berths and a handcrafted teak interior of a quality typically found on larger custom yachts. For the first 20 years, Sabre's sailboat range included models from 28 to 42 feet in length. However, by 1989 they were sensing that a good portion of older sailboat clients were seeking a move to powerboats.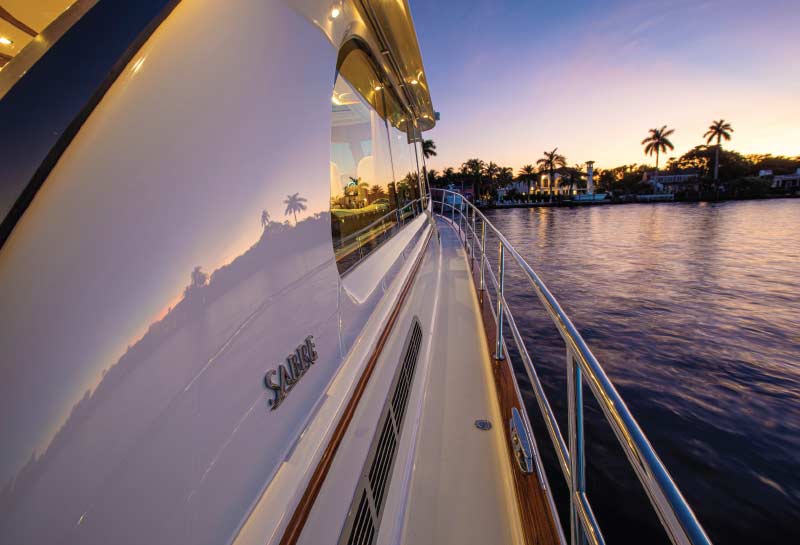 Best of Both Worlds
To adapt to customer demand and broaden its market, Sabre created the first Sabreline 36 "Fast Trawler," (a phrase known more widely today, but was coined by Sabre). This tri-cabin motoryacht offered the spaciousness and comfort of a trawler but with substantially better performance than traditional trawler hulls. Plus, while most trawlers of the day were built overseas, this new-and-improved offering was built in the United States.
In 1995, Sabre acquired North End Composites in Rockland, Maine—a major manufacturer of marine molds and production fiberglass parts. Then, in 2002, based on customer demand for an affordable downeast cruiser with single engine shaft and rudder propulsion, North End Composites began building the Back Cove Yachts range. Eighteen years later, more than 200 associates build the Back Cove range, which spans 30 to 41 feet in length.
"For nearly two decades, Sabre successfully built both sail and power models, growing the selection of Fast Trawler models from 34 to 52 feet," explains Bentley Collins, Sabre's Vice President of Sales and Marketing. "However, after the financial crisis of 2009, the sailboat business that Sabre had enjoyed for nearly 40 years essentially dried up as more new boat buyers opted for the speed and comfort of our power boats."
Onward & Upward
The second stage in Sabre's evolution as a power boat builder occurred in 2004 with the launch of the Sabre Hard Top Express models which were offered in a range from 34 to 42 feet. "When the first Hard Top Express models debuted at the Miami boat show, a dozen owners signed up for these exciting boats," Collins explains. This trend has yet to waiver, with Sabre garnering several pre-orders for a new model before the hull is even pulled from the mold.
As this powerboat evolution progressed, clients signaled a desire to get rid of the roll up Eisenglass enclosures which secured the aft end of the helm deck in favor of hard back enclosures. This led to the launch of the Salon Express models which are built today from 38 to 66 feet in length, of which the new 58 Salon Express is the latest example.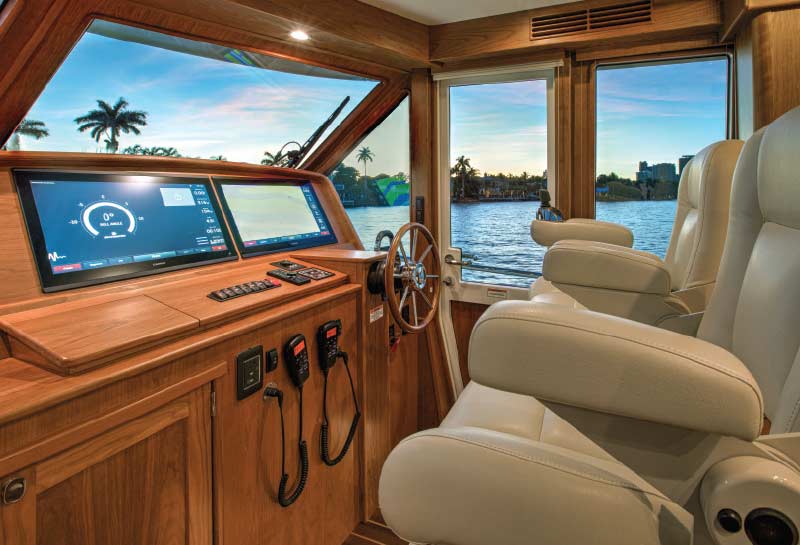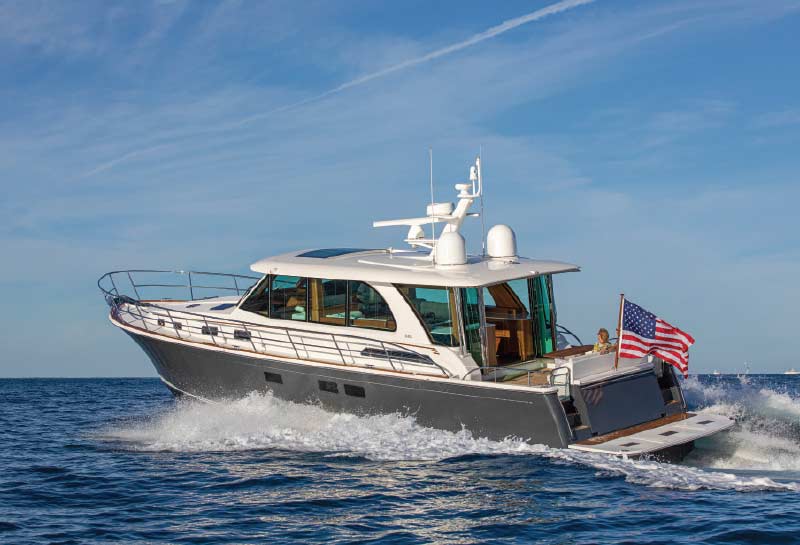 Highly Desirable
During the initial design and engineering process for a new model, Sabre seeks out dealer and owner input to discover which features, finishes and accommodations are standout for a client and what could be changed or added to make the model better. This approach has proven incredibly successful for the Sabre brand since design, layout and features are dictated by those who know and use the boats most, rather than by what competitors are doing or what might be the easiest solution.
Customer and dealer feedback helped give birth to a first for a Sabre model: a galley up layout. The all-new Sabre 58 is the first of their yachts to feature this new layout which seamlessly marries the cockpit entertaining space with the salon through massive sliding glass doors. The main-level, aft galley does not surrender storage or functionality to the traditional Sabre galley-down arrangement. Owners will find plenty of storage space including overhead cabinets that do not obstruct the view, plus all the usual equipment and refinements.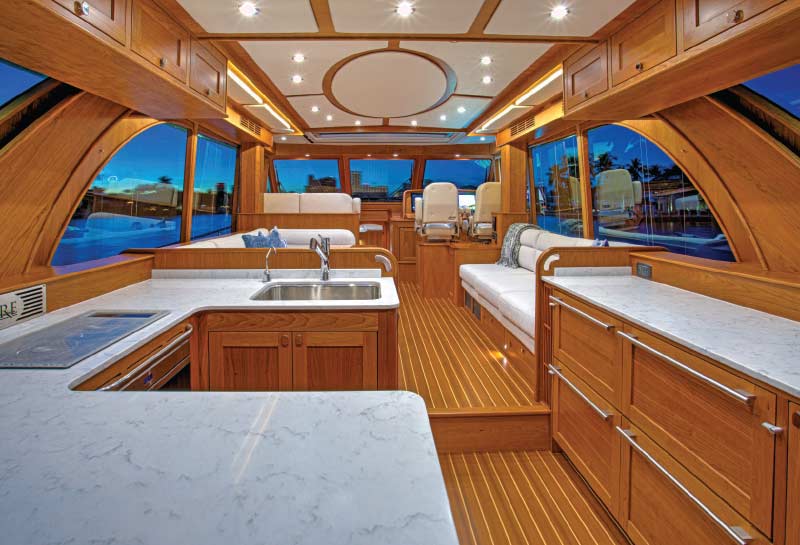 A galley situated on the main deck is one of the distinguishing layout features of the new Sabre 58.
The new layout of the Sabre 58 along with the high-tech integrated systems and other features borrowed from the flagship 66, has created impressive demand for this new model. Bluewater customers have already claimed 3 of the first 14 hulls along with an on order "stock" boat coming in 2021. Now this new model has quite a waiting list.
"The open-air galley is a huge hit," exclaims Bluewater Sales Professional Chris Hall Jr. "There are so many standard features on the new 58 that most owners don't need to add much to their order." Hall has two confirmed sales on the 58 with another deal in the works as of this writing. The full-beam master stateroom amidships, complete with a small office and true king size bed, was appealing to Hall's customers.
Aside from the main-level aft galley, another Sabre-first is factory installed electronics on the 58. The Volvo/Garmin Glass Cockpit dual screen system comes standard for the new 58, but now the craftsmen in Raymond, Maine will install the transducer, radar, VHF and other components at the customer's request. "Of course, like all Sabres, the 58 comes standard with outstanding workmanship and quality," adds Hall.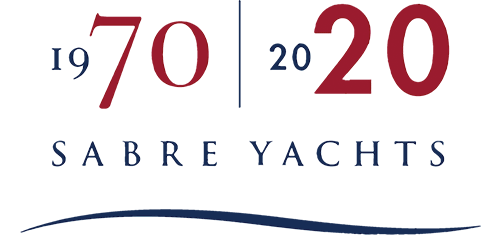 This year, as Sabre celebrates its 50th anniversary of boat building, their brand is as strong as ever and customers are queuing up to become a part of the family.