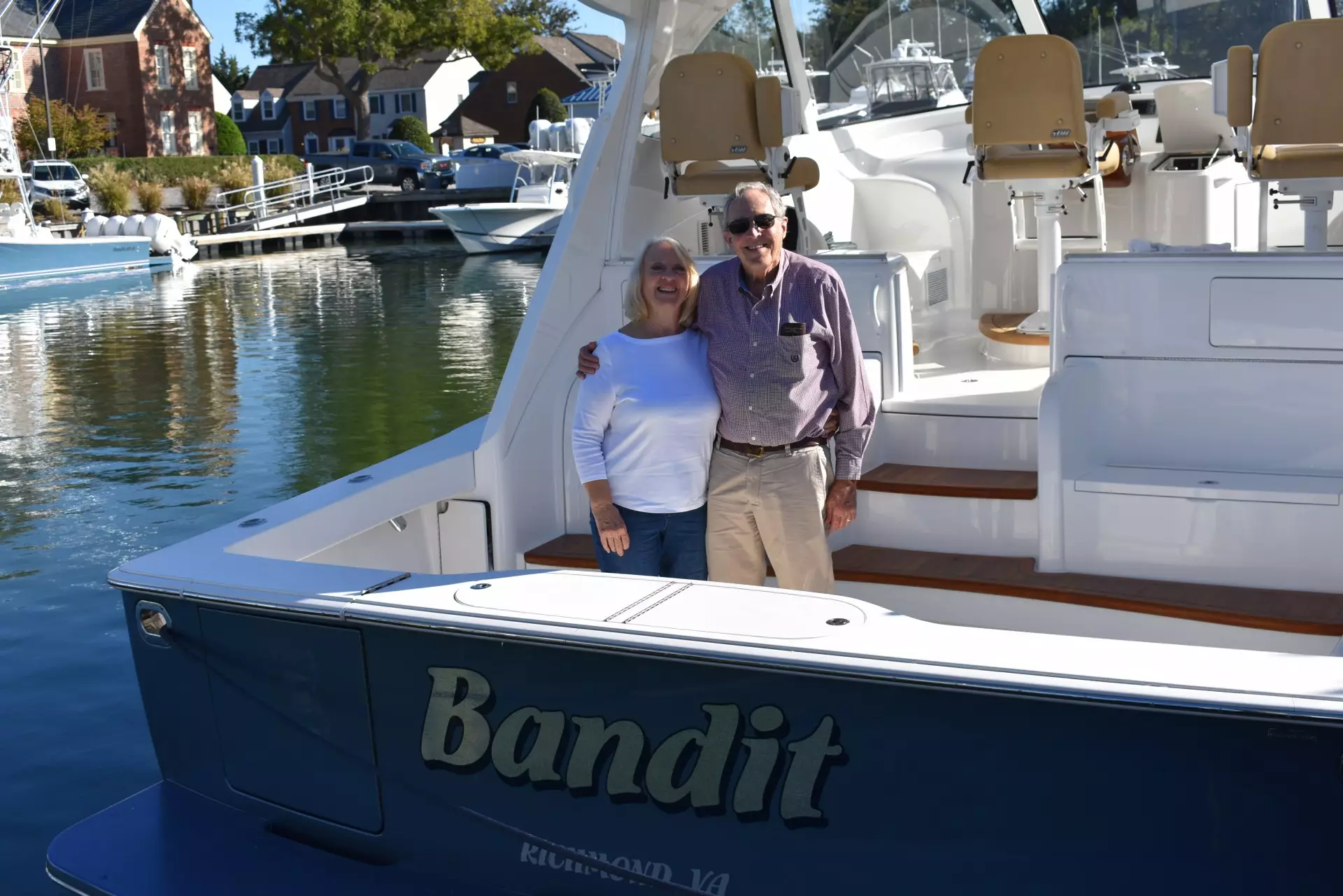 Milton Hess's boating journey began in 1953 when his first boat arrived on the front porch – a 10-foot Chris-Craft runabout boat kit that he assembled himself. 60 years later, Milton and his wife, Carolyn, are cruising the Chesapeake Bay in their recently purchased Viking 42 Sport Coupe. Of course, there have been many boats in between, but the purchase of this 2015 Viking was especially memorable for Mr. and Mrs. Hess.
For one, Milton and Carolyn had been without a boat for a while after they sold their Cabo back in the Fall of 2011. They decided to take a step back from boat ownership to focus on their business, but their passion for boating continued to grow over time. Eventually, they started looking at boats again, but were determined to find the perfect vessel, and were not willing to settle for less than that. With the help of Bluewater Sales Professional Hank Sibley, they searched and searched for the boat of their dreams.
Hank was determined to find the best possible boat on the market, but first he had to figure out exactly what they were looking for. When asked about his boating preference, Milton said, "We are cruising people. We don't fish, and we don't need outriggers!" Neither Milton nor Carolyn were particularly interested in offshore fishing, but they did have a special appreciation for the designs from some of the major sportfish brands. After some time and research, the couple decided that they wanted to buy a Viking, but they were not interested in the typical fish-forward design that Viking is famous for. They wanted the quality of a Viking, but they didn't need a tower, fighting chair, or any other fishing amenities.
Looking back on his choice, Milton pointed out, "You don't have to fish to have quality. It is probably overkill for what we do, but you can see the quality by just looking at the small stuff." The Hess's also acknowledged the benefits of buying from a family-owned company, where the ownership was involved with the product and still took pride in their craft. "If you are going to build a boat like this, you can't be in an office in Manhattan," said Milton.
Hank spent months searching listings, calling dealers and scouring the market for the right boat, until one day he found it – a 2015 Viking 42 Sport Coupe that was being used as a demo boat for a dealer in the Great Lakes of Michigan. She was less than five years old with only 200 hours, a complete service record, and was in immaculate condition. The trio wasted no time and was soon flying north to inspect the boat that they had waited so long to find. The transaction proceeded flawlessly, and before long the Viking was being trucked cross-country to her new home in Southeastern Virginia. The decision to have the boat shipped on a truck was actually one of the hardest choices that Milton and Carolyn had to make. They were both excited to hop aboard their new boat and run her home, but the winter weather was already forcing lock closures in the North, so time was not on their side.
In a few short weeks, the boat, now called "Bandit", arrived at the Bluewater Yacht Yard in Hampton, Virginia where she was unloaded and prepped for delivery to the new owners. Mr. and Mrs. Hess took possession of their boat and were soon cruising up the Bay with their son and two grandchildren. After boarding their boat for the first time, Carolyn spoke about the purchase, saying "Life is good. It was amazing how everything came together!" The couple is already looking forward to running around the Chesapeake Bay on spring trips to Reedville, the Eastern Shore and the Albemarle Sound.