No stranger to boating or fishing, Jack Taylor has owned several boats built by Viking Yachts and Regulator Marine throughout his life. While the design and lengths of these boats have varied greatly, one thing has remained constant for him: his relationship with Bluewater Yacht Sales, its founders Chris and Earle Hall, and salesman Jud Black, who he has bought six boats from. Taylor explains, "I consider Chris, Earle and Jud personal friends. Jud is a great and honest guy and is always a pleasure to work with."
Taylor has enjoyed many sportfishing boats over the years, however he has stayed loyal to his brands, much as he has remained loyal to Bluewater. He has owned three Viking Yachts in his lifetime, a 43, a 55 and a 61 and enjoyed all of them. However, as his fishing activity has wound down in recent years, and knowing that he no longer desired to sleep aboard his boat, his focus shifted to smaller boats. He found Regulator's line of hard-core fishing center consoles fit his changing needs nicely. Now on his third new Regulator, Taylor describes how reliable and sturdy he has found the boats to be. His first Regulator was a 23, the second a 26, and now his most recent, a 34, and Bluewater helped sell the prior boats. As the largest model in the Regulator Marine lineup, he has grown fond of the 34's stability and points out that in hard cornering, the boat is compliant and steady, "leaving your crew feeling confident
rather than scrambling for something to hold onto." The maneuverability at low speeds has also impressed Taylor, as he has often drawn onlookers' attention as he effortlessly swings the 34 into a tight spot at a restaurant or marina.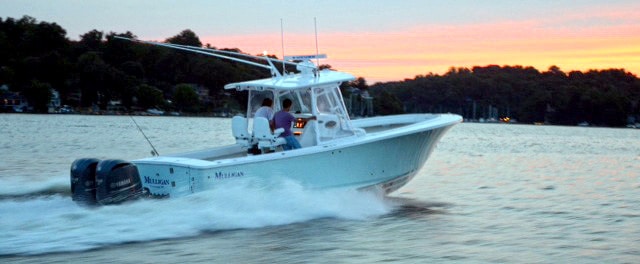 Before taking delivery of his latest Regulator, Mr. Taylor entrusted the Bluewater Yacht Yard in Hampton, Virginia with several customizations. "I've always been very satisfied with the work performed on my vessels at the Bluewater Yacht Yard. Even for those times that parts are delayed, or the project takes longer than originally anticipated, the Bluewater team handles it appropriately and never disappoints with their quality of work." His new Regulator 34 received custom multi-colored striping on the Carolina Blue Hull along with a pair of Stidd helm chairs for those days his back is not complying with his desires to be on the water. With full-height curtains attached to the t-top, Taylor does not allow the brisk mid-Atlantic climate to keep him from enjoying a day on the boat. He says they take the boat out at least once a month, in every month of the year, adding, "If I have a day off from work, I check the weather."
Although he is no longer as active as he once was with big game fishing, Taylor still enjoys getting out on the Chesapeake for the kind of day trips that the Regulator 34 makes quick time of. Taylor also added he looks forward to the Bluewater Summer Cruise to Tangier Island, Maryland as well as his own scheduled trips to Ocean City and Annapolis.
Taylor is so hooked on the rugged durability and quality construction he has observed in his Regulator boats that he is hoping they will announce something bigger than their current flagship 34, "If they built a boat in the 40 foot range I would be the first one in line." And we're confident Bluewater will be his first choice to help make the boat his own and get him on the water to enjoy more Chesapeake sunsets.