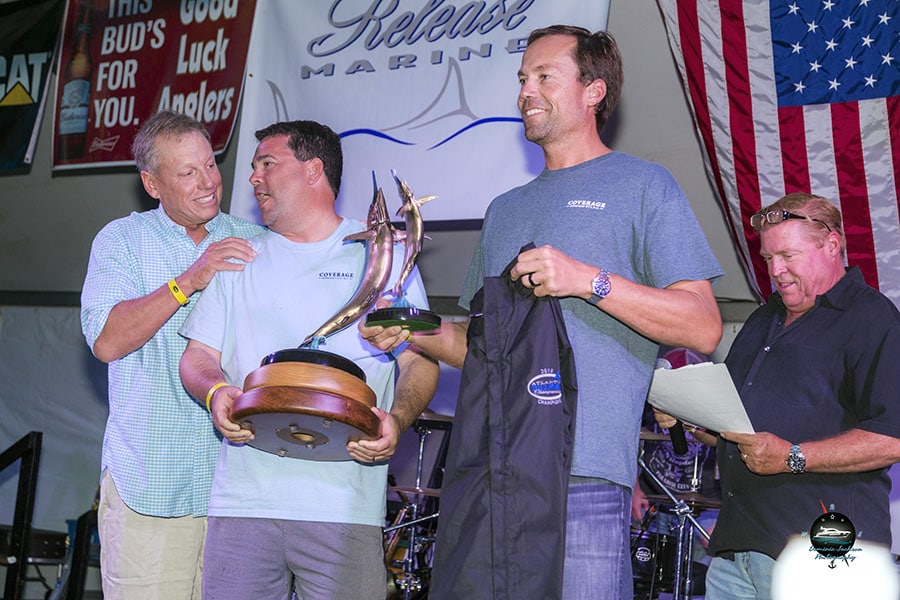 The Atlantic Billfish Championship presents a single award each year to the top team from 3 different tournaments: The Big Rock Blue Marlin Tournament, The Hatteras Marlin Club Open and the Virginia Beach Billfish Tournament. In addition to a beautiful trophy and custom embroidered apparel, the winning team may also designate their favorite charity to receive a large donation from the Atlantic Billfish Championship.
We are pleased to congratulate long-time Bluewater friends and customers from Coverage – a 61′ Sportsman for being awarded this prestigious honor based on their cumulative points earned from all 3 of the participating tournaments.
In addition to this great announcement, several Jarrett Bay teams took home honors during the Virginia Beach Billfish Tournament which is the final tournament in the Atlantic Billfish Championship. Weldor's Ark won the tournament and was honored with the Wayne McLeskey Top Boat Award, along with the Top Billfish category and Winner Takes All Blue Marlin category, plus taking the Day 2 Daily Billfish category with 6 white marlin released. Angler John Roberts aboard the Weldor's Ark was also recognized as Top Overall Angler. Builder's Choice captured a Daily Billfish award for Day 1 releasing 4 white marlin, while Micabe weighed the largest tuna of the tournament.
Bluewater Yacht Sales is very proud to sponsor the Virginia Beach Billfish Tournament and we are honored to know our founding partners, Chris Hall Sr. and Earle Hall also played a strong role in founding the Virginia Beach Billfish Tournament over a decade ago! A big thanks to all the teams who participated, and we greatly look forward to next August for another awesome tournament.