Game of Inches
Fishing together competitively and recreationally since 2000, owner Greg Barber and Capt. Pete Nickerson brought decades of experience and preferences to Jarrett Bay's drawing boards when they set out building the custom 43' express, Gregarious. Having owned numerous premium sportfish boats in the 60'-80' range, Barber knew exactly what he wanted but had never worked with a fully custom builder before. Nickerson agreed, "I've dealt with a lot of builders and yards, and many times you'll hear, 'no, we don't really do it that way.' But Jarrett Bay was always positive and eager to give it a shot when we made a special request. The design and build process was extremely challenging, but they always rose to the occasion."
Gregarious may mark an unofficial retirement from tournament fishing for Barber, but just because he will use her primarily for day fishing trips and family outings, doesn't mean she lacks any capabilities. "Everything we had on our bigger boats, generator, ice maker, water maker, elaborate electronics, it's all here—just scaled down," explains Nickerson. "Everyone is blown away with the fit and finish and how well all these cool options and complicated systems are hidden away with no clutter. The boat has such a clean look whether at the dock or running, and that's just how Greg wanted it."
Give and Take
Boat design can often be a difficult game of compromises, but Jarrett Bay's process of building full-size foam mock-ups of the interior and cockpit spaces proved to give the Captain ultimate flexibility while configuring the best layout for his boss, "I don't know how many mock-ups we went through, but we got to calling it the 'inch boat.' We weren't shifting walls or spaces by the foot, but by the inch." All this back-and-forth planning and fine tuning with Gary Davis and the rest of the Jarrett Bay design team ultimately paid off in an incredible package. Both owner and Captain agree that everyone they show the boat to comes away impressed. Barber pointed out the matching wood grains, adding, "You just don't see that attention to detail and highly skilled execution very often. The boat as a whole came together so well, there's really nothing like it. All the time and care that went into her shows up."
Despite downsizing, there were many things the Barbers weren't willing to give up, including a two stateroom layout. In the 43' footprint, that left little choice—from early on in the process it was clear they would go with pod propulsion. In addition to it's modern technical merits, doing so freed up a considerable amount of engine room space to allow for an aft bunk room.
Custom Creativity
Barber FamilyNow that Barber and crew are transitioning to more family fishing and day trips, it's some of the simple things that stand out. "I have young grand kids now, so we included a pocket gate [above the companionway steps] that will help keep them safe from a tumble." Among the more luxurious interior amenities is the elaborately carved wooden sink in the head. "People are afraid to use it the first time. They've never seen anything like it," Barber says of the Sapele wood fixture finished in layers of epoxy and Alexseal Clear Gloss polyurethane topcoat.
In addition to this being the second pod-based custom boat to come out of Jarrett Bay, it's also the second recent hull that features an interior helm station in the cabin. With "hardtop express" designs becoming more popular throughout the industry, the builder attributes this to mid-Atlantic and northeast fishermen looking for more versatility to comfortably house themselves and guests during long rides through a full spectrum of weather conditions. Barber's extra challenge in regards to the hardtop was asking the design team to achieve comfortable standing headroom for his above average frame.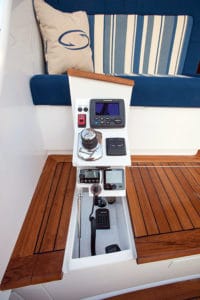 On Gregarious, the interior station acts as the primary bridge with a full suite of electronics, complemented by an open air helm above in the tower. Interestingly, a third helm station is masterfully stashed away in a small compartment that folds out of the port-side mezzanine. From here Capt. Pete can watch the fish finder and back down on a fish from the cockpit—a feature and style of fishing they became very accustomed to in their larger sportifsh. In addition to the efficiency of the Cummins power package, Nickerson says of her performance, "The boat handles like a dream… like a big jet ski. I thought the pods would have some learning curve, but it's easy and such a cool system. You can put it wherever you want it on the dock… we love it."
Since her completion in the Summer of 2014, Gregarious has enjoyed some overnight trips to the canyons (often a 100 nm run) and her great ride and efficient operation has been duly noted. Hailing from Newport, R.I. she's also spent time in south Florida and Barber notes she was very well suited for a good night's sleep across the stream in Bimini. When asked about his favorite moment aboard so far, Barber quipped, "The first day after picking her up from Jarrett Bay we caught some beautifully sized tuna and got that beautiful cockpit nice and messy."
With results like that, who's to argue—it seems Jarrett Bay keeps hitting on new recipes for their secret sauce and everyone is excited for what's to come. Barber explains, "The boat is so different, it's something to be very proud of. I think it's a great value for the money, and any little issue that has cropped up, Jarrett Bay has been behind us all the way. I look at it as the start of a great relationship."